From 1st to 30th November, experience the sleek lines and curves of the Samsonite Minter collection in 3D and grab yourself the perfect travel companion for all your adventures this travel season
1ST NOVEMBER 2023, KUALA LUMPUR – Samsonite invites Malaysians to experience their Minter collection in 3D, situated at Pavilion Elite and CuBig KLCC Junction from 1st to 30th November 2023, in an immersive experience that whisks you away into a world of adventures awaiting anyone looking to add a touch of luxury and sophistication to their travels this season.
Featuring 3 exciting colours, ivory, red and navy*, finished with the sleek lines of the fine vertical grooves and curves of the aluminium trimming, the 3D billboards showcase a feature packed luggage defined by its sophisticated, safe and sustainable qualities, made for the frequent traveller.
The Aero-TracTMII Suspension Wheel System with shock-absorbing suspension system and built-in ball bearings mechanism provides silky-smooth manoeuvrability, resulting in reduced noise and vibration for an effortless travelling experience. Besides the convenience of a front hanging hook in the design, security is enhanced by the TSA008 combination lock and anti-theft double zipper, ensuring peace of mind no matter where you are in the world.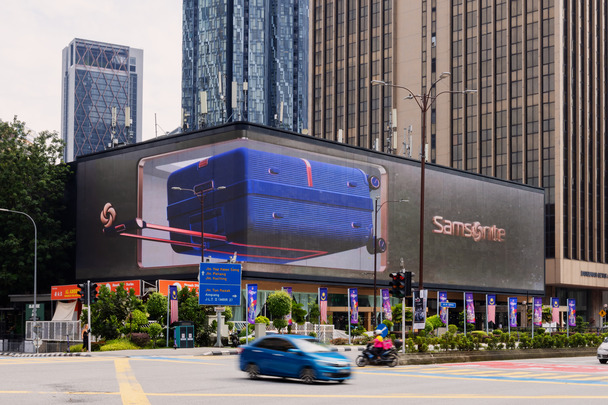 The luxurious exterior is complemented with an interior fully covered by high-quality jacquard lining, constructed by RECYCLEX™ material, derived from 100% post-consumer recycled PET bottles, allowing travellers to do their part in reducing their carbon footprint when they travel. An extendable body and detachable divider round up this well thought out collection.
Ambert Khoo, General Manager of Samsonite Malaysia says, "The beauty and functionality of the Minter collection is something we're truly excited to share with everyone. While there is nothing better than seeing and experiencing it in person, we believe the 3D billboards truly bring across the excitement of travelling on top of showcasing the design language and attention to detail given towards the range."
He added, "We hope Malaysians enjoy the billboards as much as we enjoyed creating them and we hope to see you with a Minter on your next adventure."
The collection comes in 3 sizes; 55cm, 69cm and 75cm, priced at RM1,659, RM1,829 and
RM1,999 respectively. For more information on the collection, visit www.samsonite.com.my or one of the following Samsonite stores near you:
1. Suria KLCC
2. Pavilion Elite
3. Mid Valley Megamall
4. Sunway Pyramid
5. 1 Utama
6. IOI City Mall
7. Queensbay Mall, Penang
8. The Spring, Kuching
9. Pavilion Bukit Jalil
10. Lalaport Bukit Bintang
*Malaysia only carries the red, black and navy variants