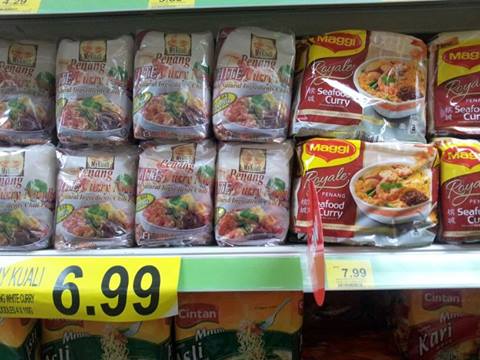 Penang white curry noodle companies in Malaysia such as MyKuali and Aroi are reacting to Maggi Royale's recent debut with price cuts. At the Giant supermarket in Ampang, a pack of four MyKuali was selling for a promotional price of RM 6.99 compare with RM 7.99 for the new Maggie Royale. Similarly at Aeon Big, Endah Parade, Nanyang Penang White Curry Noodle was having a member-only price promotion for RM 5.95 compared with RM 7.90 for Maggi Royale.
These price cuts seem to imply homegrown companies are resorting to price promotion to lure consumers away from the new competitor. Even though Maggi Royale is the new kid in town, it is unfazed with the price competition with the retail price remains high at a range of RM 7.90 to RM 7.99.
As a young category, the Penang white curry noodle segment is still evolving. Consumers are constantly shopping and comparing the different products in the market. It is not surprise to see consumers having different Penang white curry noodles at home just to sample the different taste. Fueling this sampling drive is the growing number of new Penang white curry noodles in the market. The latest to join the fray is Ibumie Penang white curry mee, which claims to offer the authentic Penang white curry mee taste.
MyKuali does have the head start since it is the first to introduce the Penang white curry noodle concept and selling it as a premium product. MyKuali also hogs the spotlight as the number one instant noodle in the world as rated by Ramen Rater for 2014. Therefore, MyKuali is the taste that all aspiring Penang white curry noodles aim to match or even surpass.
MyKuali is bringing the instant noodle war to the prawn noodle segment with the new MyKuali Instant Penang Hokkien Prawn Mee, which will soon appear in the market. We all know Penang has the best prawn mee in Malaysia. So it is a no-brainer to pick prawn noodle as the second product in the line up.
Ibumie, famous for its Ibumie Penang Har Mee – Ho Liao, will definitely feel the heat from MyKuali's push into the prawn noodle segment. No wonder it is striking back with its own version of Penang white curry noodle.
What's next for MyKuali and its Penang streetfood franchise? A bowl of instant Penang Loh Mee?
What we do know about the Penang white curry noodle war is the battlefield is shifting towards the restaurant scene. If you can serve your instant noodles in a restaurant and people still come to eat, then your instant noodle gets the mark of good food.
Sky Thomas, the company behind MyKuali, has opened a MyKuali Penang Delights restaurant in Johor. In the restaurant, a bowl of Penang white curry noodle sells for RM 8.90. The question is, will consumers really want to pay such a heft price to enjoy instant noodles in a restaurants? I did try a similar Penang white curry noodle at Boston, a restaurant chain in Malaysia. My verdict is, don't ever try Penang white curry noodle there. It tasted really bad.
In China, Master Kong, the top instant noodle brand, owns a chain of Master Kong Chef's Table serving really delicious noodles, not the crappy instant noodles you get from the pack. I haven't tried MyKuali Penang Delights but hopefully the taste won't disappoint the diners.