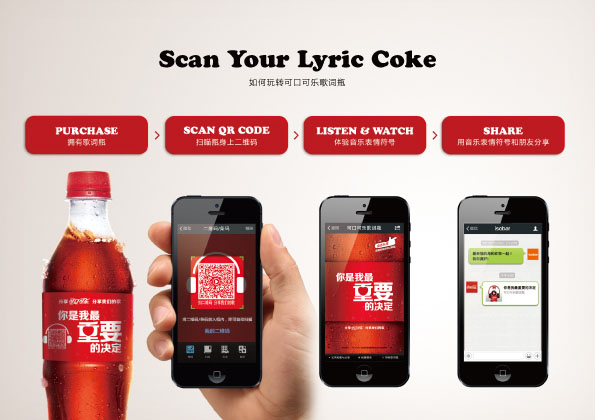 The Coca-Cola Company had a interesting second quarter 2014 with a 9% growth in unit cases in China with sparkling outperformed with a 10% increase. According to the company, Coca-Cola, Sprite and Fanta were the key drivers.
The "lyric bottle" campaign launched in June 2014 has been a success. The campaign puts lyrics from popular songs on Coca-Cola packaging. By scanning the QR code, users can listen & watch the lyrics on their mobile devices and share the short clip in the social media.
With so many non-carbonate options, it has become difficult to get people to drink carbonated soft drinks. Marketers have to increasingly think out of box. One of Coca-Cola's initiatives was to introduce the mini pack to target on-the-go consumption. The nickname campaign in 2013 was another interesting marketing initiative. It made used of the packaging to give each bottle popular Internet buzzwords such as "fans", "artistic youth" and "cool dude" to attract the youth market. Now, the lyric bottle campaign is something on the same line as the nickname campaign to create something that is related to popular culture.
Unique packaging design is important. FMCG Affinnova's latest report argues package design is key to winning in the beverage aisle. A unique example is Schweppes +C (怡泉+C柠檬味汽水), a lemon-flavored sparkling beverage, launched in March 2014. It comes with an interesting design. Sales exceeded 10mn unit cases within the first three months  it was launched. The pack design looks simple and easy to understand. It shows an outline of a lemon and vitamin C represented through "+C" and the use of the eye-catching lemon yellow colour.
Coca-Cola's new Shui Dong Le (水动乐) isotonic drink, launched in early 2014, also enjoyed strong sales during the second quarter of 2014. However, the packaging design of Shui Dong Le does not seem to exude a sense of energy whereas Danone's Mizone is seen as more energetic due to the use of a better font.
In terms of standing out on store shelf, Schweppes +C is more prominent compared to Shui Dong Le.
Both packaging design and marketing are equally important in an increasingly crowded beverage aisle. Great taste is important but the product first needs to attract attention of the consumers first. Dull packaging is a guaranteed recipe for failure.