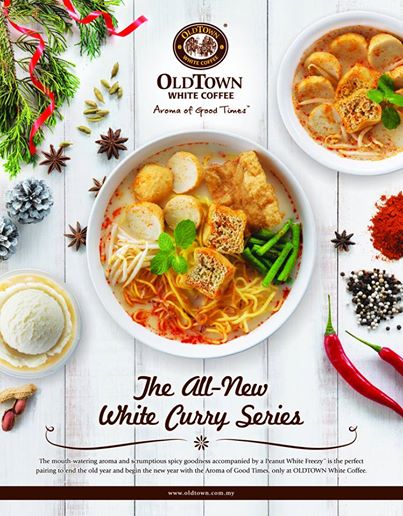 "Our special "White Curry Series" is currently available in collaboration with MyKuali until 31st January 2015! Come to one of our outlets and check out our holiday menu featuring specials such as White Curry Macaroni." – OldTown Facebook (2 December 2014)
MyKuali has collaborated with OldTown to introduce the limited-edition White Curry series through the OldTown coffee chain. The five types of noodles are White Curry Mee, White Curry Mee Hoon, White Curry Pan Mee, White Curry Hor Fun and White Curry Macaroni. The price starts from RM 7.90 to RM 9.90. As a comparison, a packet of four packs of MyKuali White Curry is priced at RM 6.90.
MyKuali has plans to go into foodservice. It already operates the MyKuali Penang Delights at KSL City in Johor Bahru. Now, the collaboration with OldTown is seen as a way to test broader acceptance of prepared, ready-to-eat white curry noodle through the hundreds of OldTown outlets in the country.
For OldTown, the collaboration with MyKuali helps to rejuvenate consumer interest in the chain. The food at OldTown really needs improvement. People patronise OldTown for the Internet, not for the food. It helps to generate repeat customer if more attention is paid to ensuring the taste is right. Hopefully, the MyKuali white curry is prepared as good as it should be by the foreign workers at OldTown.
OldTown revenue – JF Apex Securities Bhd (28 Nov 2014)
The good thing about this collaboration is, MyKuali has a new way to engage with Muslim consumers. Officially, MyKuali is halal but consumers are not sure whether MyKuali's maker Sky Thomas Food Industries Sdn Bhd is halal. The reason is because MyKuali is too Chinese-centric. OldTown has a strong halal image. By working with OldTown, Muslim consumers can be assured they can enjoy a bowl of halal white curry noodle, thus opening a new market for MyKuali.