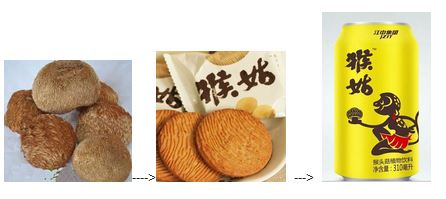 As US-based WhiteWave Foods rides the success of plant-based protein drink, China is moving one step ahead with a mushroom drink.
Jiangzhong Pharmaceutical Group, famous for its digestive remedy, has recently extended its "monkey head mushroom" range from digestive biscuit to digestive beverage. Will other companies follow suit? I am pretty sure they will.
Hericium erinaceus
 (
猴头菇
)  is also called Lion's Mane Mushroom, Bearded Tooth Mushroom, Satyr's Beard, Bearded Hedgehog Mushroom.
It has been reported that pills of this mushroom are used in the treatment of gastric ulcers and esophageal carcinoma
Examples of other  "Monkey head mushroom" biscuits in China: