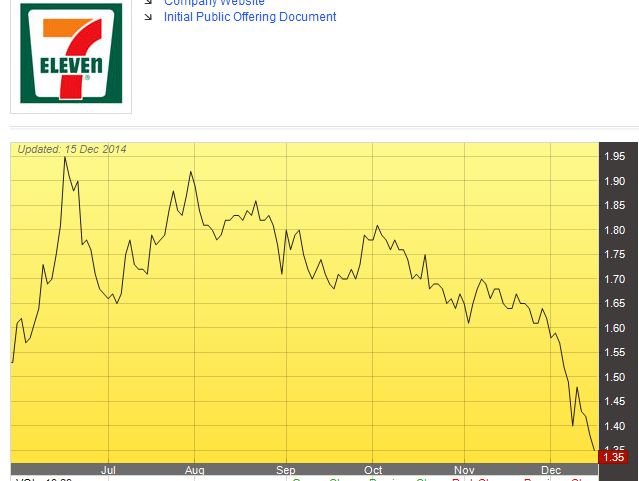 It appears 7-Eleven is slowly becoming an interesting investment candidate. The stock closed at RM 1.35 on 15 December 2014. Based on the EPS of 3.98 cent for the first three quarters of 2014, the P/E is about 33.92. Assuming a full year EPS of 5.3 cent, the full year P/E will reach 25.44. If the share price falls to RM 1.00, the P/E will only be 18.8.
Can 7-Eleven grow its net profit in 2015 by at least 20%? This is really hard to predict because it really depends on the product mix and the cost structure. Net income grew 34% year-on-year during the first nine months of 2014 as the company spent less on servicing its loans and spending less on administrative and other operating expenses.
By investing at RM 1.00 to RM 1.15, this entry price will give a good safety margin for a company that has the largest share of the Malaysian convenience store market and a low debt level.
SEM meets nearly all my criteria except for margin, which is usually low, at about 3%, for a retailer.
Key worries
1.) GST – The 6% GST staring April 2015 will dampen consumer sentiment resulting in consumers trading down. This is negative for convenience store.
2.) Target to have 2,157 outlets by 2016 – This target is unachievable if past record serves as an indicator. SEM will not be able to open 200 stores per year from 2014 to 2016 to reach 2,157 stores by 2016 unless the convenience store format is as successful as CP All in Thailand where there is an absence of modern minimarts. In Malaysia and Indonesia, convenience stores have to compete for footfall with minimarts.
Number of outlet, 2007-2013
With the falling share price, SEM offers a long-term investment opportunity subject to buying at a low price of between RM 1.00 and RM 1.15.
Disclaimer: Not vested.