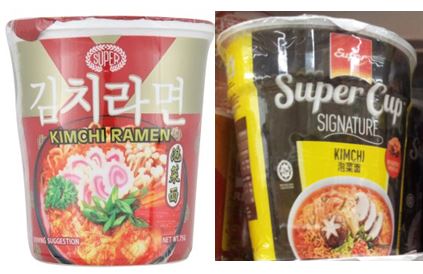 Super has rebranded its Kimchi Ramen and Black Pepper Crab instant cup noodles in Malaysia under the Signature range. The new look sets the old product apart from the other Super cup noodles by presenting a more premium feel through the use of the word Signature. The choice of ingredients – dehydrated kimchi flakes and crab sticks are emphasised on the new packaging.  Even though there has been a change in the packaging to present a more premium positioning, the price remains the same at RM 2.65 per 75g at Aeon Big.
Another important product that is likely to hit shelves soon is the Super Cup Signature White Curry. This cup noodle is currently free with purchase of any pack of Super instant coffee with the promotional sticker. The normal price for the Signature white curry cup noodle is RM 3.30, which makes it even more expensive than the existing kimchi and black pepper crab variants.
The white curry cup noodle also comes with crab sticks and dried prawns. When it debuts, the product will become the first white curry instant noodle in the cup format and will mark Super's belated entry into the white curry segment.
Additional information:
Price check on cup noodles at Aeon Big on 15 February 2015. The list excludes Maggi Royale Korean Spicy Braised Beef, which is selling at Tesco for RM 2.8 per unit.