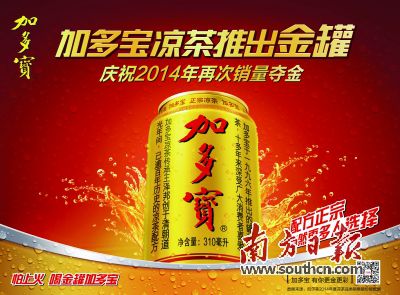 Rumours have been circulating on plans by Jiaduobao to introduce a new gold can to replace its iconic red can. Now, it has become a reality. The herbal tea maker has finally introduced a gold can to celebrate the continued success of the brand as a market leader in the herbal tea category in 2014. Jiaduobao has a 62.1% share in the herbal tea category in China in 2014, according to ACNielsen.
The only reason why Jiaduobao wants to change to the gold can is to set things right. After being forced by the Wanglaoji brand owner to change the erstwhile name to Jiaduobao and attempting to stop Jiaduobao to use the red can through the legal approach, it is only natural for Jiaduobao to think of something else. According to Jiaduobao, the new gold can will set it apart from Wanglaoji, which is currently owned by Guangzhou Pharmaceutical Group.
The banner says, "if you are afraid of internal heat, drink the gold can Jiaduobao". "It comes with the original formulation and naturally more people will choose to drink it".

See more:
Jinmailang Gold Walnut – Tuhao?