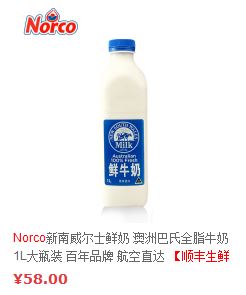 It has been a while since I talked about fresh milk in China. The latest check on JD.com has revealed the price of a 1L Australian air flown Norco fresh milk has declined to RMB 58 from RMB 78. But this decline only affects the 1L pack, which is seen as a move to encourage Chinese consumers to try them out.
See: Norco, A2 Australian fresh milk go for diamond in China
North Coast Dairy Cooperative (Norco) has also introduced the weekly and monthly programmes to send fresh milk on a regular basis to the doorstep. For example, for one month (three bottles per week), consumers will be paying a total of RMB 492 or RMB 41 per 1L bottle. For half a year subscription (24 weeks with 3 bottles per week), the total amount is RMB 2,808 or RMB 39 per 1L bottle.
Norco said it is expecting to export 5 million litres of fresh milk to China in the coming financial year. At the moment, the cooperative is shipping 5,000 to 20,000 litres of fresh milk per week to China. Plans in the pipeline include introducing smaller bottles (eg 500ml) and flavoured milk.