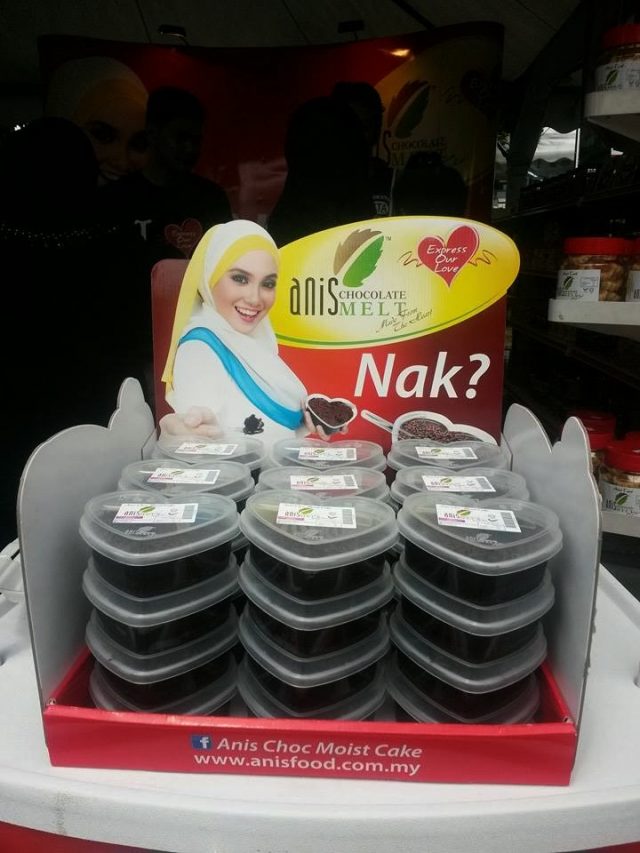 Anis Chocolate Moist Cake with a figure of a Muslim woman asking if you want (nak?) is a familiar sight in petrol stations, convenience stores, supermarkets and in some kiosks in Malaysia. Recently, Anis Food Sdn Bhd has launched a new mobile app for both Android and iOS. The app provides the locations where the Anis Chocolate Moist Cake is available.
Anis Chocolate Moist Cake is currently available at 650 Kedai Mesra Petronas, 95 Tesco outlets and 600 7-Eleven stores.  Also launched in May 2015 was the formalisation of an agreement to make the moist cake available in more 7-Eleven outlets in Malaysia.
Anis Food recorded revenue of RM 10.2 million (USD 2.8 million) in 2014 and plans to increase sales to RM 15 million in 2015 through exports and a new factory in Bukit Jelutong. The new factory has the capacity to produce 50,000 cases of chocolate cake [a month?] compared with the current capacity of 15,000 cases.
The company has also expended into Indonesia through PT Anis MekarSari in Bandung, a shopping paradise for Malaysian tourists.
The simple Anis Chocolate Moist Cake has a strong following with the Malay population because of its taste and competitive price. The company not only sells directly through the modern retail outlet, it also provides  individuals the chance to do business by becoming an agent/distributor. Such an approach improves the distribution and reach of the product. The company is also indirectly doing charity. An example of this is an Islamic religious teacher who becomes an agent selling to cakes to raise funds for his orphanage.
The success of Anis Food shows how a simple chocolate cake can become successful with right marketing technique, business model and distribution channel.