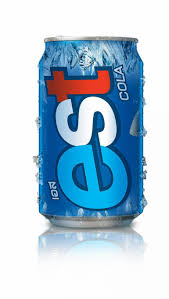 Est coming is coming to Malaysia. Back in 2013, news surfaced hinting of a possible introducing of Est as part of the synergy between F&N and Thai Beverage, both are owned by Thailand's TCC Assets, a vehicle controlled by billionaire Charoen Sirivadhanabhakdi and his wife.
Now Est posters have appeared in Malaysia. Calls to F&N Beverages Marketing did not give us a clue on the actual launching date. The only answer given was "soon." Est will join the existing myCola, which made its debut in East Malaysia in 2013 before being introduced in Peninsular Malaysia few months later.
Based on my personal view, myCola, targeting the lower-end market, does not seem to be delivering strong results due to the lack of marketing and poor packaging design. Some even reckoned myCola is a private label product from Mydin, one of the leading grocers in Malaysia. Mydin rhymes with myCola. However, we do know that myCola captured 6% of market share in 2013 within months after it was launched, according to F&N annual report. But there was no mentioning of myCola's performance in the 2014 annual report.
There is speculation that Est will be replacing myCola. As early a November 2014, a report by TA Securities said Est will replace myCola. In fact, it has become quite difficult to get hold of myCola these days.
Est selling for RM 1.80 in an Indian sundry shop
RM 1.50 for an Est Cola in a Chinese food court
In the past few days, the 325ml Est has been spotted in Chinese food courts and Indian-run sundry shops but not yet in the leading grocers. Est is priced between RM 1.50 and RM 1.80. Noticed the Est in the Indian sundry shop, it is competing with RM 1.00 Sprite, Cola and Root Beer in 390ml PET. It is in this low-price, volume-driven environment where Est will be competing.