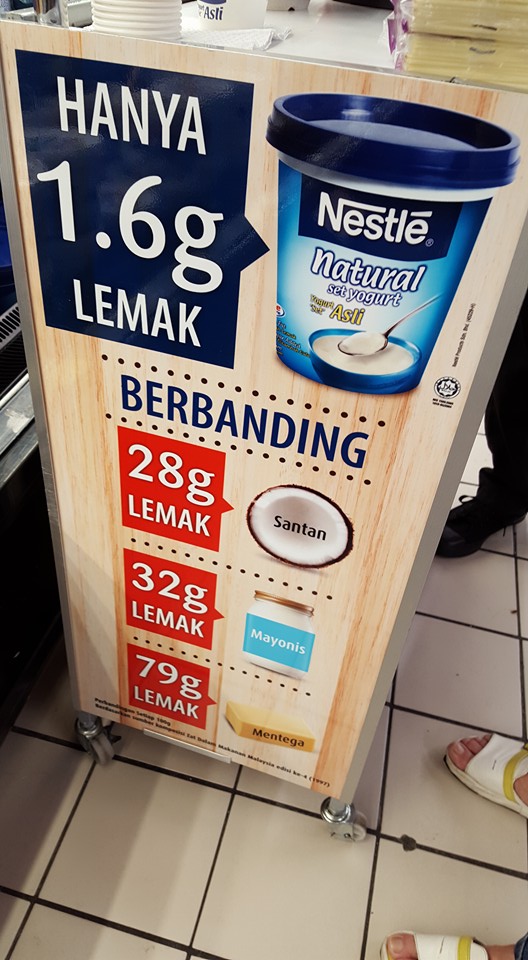 Dairy companies are driving the message that their products are not only to be consumed directly but also good for making your dish tastier.
Fernleaf milk powder
Fonterra's Fernleaf milk powder has introduced several recipe ideas that goes well with Fernleaf milk powder. The Recipe Collection (Koleksi Resipi) is in Malay and Tamil as dairy-based dishes are more commonly found in Malay and Indian meals.
The recipes comprise Mutton Korma, Mollee Fish, Bread Pudding and Prawn and Green Mango Curry. In all four recipes, Fernleaf milk powder is used to add the milky taste.
hrimp and Green Mango Curry
Nestle Yoghurt
Nestle has been promoting its plain yoghurt as a healthier alternative to coconut milk. The key message is Nestle Yoghurt is low in fat, has calcium and is not added with sugar.
Different flavours with Nestle Yoghurt
On the Nestle Natural Yoghurt, the company claims its plain yoghurt only has 1.6g of fat compared with 28.3g of coconut milk per 100g serving. The message is to tell consumers to switch from coconut milk (santan) to a healthier yoghurt that is low in fat.
Nestle Yogurt claims to have has 1.6g of fat compared with 28.3g in coconut milk per 100g serving. Image taken on 10 April 2016.
Coconut milk, which is widely used in Malaysian cooking, will come under increase competition from dairy. This comes as dairy companies are promoting milk powder and yogurt as healthier substitute for coconut milk to drive consumption and usage amid the shift towards healthy eating.