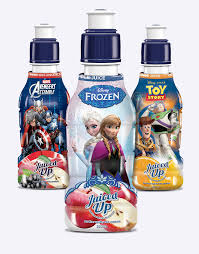 First with Coco Joy and now Juiced Up, Australia's FAL Food & Beverages is starting to make a mark on the Malaysian juice scene. The Juiced Up beverage comes with licensed popular Disney, Marvel and Star Wars characters aiming at children. Each 250ml pop-top bottle comes with the fruit flavours of apple & blackcurant, apple and orange. It contains 99.9% juice with no added sugar, artificial colours and artificial flavours.
Juiced Up in a 7-11 convenience store in Malaysia
At the time when Coco Joy was launched, there were supposed to be the coconut water and coconut milk but at the end of the day, the coconut water is still available at 7-11 but not coconut milk. It was difficult to get hold of Coco Joy coconut milk anyway and is no longer seen in 7-11. Now, Juiced Up is a follow up product selling through the same 7-11 chain.
FAL has a local office in Malaysia. The company, which is ultimately owned by Saudi Arabia's FAL Group, has made its products available in India, Australia, the US and even China.
Iso Boost is one of the products that is likely to be launched after Juiced Up. The isotonic drink is available in a 120ml stand up pouch in berry, lemon, vanilla berry and tangerine flavours.