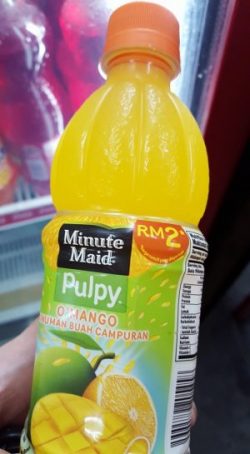 Coca-Cola has reduced the price of its Minute Maid Pulpy 350ml to RM 2 in the minimarket and sundry shop channel in Malaysia. The new price means Coca-Cola has escalated its price battle with PepsiCo from carbonated soft drinks to juice drinks.
Recommended retail price of RM 2.00
Unlike the previous CSD price war, which started in mid-2015, where Coca-Cola offered smaller volume 1,250ml and 390ml with more attractive prices, the company chooses to retain the current packaging size of Minute Maid Pulpy at 350ml but selling at a reduced price of RM 2.00. At 99 Speedmart, the normal price for a 350ml Minute Maid Pulpy was RM 2.30. Now, the same bottle is selling for RM 1.95, even lower than the recommended retail price of RM 2.00.
Minute Maid Pulpy narrowing price gap with Tropicana Twister
The new price has increased the competitiveness of Minute Maid Pulpy vis a vis Tropicana Twister Juicy Blast. Minute Maid Pulpy has always been slightly more expensive than Tropicana Twister.
Not all retail channels selling RM 2 Minute Maid Pulpy
A store check by Mini Me Insights has revealed, the RM 2 Minute Maid Pulpy, similar to the 1,250ml and 390ml Coca-Cola CSDs, is only available in the sundry store and minimarket channel as their consumers are more likely to be more price sensitive. However, not all sundry shops are selling the new RM 2 pack. Even if they are selling the product with the new recommended retail price, one sundry shop was found to have priced it at RM 2.40.
Coca-Cola after volume
The RM 2 Minute Maid Pulpy shows Coca-Cola is going after volume in the juice drink category. It is also a testament that the company's earlier experiment with the 1,250ml and 390ml packaging format for CSD is yielding results. The new strategy is more successful compared with the returnable glass bottle experiment for CSD in the foodservice channel, which was first introduced in 2013, but has failed and is no longer in the market.