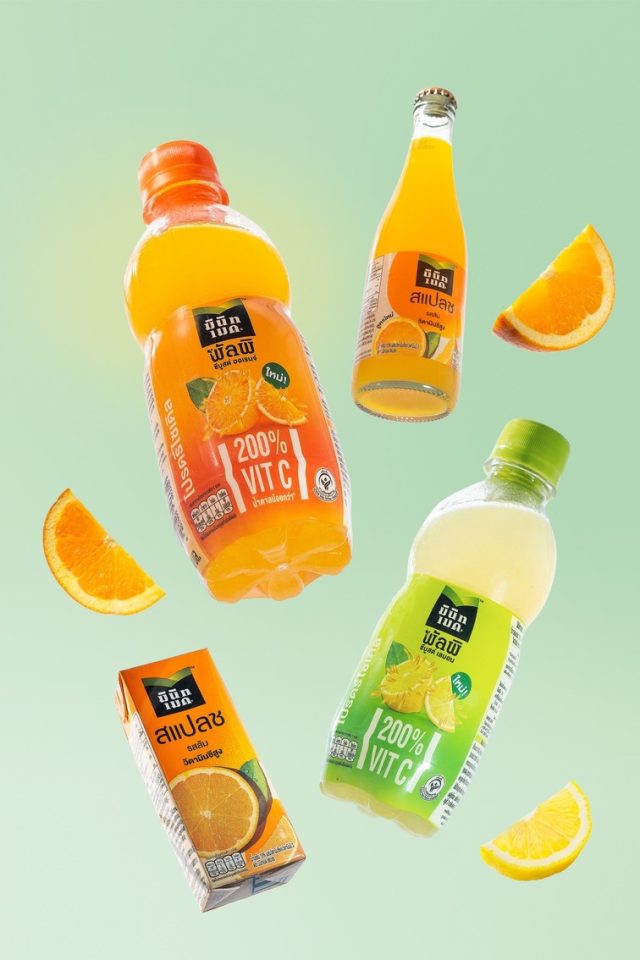 Wednesday 05 April 2023 – Coca-Cola Thailand is excited to introduce new products under its 'Minute Maid Pulpy' brand: 'Minute Maid Pulpy' C-Boost Orange and a new flavor: 'Minute Maid Pulpy' C-Boost Lemon. These drinks feature the same pulp used in the original and are enriched with the signature real pulp, an additional 200% more vitamin C, and 50% more vitamin B, while containing less sugar.
In addition to this, the new 'Minute Maid Splash' range also offers a great taste and refreshing quality for consumers while maintaining high levels of vitamin C to provide a refreshing experience packed with more benefits than ever.
Coca-Cola Thailand's introduction of 'Minute Maid Pulpy' reflects the company's commitment to providing greater various product benefits to consumers and addressing fans' desire for more beverage options in the market. This move emphasizes Coca-Cola's position as a 'total beverage' company, with the intention to meet all consumer lifestyles and strengthen local roots to move the company forward as it begins to build its 'Delightful Fruit Nutrition' category in the market. The growing interest and continuous demand for new experiences and products among consumers has prompted many companies, including Coca-Cola, to dive deeper into their beverage portfolios.
Ms. Richa Singh, Marketing Director, Coca-Cola Thailand, Myanmar, and Laos, said: "We have observed a significant shift in consumer behavior among Thai people. They have found that vitamin C is one of the top three factors that people prioritize when selecting products to consume. Consumers believe that products with a good source of vitamin C can help support the building of antioxidants, maintain normal immune system functioning, and contribute to collagen production, which is beneficial for the skin. It is important for consumers to regularly consume different varieties of food in appropriate proportions to maintain a balanced diet. As a result, the company has leveraged the benefits of vitamins to meet the needs of consumers and is excited to introduce 'Minute Maid Pulpy' C-Boost and 'Minute Maid Splash', hoping that consumers will enjoy its deliciousness with real fruit pulp as well as its benefits."
The introduction of the new, 'Minute Maid Pulpy' C-Boost, is based on the concept 'Filled with Life', which aims to provide young working people with refreshment and enjoyment in daily life. The marketing campaign features several KOLs and is aimed at raising awareness among consumers and providing them with online advertising, OOH, and on-ground activities during the Songkran festival across the country that consumers can enjoy great taste and signature real pulp, getting refreshment from 'Minute Maid' throughout the summer.
The new 'Minute Maid Pulpy' C-Boost comes in two delicious flavors and is available in 290 ml sizes. Additionally, 'Minute Maid Splash' is available in 250 ml and 180 ml sizes, both with an irresistible taste. These products are now available at modern trade outlets, traditional stores, and e-commerce channels across Thailand. To stay updated on upcoming products, follow the official 'Minute Maid' Thailand Facebook page at https://www.facebook.com/MinuteMaidThailand.