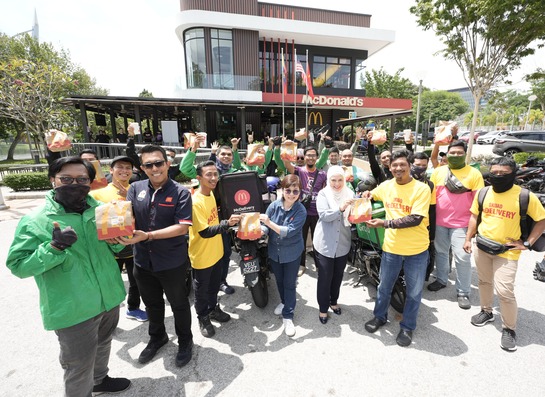 KUALA LUMPUR, 18 AUGUST 2023 – McDonald's Malaysia expressed appreciation to 65,000 delivery riders nationwide by offering a free set meal yesterday, recognising their efforts and significant contributions in delivering delights. This effort is part of the quick service restaurant's #MekdiBelanjaRider #TerimaKasihAbangRider initiative urging Malaysians to show appreciation for the riders that prioritise customer-first values.
Apart from the company's own McDelivery Service, all food delivery riders were able to claim their free set meals between 2 pm to 5 pm on 17 August 2023 from McDonald's restaurants nationwide.
"During these celebratory times, we wanted to seize this moment to give a hearty shout-out to our riders who go beyond food delivery, bringing 'feel good moments' to Malaysians. They continue to be the heartwarming link between our food and your smiles. Through this initiative, we wanted to inspire a call to action for Malaysians to show appreciation to all delivery riders out there; and for these riders, to realise they're always valued" said Melati Abdul Hai, Vice President and Chief Marketing Officer, McDonald's Malaysia.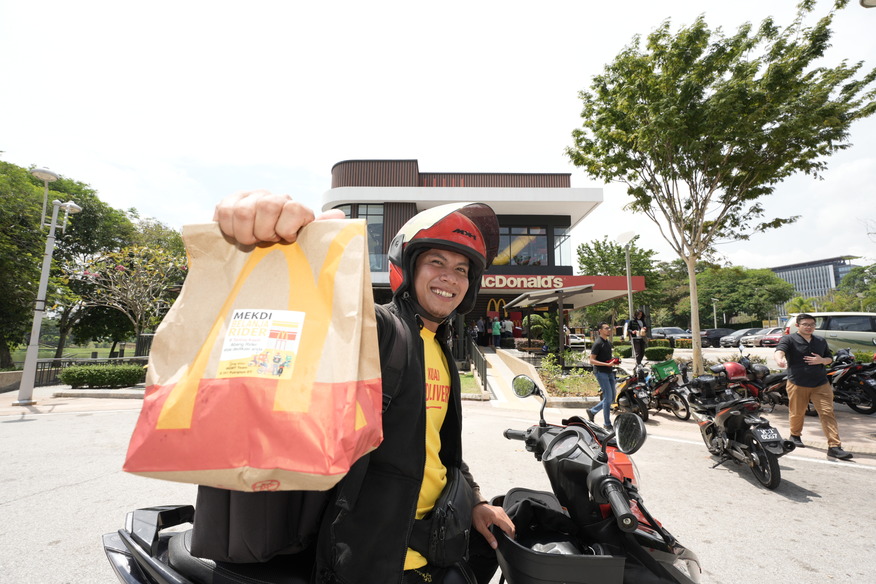 Driven by a strong determination to meet his order targets, Muhammad Zul Izlan Muhammad Nor, 27 embraced the opportunity to serve as a full-time rider. His decision to become a full-time rider is rooted in the fact that the salary is provided on a weekly basis, potentially amounting to RM4,000 per month. "I commence my work as early as 7 in the morning to ensure I fulfil the daily delivery goals. It is not as straightforward as it may seem; there are occasions when I swiftly achieve them, while other days, I may not reach them until late into the night. However, that is precisely what makes it gratifying. The flexibility in working hours empowers me to independently manage my time to meet my daily targets. Discipline plays a pivotal role."
Due to the Covid-19 pandemic, Al Amin Fikri Mustafa Kamal, 27 opted to become a full-time rider to support himself. He used to work part-time at different places. Being a rider is more advantageous because it allows him to earn money without having multiple jobs. He selected McDonald's Delivery because he is treated well by the company. "Even on difficult days, view them as the spice of life. Whether things are moving slowly or swiftly, what truly matters is that we perform our duties to the best of our abilities. Experiencing the happiness of customers receiving their meals brings me a sense of fulfilment." 
Delivery riders have continuously demonstrated and inspired Malaysians with their quality customer service. Regardless of the time of day or weather, we can always count on riders to serve delicious meals to fellow Malaysians.
"A heartfelt thank you to all frontline delivery riders across the nation for always going the extra mile and beyond," Melati Abdul Hai added.
Malaysians are also encouraged to show their appreciation by sharing the best photos of your Abang or Kakak Delivery on social media when receiving your next delivery with the hashtags #MekdiBelanjaRider #TerimaKasihAbangRider.
To further underscore ts appreciation, McDelivery riders are additionally covered by SOCSO's Self-Employed Social Security Scheme (SKSPS), emphasising McDonald's commitment to their safety and well-being.
McDonald's Malaysia places a strong emphasis on compassion and extends multiple extra perks to McDelivery riders. These benefits encompass complimentary meals during specific periods, reimbursements for mileage, and telecommunication packages to ease their burdens and facilitate their work. Notably, an added incentive is in place to motivate and boost rider performance.
Individuals keen on becoming part of the McFamily can seek further details by visiting the nearest McDonald's restaurant.