Kuala Lumpur, 26 July 2021 – Hot and sunny days are the norm in this part of the world (and even more so with this current hot spell!) so it's always a great time to quench your thirst with an ice-cold drink. With that in mind, who better to serve it up than The Coffee Bean & Tea Leaf® (CB&TL), home of the original Ice Blended®?
This month, celebrating the cool vibes of summer, CB&TL provides a fresh and colourful respite from the mundane WFH (work-from-home) life with two brand-new Ice Blended® beverages – refreshing Matcha Strawberry, which can also be enjoyed as a hot or cold latte, and the decadent Matcha Hazelnut, also available as a hot tea latte. Served with the sweet-and-tart The Pink Duchess and luscious The Green Emperor cakes, these latest offerings from CB&TL usher in the beauty of summer with bright pink, green and brown hues not unlike the summers in more temperate climates.
"Enjoying these appetizing summer treats is all about feeding the senses, offering some joy despite these trying times. Simple pleasures like the aroma of freshly brewed coffee or the creamy sweet taste of a slice of cake can help us grab a few minutes of relaxation or revive our spirits, and that's something all of us could benefit from during these months of isolation and restrictions," said Fiona Rodrigues, Head of Sales & Marketing, The Coffee Bean & Tea Leaf® Malaysia. "In such a challenging time, we hope to give you that little spark of goodness that brightens your day and encourages you with hope, while keeping you going with lovely delicacies that celebrate all things summer."
From the cheery colours to the fresh and healthy flavours of the season, put your tastebuds to the test with the bright and delicious Poppin' Summer Salad, with cape gooseberries, baby spinach and crispy popcorn chicken drizzled with a refreshing citrus dressing – it's summer in a mouthful! For more savoury goodness, grab some wholesome goodness with the cheesy Egg Drop Sandwich or enjoy the heat of summer with the hot Spicy Chicken Bagel Bun.
These delicious bites have lots of flavourful buddies to go with them, so visit the CB&TL Instagram account @coffeebeanMY or website www.coffeebean.com.my for the full menu, as well as some great bundle deals that are available for a limited time only, at all CB&TL operating outlets; collect them personally using the Leaf With Me pick-up platform, or get them delivered via your trusty Grabfood and Foodpanda riders.
For more information about CB&TL's latest offerings, news and promotions, visit the CB&TL Facebook page, www.facebook.com/CBTLMalaysiaPage or the CB&TL Instagram account @coffeebeanMY, or their website www.coffeebean.com.my.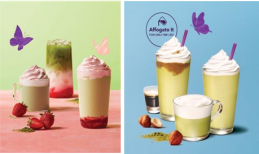 (L) Matcha Strawberry, a cheerful blend of umami-rich Japanese green tea with sweet and tangy strawberries. Available as hot or iced latte, or Ice Blended® (small RM17.30, regular RM18.80)
(R) Matcha Hazelnut, a sensational mix of Japanese green tea with decadent hazelnut. Available as hot tea latte or Ice Blended® (small RM16.40, regular RM17.90)

L-R:
·       The Pink Duchess, sweetly tart juicy strawberries combined with creamy white chocolate and a subtle hint of black pepper (RM13.90 per slice, RM55 for petite or RM139.90 for a whole cake)
·       The Green Emperor, a luscious pairing of matcha, adzuki red beans and black sesame – a treat fit for royalty! (RM13.90 per slice)
·       The Salted Mocha Baron, decadent layers of salted mocha, crunchy cookies and cream cheese (RM13.90 per slice, RM139.90 for a whole cake)
·       Cakesicle – cake on a stick has never looked any better! Our Cakesicle is your delicious new reason to have even more cake! It is a yummy surprise each day for all the dessert kings and queens! (RM9.90 per piece, only available at selected stores: https://www.coffeebean.com.my/promotions/it-s-cakesicle-time)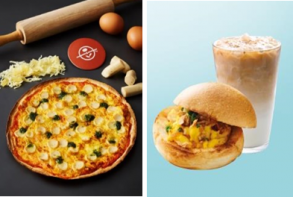 (L) Breakfast Pizza with egg, sausages, cheese and pesto celebrates all things good in a pizza – for breakfast! (RM18.90)
(R) Breakfast Bundle Promo: Wakey-wakey, eggs and bakey! Enjoy the Egg Drop Sandwich with piping hot mozzarella scrambled eggs, crispy chicken bits and golden-brown garlic chips encased in a vienna bun, served with hot or iced Latte, Americano, Gibraltar Latte, Gibraltar Americano, or a hot cup of tea (RM18 per set or RM30 for 2 sets; available until 31 July).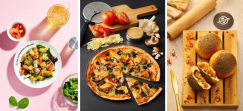 L-R:
·       Poppin' Summer Salad, with baby spinach, cape gooseberries and crispy popcorn chicken tossed in lemon dressing (RM22.90; additional RM4.30 for extra popcorn chicken)
·       Salmon & Mushroom Pizza, with smoked salmon, mushrooms, and olives topped with parmesan cheese (RM25.50)
·       Spicy Chicken Bagel Bun, aromatic curry chicken baked into a bagel bun (RM6.90)