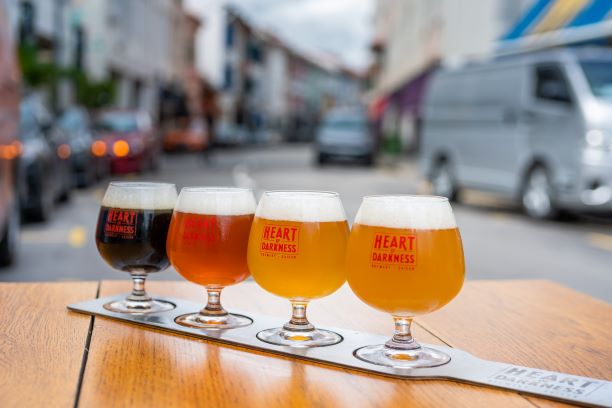 As the country hunkers down to ride out this challenging period together, Heart of Darkness has updated its National Day promotions for Singaporeans to enjoy at home – along with a new initiative to support their F&B industry comrades.
While the F&B industry has been dealt a heavy blow in recent times, Heart of Darkness stands in solidarity with the community and wishes to extend a helping hand to their fellow kakis in the business. Starting today, Heart of Darkness will be offering a 1-for-1 deal for pizzas, with the opportunity for customers to send a free pizza to any of their favourite restaurants or bars. Available every Monday and Thursday of the closure, Singaporeans can chow down on these delicious pizzas in the comfort of their own homes, while uplifting Singapore's F&B industry. Pizzas on offer include Blue Sea Chili Crab, Delicious Sensation Prosciutto & Buffalo Mozzarella, East Coast Spicy Pepperoni, Four Pilgrims 4 Cheese, Menacing Meat Lovers and Silly Little Bird Lemon Grass Chicken.
For National Day week, other exciting promotions on offer include Ladies Night on Wednesday, 4 August, with 20% off on local beers and core range beers. On 5 August, Fresh Tap Thursday Growlers with Heart of Darkness' Singapore Hoppy Pilsner or Singapore Golden Ale go for only $56+ (U.P. $70) and are available on Oddle now for pre-order. Celebrate International Beer Day on Friday, 6 August, with 10% off takeaway beers and party Singapore's birthday weekend away with the Heart of Darkness Party at Home Package. In the spirit of National Day, Heart of Darkness has also introduced 3 new Singapore-inspired pizzas. Lovingly crafted and rustled up with the freshest ingredients, taste the kampung spirit in these uniquely Singaporean pizzas…
Blue Sea Chili Crab – Feel the salty sea breeze on your face with this mildly spicy, slightly sweet and savoury pizza containing sun-dried tomatoes, fresh crab meat and spring onions cooked in cucumber Pilsner beer.
Rendang in the Gendang – This explosively flavourful pizza is made with juicy rendang meat, green peppers, onions, coriander and mozzarella cheese.
Bangaluru – Named after the centre of India's high-tech industry, this vegetarian pizza pays homage to the city's vibrant multicultural community with a fragrant curry base, mozzarella cheese, grilled eggplant, green and red capsicum, sliced tomato and is topped with fresh coriander.
Orders may be placed on Oddle, and you may download a selection of images for Heart of Darkness here, please let me know if this might be of interest or if there's anything else I can help with.