QL Resources, Malaysia's biggest surimi manufacturer and the largest fishball range manufacturer in the country, announced on 11 April 2016 that it had signed an area franchise agreement with the Japanese convenience store chain FamilyMart Co., Ltd. to open FamilyMart stores in Malaysia. The agreement will last for 20 years.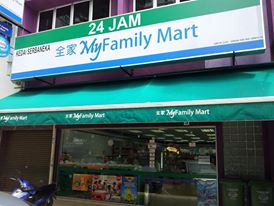 Image taken by the author in 2013 in Maluri, Cheras
The plan is to open the first FamilyMart in Malaysia by December 2016. Previously, the author spotted several copycat FamilyMart stores in the Klang Valley area in 2013. The stores have now being rebranded under a different name and logo.
The reason for QL to venture into the retail business is for the company to expand its 'existing food manufacturing and distribution businesses.' Plainly speaking, QL is looking for new ways to sell its fish balls and other surimi-based products and the best way to sell it is through convenience stores.
Fresh food sustaining SSSG of 7-Eleven Indonesia
Fresh food products including sandwiches, hot food and chilled food  command a high profit margin and is a generator of growth for convenience stores. This is the reason why convenience stores are pushing for higher sales of fresh food. Take the example of PT Modern Internasional, the franchise holder of 7-Eleven in Indonesia. The company had 244 SKUs of fresh food as of the end of the third quarter of 2015. Fresh food same store sales growth (SSSG) led the way with a 10.52% growth in the first nine months of 2015 compared with an overall SSSG of only 0.57%. The overall SSSG was impacted by the ban of beer sales, which started in early 2015.
Indonesian convenience store goers are increasingly shifting to healthier food. Sales of fresh food mainly chilled food (such as Rice Bowl, Sandwich, Salad and Nasi Tenggo), up 31-41%, and bakery, up 11-15%, continued to grow offsetting the slowdown in hot food fried items.
QL leverages strength in food manufacturing
 
For QL, convenience store is a good platform to sell its surimi-based products as well as poultry products. According to QL group corporate development director Chia Lik Khai in an interview with Focus Malaysia (Issue 176, 16-22 April 2016), the company plans to offer ready-to-eat foods such as bento or fried chicken. However, it needs to ensure Malaysians accept the idea of eating fresh food in convenience stores. 7-Eleven Malaysia has tried very hard but is still unable to compete with the ubiquitous 24-hour Mamak eateries in terms of freshness and price. As a result, 7-Eleven is focusing on fried food including fish ball and microwaveable food supplied by CP.
Good time to grab some real estates

With depressed rental due to the oversupply of commercial units, it now is a good time for QL to enter into leases for prime real estates for its new FamilyMart stores. There are a lot of condominiums coming up in the Klang Valley and most of them have commercial lots, mostly unoccupied. The footfall can be low in these places due to poor occupancy. There are also new shopping malls with six more coming up in the Klang Valley in 2016 including MyTown Shopping Centre.
Competitive landscape
The per capita penetration of minimarket and convenience store is still low in Malaysia compared with neighbouring Thailand. The low per capita is often used as a justification to gauge future growth potential. This is indeed the case as consumers increasingly shift to proximity shopping for top-up shopping. The big-box retailers are struggling, not only in China but also increasingly in Southeast Asia, thanks to the growth of e-commerce and shifting consumer habits for smaller stores due to the busy lifestyle, the rise of singletons and the lack of transport (migrant workers in the case of Malaysia).

In Malaysia, 7-Eleven has the biggest share in terms of the number of stores at 62%, followed by 99 Speedmart, which is essentially a small supermarket selling mainly household products including diapers. 99 Speedmart is popular with housewives, migrant workers and lower-income consumers.  Circle K lauded itself as a halal convenience store but is few in numbers. Bison (myNews.com) has recently listed on the stock exchange and is now flush with cash for expansion.
The key thing is what type of demographics would FamilyMart target and this will determine the sort of products and services it will offer. To win, FamilyMart would need to stand above the rest with interesting store concept that is young and trendy. The key message is it is time to bring back the fun in convenience store shopping.