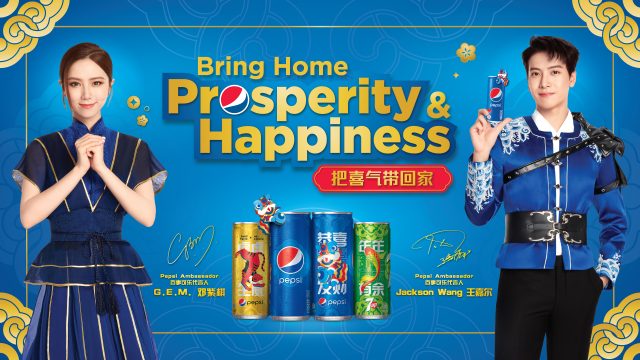 Etika releases limited-edition design cans for the festive season and collaborates with Maybank to bring more prosperity for Malaysians this Chinese New Year
KUALA LUMPUR, 6 JANUARY 2022 – It is that time of the year again when Malaysians are in the mood to celebrate the festive season with great food, drinks and merriment. With Chinese New Year around the corner, Etika Sdn Bhd ("Etika"), one of Malaysia's leading halal beverage manufacturers wants you to start the new year by bringing home prosperity and happiness with plenty of deals and promotions that are too good to miss.
To celebrate Chinese New Year, Etika will release a range of Chinese New Year limited-edition design cans in Malaysia along with some fantastic deals.
"The past couple of years have been tough for many of us but as we enter the year of the Tiger, we hope that the willpower, strength and resilience we have shown in the past year will be well rewarded in the new year. We also have some amazing milestones to look forward to especially with over 70 percent of the population in Malaysia had received their vaccine. Not only that, we are slowly but surely reopening our economy, in particular the travel sector. In the spirit of moving forward, we wish to remind Malaysians of their strength and valour through our limited-edition design cans and treat them with great deals to ring in the festive season," said Yee Pek Kuan, Vice President of Marketing at Etika Sdn Bhd.
"As we enter the new year, we hope our limited-edition design cans bring more excitement for our loyal consumers and bring the festive spirit and happiness to their homes. We have exciting initiatives planned, some even featuring well-known celebrities like Jackson Wang and G.E.M. As always, we will continue to bring delightful and bold experiences for our loyal consumers through our various campaigns, marketing activities and promotions," said Jennifer Lee, Beverage Marketing Lead at PepsiCo.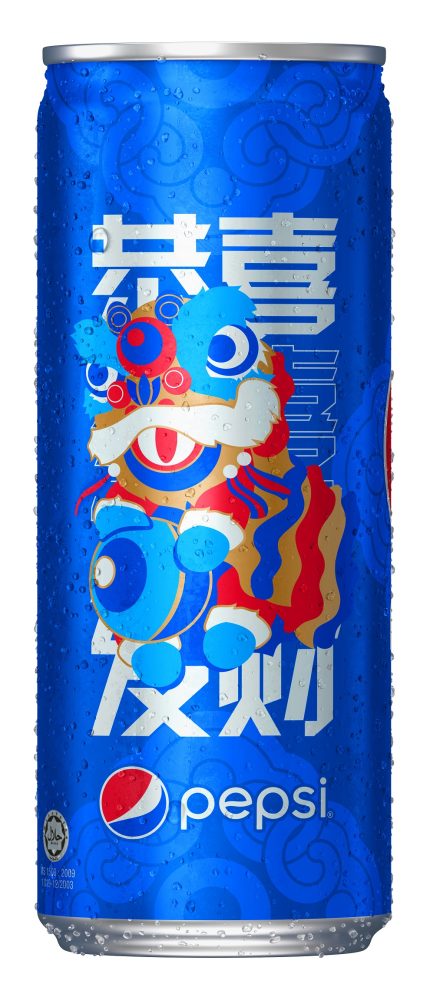 Malaysians will now be able to enjoy their favourite drinks in their best festive looks as Pepsi Regular, Pepsi Black, 7Up and Kickapoo cans are adorned with limited-edition designs. Pepsi Regular cans will feature nian along with gong – xi – fa – cai greetings on the pack while Pepsi Black cans will feature the Tiger, which is zodiac of the year along with hu – hu – sheng – wei greetings on the pack which means to forge ahead with the vigor and vitality of the Tiger.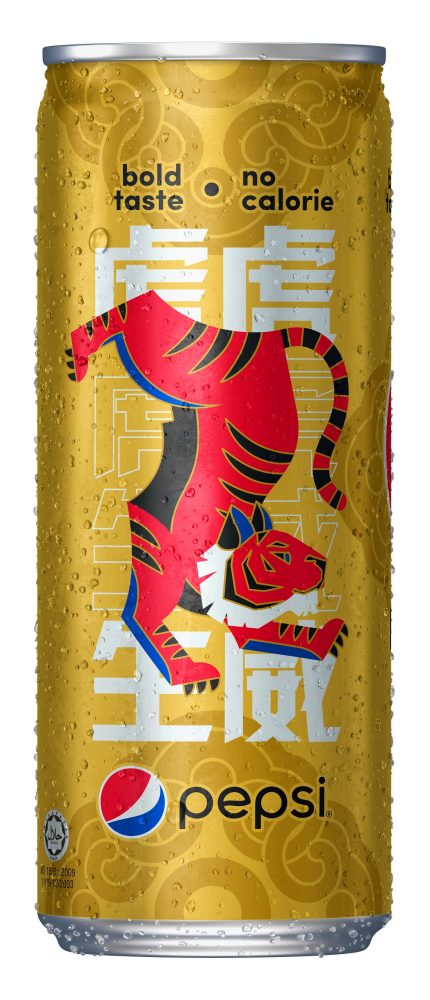 The limited-edition design cans will also be available for 7UP Regular that will feature the lucky Koi fish along with nian – nian – you – yu greetings on the pack which means to have abundance every year while Kickapoo cans will feature the Tiger along with ji – xiang – ru – yi greetings on the pack which means to have good fortune and prosperity according to your wishes.
To bring even more prosperity and happiness to Malaysians in this new year, Etika will be collaborating with Maybank's digital wallet MAE to give Malaysians a chance to win up to RM888 prosperity angpao from the 5th of December 2021 until 15th February 2022.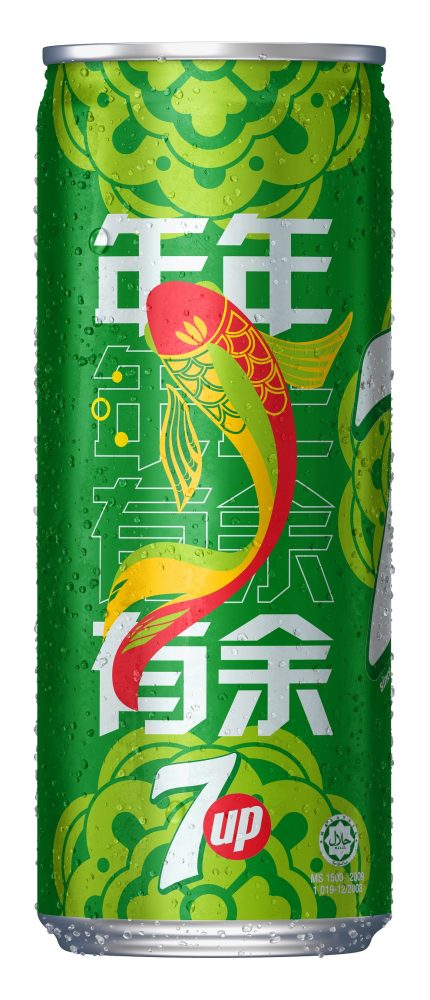 Shoppers can participate in this by purchasing any 24-can pack of Pepsi Regular, Pepsi Black, 7Up, Kickapoo and Revive Isotonic and scanning the QR code which can be found in the carton box. There will be 2,800 winners every day. The deals don't just stop there as shoppers will also receive 1x random cashback per transaction every month from December 2021 to February 2022. Terms and conditions apply and can be found at https://bit.ly/3Jrufen.

To add to the celebrations, consumers will stand a chance to bring home gold bars, ang pows and more rewards from participating stores and retailers.
Econsave
Purchase any participating brands* worth RM28 in a single receipt, submit the receipt via WhatsApp along with the details and a clear photo of the original receipts as a proof of purchase to stand a chance to win RM100,000 worth of angpow. Terms and Conditions apply.
Giant
Any purchase of RM50 and above of participating brands* will receive an exclusive Pepsi Chinese New Year Glass for free, for a limited time offer. While stocks last.
AEON and AEON Big
Any purchase of participating brands* worth RM50 will be rewarded with AEON RM5 E-Voucher. E-Voucher will be printed on the receipt and shopper can redeem the voucher in their next purchase by showing the receipt. While stocks last.
99 Speedmart
Get 1 free Pepsi Black Mango 1.5L with every purchase of 1 carton (can 320ml x 24) of Pepsi, Pepsi Black, 7UP, Revive Isotonic or Kickapoo. While stocks last.
Lotus's
Stand a chance to win a total of RM88,888 ang pow with every purchase of RM28 worth of participating brands* in single receipt. In addition, participants will stand a chance to take home the grand prize of Gold Bars when they submit their entries via WhatsApp between 15 December 2021 to 15 February 2022. Terms and Conditions apply.
This year, the promotions will also be extended online on Shopee, Lazada and Grab Supermarket from 23 December 2021 until 15 February 2022. Every purchase of 1 carton of 320ml can of Pepsi, 7UP, Revive Isotonic or Kickapoo will receive a free Pepsi Black 1.5L.
E-commerce shoppers will also receive 2 bottles of Tropicana 355ml for free with every purchase of 3 bottles of carbonated soft drinks 1.5L (assorted variants). The deals don't stop there! Similar promos will also be extended for 01.01, with the first 2,000 shoppers receiving free Pepsi glasses on top of the ongoing promotions.
"At Etika, we strive to bring unique experiences for our loyal consumers that adds value to our brand philosophy of 'happiness made simple.' We hope that through these limited-edition Chinese New Year design cans and promotions, Malaysians will enjoy the festive season with their loved ones over their favorite beverages and laughter," added Pek Kuan.
For more information, please visit  http://www.etikaholdings.com/brands.
*Participating brands: Pepsi, Pepsi Black, 7Up, Revive Isotonic, Kickapoo