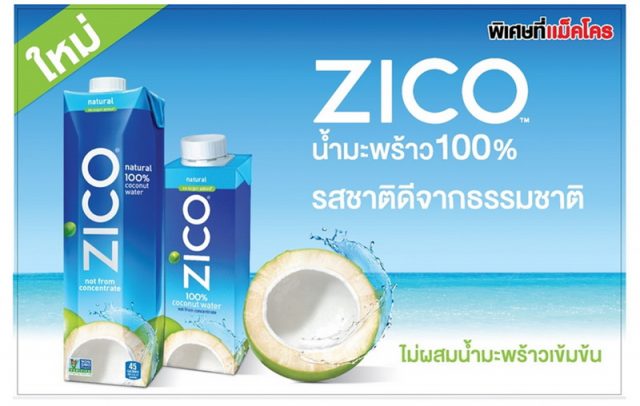 Zico, the US coconut water brand from The Coca-Cola Company, has finally arrived in Thailand. Zico is described as a "premium coconut water hand harvested from coconuts in Thailand, Indonesia, and the Philippines" on its brand website's FAQs. We have already seen signs of the imminent launch of Zico.

Available at Makro and in two sizes
In Thailand, Zico will be available initially at Makro stores, said Karaked Puribhat, integrated marketing communications manager of Coca-Cola Thailand. It will be available in 1 litre (THB 95) and 250ml (THB 30).
It is interesting the company is making available Zico at Makro first and not 7-Eleven, which is more accessible due to its vast network of stores. However, there are quite a number of coconut water in 7-Eleven where competition is more intense.
As reported by Bangkok Post, "the demand for naturally sourced health products among Thai consumers has increased exponentially, and the market value for coconut water worldwide is forecast to [more than double] by 2020," said Mrs Karaked. Zico is 100% premium coconut water with no added sugar.
The company said the current household penetration of coconut water in Thailand is low at a mere 2% citing Nielsen and Kantar data and this means the growth potential is there.
Regionally, Zico is available in Australia (first launched in 2014), China (2016), Singapore (2016), Malaysia (2016) and India (2017).