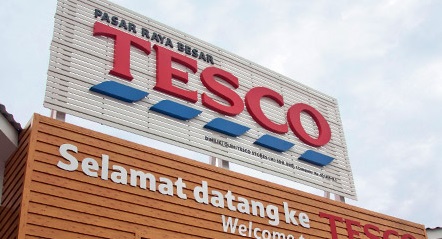 UK-based Tesco has returned to profit for the financial year ending 27 February 2016 with a pre-tax profit of GBP 162 million compared with a pre-tax loss of GBP 6.4 billion a year ago.Closer to home, Tesco Stores (Malaysia) Sdn Bhd reported a second consecutive decline in revenue, albeit with a small dent, down 0.55%. The phase of rapid growth has ended in 2012/13. Since then, the hypermarket chain has been focusing on e-commerce (Tesco Online) and smaller store format (Tesco Pernama Ekspres) as its key growth engines. Tesco Online was launched in April 2013,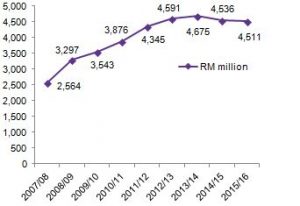 Tesco Stores (Malaysia) Sdn Bhd revenue for the year ending February. Revenue excluding VAT. Compiled by Mini Me Insights based on company information
Smaller store format
As consumer interest in convenience store/minimartket shopping grows, Tesco opened its first three Tesco Pernama Ekspres outlets in February 2015. The store opens from 8am to 11pm. Each store sells around 2,000 daily necessities including household needs, groceries and fresh produce. It is not still not known if the Tesco Pernama Ekspres is able to generate the footfall and sales to counter the might of other convenience store and minimarket chains. Tesco Express in China was not very successful but Tesco Lotus Express in Thailand is growing strong as a minimarket.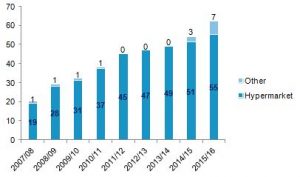 Tesco Stores (Malaysia) Sdn Bhd outlet by format. Other in 2014/15 and 2015/16 is estimated. Compiled by Mini Me Insights based on company information and estimation
For the big-box retail retail format, it is struggling amidst slowdown in consumer spending following the implementation of the GST in April 2015, the growing popularity of e-commerce and the decline in the number of shopping trip.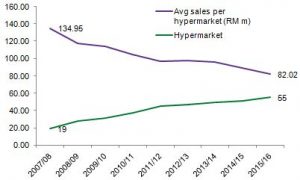 Assuming all revenue is attributed to hypermarket. Compiled by Mini Me Insights based on company information and estimation
Tesco is unable to generate more revenue per store even though the number of hypermarket has increased by 36 outlets over the period of eight years. This comes as the company is opening smaller stores as it moves into smaller towns and cities in Peninsular Malaysia. The 55th outlet in Lukut, Negeri Sembilan covers an area of 4,000 square metres with an extra 6,000 square metres for 34 tenants.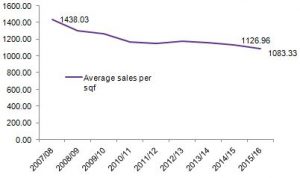 Tesco Stores (M) overall revenue (RM) divided by total group space (sqf). Compiled by Mini Me Insights from company information.
Downsizing existing stores to improve shopping experience
Not only is the company reducing the size of its outlets outside of the Klang Valley where the new outlet within IOI City Mall boosts an area of only 4,000 square metres, it is a looking at smaller stores to maximise the tenancy income and consumer experience. According to The Edge Daily on 1 April 2016, Tesco Stores (M) CEO Paul Ritchie said it will downsize existing six outlets starting with the Cheras store to give shoppers the 'best shopping experience.'
The same is happening in Indonesia. To attract more footfall, Transmart Carrefour is adding Mini Trans Studios, an indoor theme park, in its outlets. Three more Transmart Carrefour will join the existing four Transmart Carrefour in Jakarta, Balikpapan and Tangerang with Mini Trans Studios.
E-Commerce and home delivery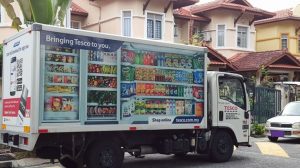 Tesco online in action. Photo by Mini Me Insights
Tesco is spearheading online grocery shopping and has the biggest scale among its competitors, which includes HappyFresh, Redtick and Presto. However, fulfillment is a key challenge. From technical error where 'no slot is available' to out of stock, usually large items, Tesco needs to up the game if it wants to gain the trust of consumers.
VSS for HQ staff
It was reported by The New Straits Times on 1 April 2016,  Tesco is offering voluntary separation scheme (VSS) to its staff at the head office as part of a major transformation. Tesco Stores (M)'s contribution to group sales has been on a steady decline due to the currency factor. Is Tesco Stores (M) up for sale? Aeon Co was reportedly showing keen interest in the company but this would eliminate choices for consumers as Aeon already bought over Carrefour and renamed it Aeon Big.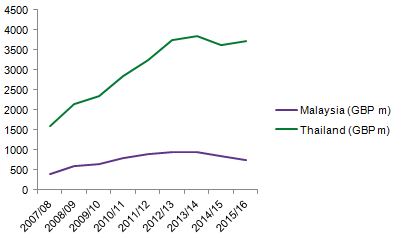 Revenue in GBP million of the Thai and Malaysian operations of Tesco
Fresh food the way forward to capitalise on the need of time poor consumers
Fresh food, which offers high margin, is the way forward in the Malaysian retailing scene. As consumers become increasingly busy not helped by the monstrous traffic jam, the time available for shopping has become increasingly limited. Tesco does operate until 11pm but the fresh food choices are limited.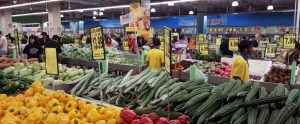 NSK Trade City – Image by the author
NSK Trade City is the place for urbanites to go for fresh produce. It is opened 24 hours a day and the fresh food section is like a wet market but the selections are even larger than the wet market. One can get everything from fresh leafy vegetables to a wide range of exotic seafood including Pacific saury there. Consumers can be seen buying fresh produce in the wee hours of the night for self consumption or for their businesses.
China's Yonghui Superstores success in China is all down to having the best fresh food offering. Fresh food accounts for over 40% of the floor space. The attraction of Yonghui boils down to two key issues the dwindling number of wet markets and heightened food safety issues. Singapore-listed Dairy Farms owns a 19.9% stake in Yonghui. The key challenge for Tesco is to improve its fresh produce offering and improve its e-commerce fulfillment going forward.
Update in September 2016
According to media report at the end of August 2016, Tesco Malaysia is downsizing its headcount by 600 workers as a move to stem losses. The company let go 130 staff under a voluntary separation scheme in early 2016.