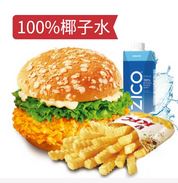 Coca-Cola has collaborated with KFC China to introduce the Zico x KFC meal. The meal is only exclusively available online on KFC delivery portal for delivery in Shanghai, Shenzhen and Beijing. The promotion runs from 25 July 2016 to 11 September 2016. The price for the set meal is RMB 36.
Yin Yang collaboration
The collaboration with KFC makes sense. Coconut water has yin or cooling property. Coconut water helps balances out the yang (heaty) element in burger and fries.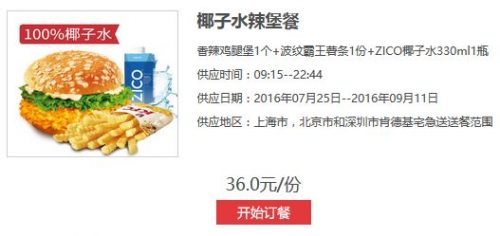 Zico debuts in May 2016
Zico was launched in China on 16 May 2016 and is currently exclusively available online such as Tmall.com. The price for a pack of 4 x 1L is RMB 99 (USD 14.8). The regular price is RMB 119. The 330ml Zico is RMB 10 each.

Zico targets schools, yoga centre and western restaurants
According to the portal ifooday.cn, Zico will be targeting schools, yoga centres (a popular target for coconut water) and western restaurants, citing Coca-Cola Greater China New Business Development Manager Yao Huiyi (姚慧仪). The company will not go through the traditional channel as Zico is deemed to be a beverage of high added value, said Yao.
Coca-Cola is importing Zico from Thailand in small batches to ensure they are fresh.