Here is an update of the ready-to-drink (RTD) herbal tea scene in Southeast Asia.
Thailand: Ichitan Yen Yen Gold
Ichitan Group released an upgraded version of Yen Yen Herbal Tea called Yen Yen Gold featuring 11 herbs and other ingredients. The existing Yen Yen contains 7 herbs (Grass Jelly, Chrysanthemum, Bael, Luo Han Guo, Mulberry Leaves, Safflower, and Jiao GuLan).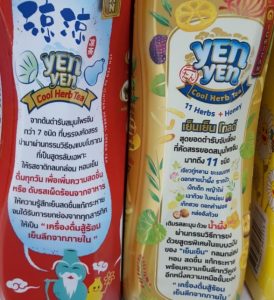 Image above: Yen Yen (left) and Yen Yen Gold (right)
Indonesia: Mony Botanical Drink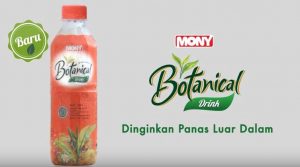 In Indonesia, Monysaga Prima, the company that produces Sunkist and Mony beverages, has introduced Mony Botanical Drink in 2016. The drink is the latest entrant to the Indonesian RTD tea category. It competes with OT Liang Cha, Ichitan Yen Yen, Cap Panda Liang Teh and Zhenzhu Liang Teh.
Mony Botanical Drink adopts the same positioning as the other RTD herbal tea, which is to cool down the body after doing outdoor activities, when eating spicy food or suffering from internal heat.
Ichitan Yen Yen vs Mony Botanical Drink
The Ichitan Yen Yen range appears to contain more herbal ingredients than Mony and OT Liang Cha. This possibly reflects the different labelling regulation or the sophistication and demand of consumers in the two markets.