The ready-to-drink coffee scene in Malaysia was buzz with activities in the lead up to the International Coffee Day, which fell on 1 October 2016. Nescafe fired the first shot with the Jom Nescafe campaign, literally translated as Let's Nescafe. The campaign encouraged consumers to share Nescafe with your friends and loved ones. The video clip features the band Eb Duet's randition of the popular Malay classic Getaran Jiwa by P. Ramlee.

New Nescafe Tarik
Nescafe also took the opportunity to introduce the all new Nescafe Tarik in tin and carton in September 2016. It makes me wonder was the earlier Cafe Nasty and Dowan Coffee a prank to pre-empt the arrival of Nescafe's new Teh Tarik? The coincidence is startling.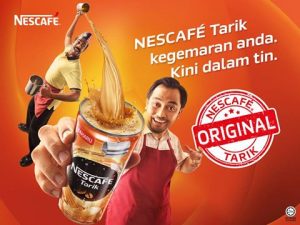 Nescafe and Wonda making full use of print media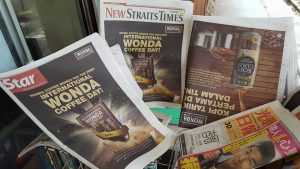 Wonda made full use of the print media by taking over their front pages of most of the newspapers in English and vernacular languages – Mandarin and Malay to create the maximum impact and reach.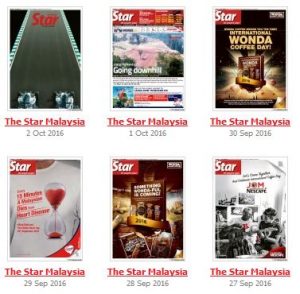 The advertising sequence on The Star shows Nescafe took the lead with a special front cover in the country's leading English daily The Star on 27 September 2016, followed by three consecutive days of front page advertising by Wonda Coffee. On 29 September 2016, Nestle had the front cover for its Omega Plus milk powder but Wonda produced a special coffee table edition with Wonda on the front page. The rationale for the coffee table edition is coffee and newspaper is 'inseparable', said Etika group marketing manager Santharuban T Sundaram.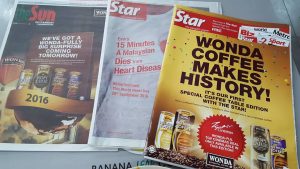 Wonda emphasises product trial and experience
Wonda once again has proven to have created the biggest buzz with 12 activation partners ranging from 99 Speedmart, Grab, TGV Cinema to Domino's Pizza offering discounted prices for Wonda RTD coffee.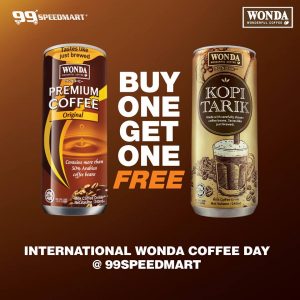 The brand also initiated its own on-the ground marketing activities such as dispensing free Wonda coffee from a novel dispensing billboard at Kelana Jaya LRT Station and Masjid Jamek LRT, Wonda Ronda and Wonda Roving Barista.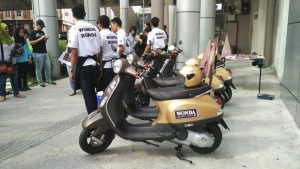 Wonda Ronda. Image above from Wonda Facebook page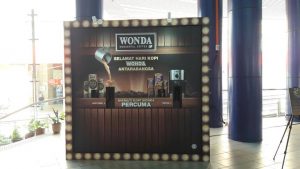 Wonda Dispensing Billboard. Image above from Wonda Facebook page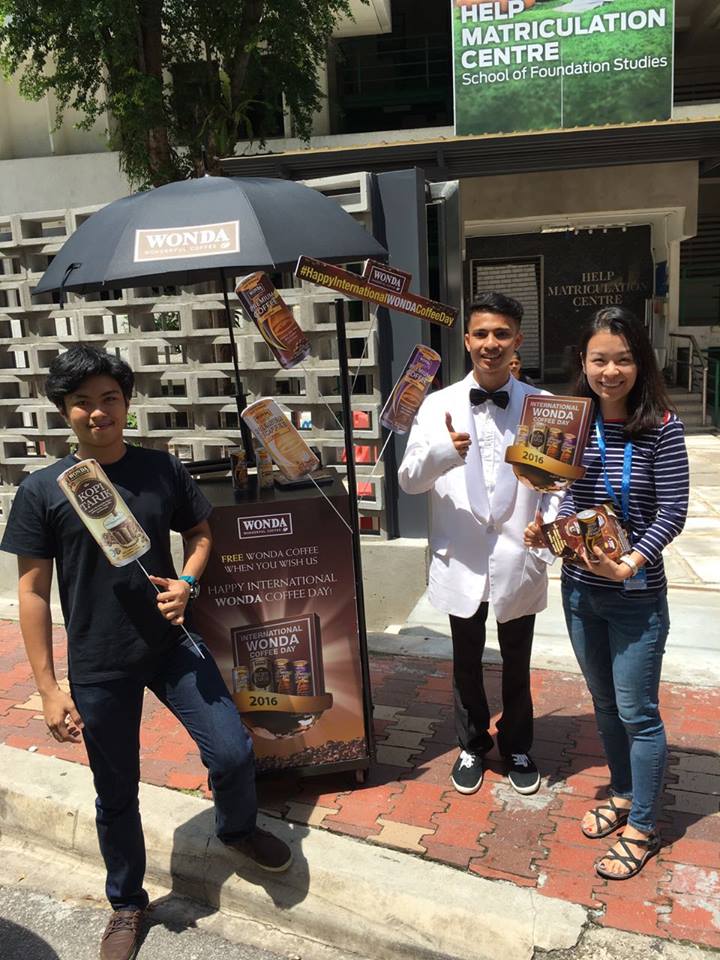 Wonda Roving Barista. Image above from Wonda Facebook page

Free fuel from Wonda at Petronas
Wonda collaborated once again with Petronas to offer RM 96,000 worth of fuel to lucky buyers of Wonda coffee in tin at Petronas petromarts. The contest runs from 30 September 2016 to 31 October 2016. The previous edition in 2015 saw RM 50,000 worth of fuel given away over a 6-day contest period. Now, they have extended the contest to 1 month.
Nescafe rewards consumers with car and motorcycle
Nescafe gave out free RTD coffee from special vending machines at around 50 locations in the Klang Valley, Penang and Johor focusing on rail transit areas (LRT), higher education facilities and shopping malls to encourage trial.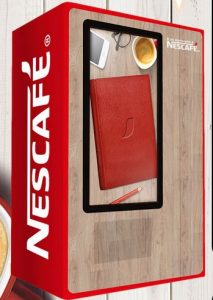 The coffee brand is giving away 2 Myvi, 10 Vespa, Touch 'n Go reload cards and movie tickets with every purchase of Nescafe in tin or UHT carton. The contest runs from 1 September 2016 to 31 October 2016.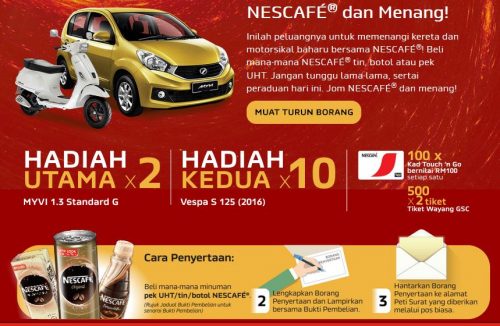 Cash worth up to RM 105,000 is also up for grab when consumers buy Nescafe RTDs in tin at 7-Eleven. This contest runs from 15 September 2016 to 24 October 2016.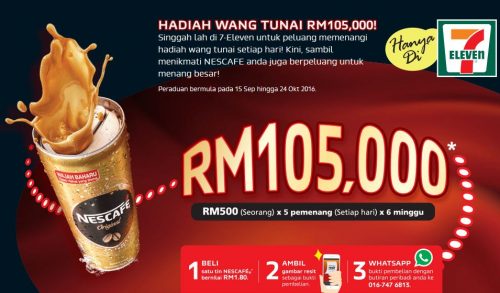 Wonda and Domino's Pizza
The collaboration between Wonda and Domino's Pizza is interesting because it may pave the way for RTD tea coffee to become part of the beverage menu at Domino's Pizza. At the moment, the parent company of Wonda, Etika, is the main beverage supplier to the pizza chain. Etika is the bottler of PepsiCo's beverages.
Key takeaways
The International Coffee Day has become an interesting marketing event where Wonda and Nescafe each tries to out compete the other to capture the heart and soul of the Malaysian consumers. The next edition of the International Coffee Day in 2017 is expected to get even more exciting.