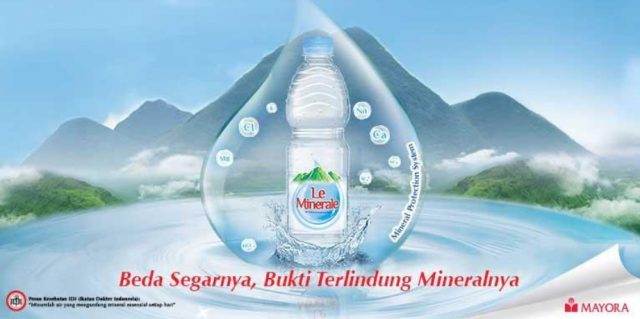 In Indonesia, Danone has recently issued a directive to prohibit toko (shop) owners that were selling Aqua bottled water from concurrently selling Le Minerale, a competitor product by PT Tirta Fresindo Jaya, a unit of Mayora Indah. Retailers in Jabodetabek (Jakarta-Bogor-Depok-Tangerang-Bekasi) and other areas had voiced their outcry over the anti-competitive move by Danone.
Losing Star Outlet status
According to the affected merchants, Star Outlet (SO) defined as those selling 5,000 gallons and 500 cartons per month, will see their SO status downgraded to the wholesaler or even retailer status thus losing the benefits as an SO outlet.
Mayora Indah launched Le Minerale in Q1 2015
Mayora Indah, known for its Kopiko coffee, introduced Le Minerale in the first quarter of 2015 to enter the lucrative and fast-growing bottled water market currently dominated by Aqua. In Indonesia, Aqua is the name commonly used to refer to bottled mineral water regardless of the brand. This illustrates the domination of Aqua in the market.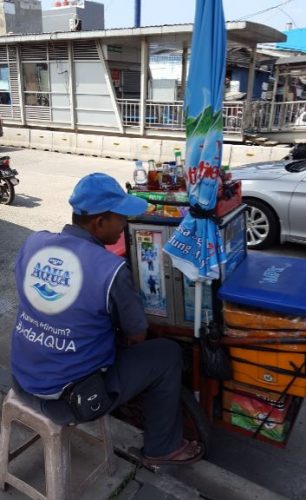 Latest move by Danone would impact this vendor in Jakarta who sells both Aqua and Le Minerale. Image above was taken by the author in August 2016.
Le Minerale has a bigger presence in the traditional trade such as toko and warung than in the modern trade. This is why the latest move will impact Le Minerale as it is threatening its key on-the-go distribution points. Within the modern trade, Le Minerale is rarely stocked by convenience stores and minimarts but can be mostly found in bigger stores like hypermarkets and supermarkets, according to store checks carried out in August 2016.
Mayora issues a summon against Aqua manufacturer
Tirta Fresindo Jaya issued Tirta Investama, the maker of Aqua, with a somasi (summon) acting on complains by Le Minerale sellers of alleged intimidation by Tirta Investama. The summon appeared in major newspapers claiming unhealthy competition by the maker of the Aqua bottled water.
Competition watchdog responded swiftly
The Business Competition Supervisory Commission (KPPU) has taken up the case and  met with representatives from Tirta Fresindo Jaya on 7 October 2016. According to the legal representative from Tirta Fresindo Jaya, Suyanto Simalongo Patria, the quick action by the KPPU has resulted in a change in strategy by Tirta Investama. Now, they are using gifts, apologies and other more persuasive methods to encourage retailers not to sell Le Minerale products. 
If the allegation proves to be true, Aqua, which dominates the bottled water market in Indonesia, will need to keep competitors at bay through a more ethical approach. This incidence also shows even an FMCG leader like Mayora Indah is facing challenges leveraging its popular products like Kopiko and Energen to make Le Minerale available in most distribution points.
Latest update
In December 2017, the country's anti-monopoly agency has fined Tirta Investama IDR 13.85 billion (USD 1 million) and PT Balina Agung Perkasa, the distributor of mineral water Aqua, IDR 6.29 billion for unfair business practices.