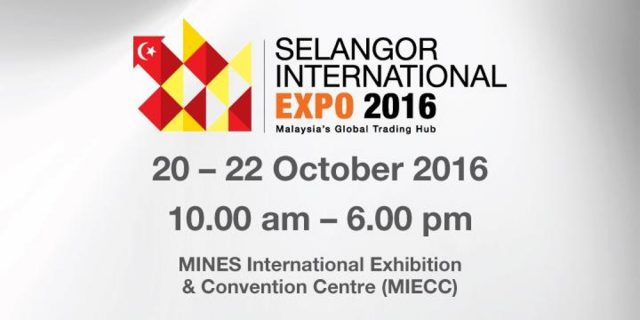 The author attended the Selangor International Expo 2016 for the first time on Saturday (22 October 2016). The expo was really good because it had lined up a lot of conferences and short talks by leading entrepreneurs sharing their business acumen with the general public.
D'Herbs  – passion drives success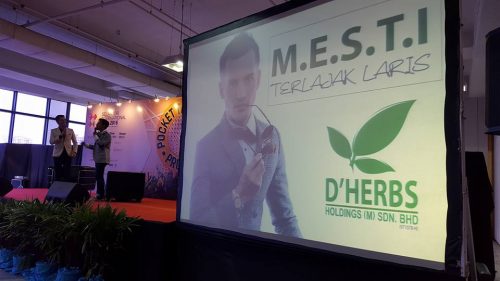 Malaysians are no stranger to Dato' Aliff Syukri bin Kamarzaman, the founder of D'Herbs, a beauty product and health supplement company. According to Aliff, the company's annual turnover is RM 120 million (USD 28.6 million), a stellar performance given the fact that this company has only existed for six years. D'Herbs now has an international reach spanning Singapore, Cambodia and Brunei.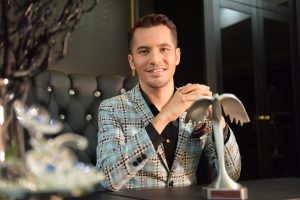 D'Herbs products are targeted mainly at Malays. It has recently expanded into fashion. The key to success for this handsome lad born in 1987 is passion and marketing acumen. He stars in most of his advertisement and has a strong following on social media, which in turn drives sales. D'Herbs products are sold through stockists, jamu outlets and directly to consumers. The rise of the likes of D'Herbs and Vida Beauty are set to tip the balance in an increasingly tight race with multinationals and local firms for a share of consumer's spend on beauty products.
Now back to the food and beverages at Selangor International Expo 2016.
Daun rerama (Butterfly leaf)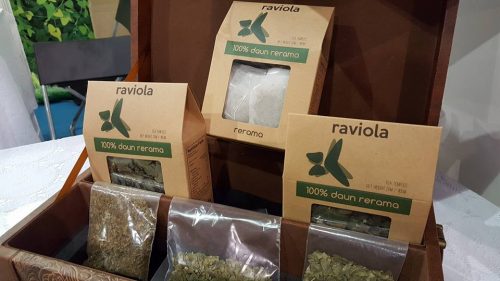 The tea from butterfly leaf (Mariposa Christia Verpertilloris) is gaining popularity as a herb to cure cancer, gout, migraine, dengue and other diseases and ailments. Some Malaysians are planting it at home but the best butterfly leaf comes from Thailand.
In terms of medical research, local Universiti Putra Malaysia (UPM) has discovered anti-cancerous and anti-inflammatory characteristics in the red butterfly wing plant. The university said in early 2016 that it would conduct stage two trial involving tests on animals. The test is expected to be completed by the end of 2016 and would pave the way for more recognition of the efficacy of butterfly leaf as a treatment.
Alla Fonte Energy Drink and Juices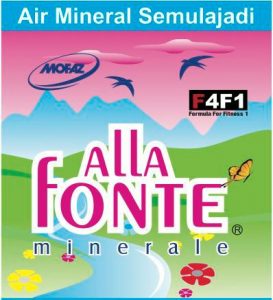 Alla Fonte, a brand by Mofaz Direct SA Sdn Bhd, is synonymous with its Alla Fonte mineral water. The products of Alla Fonte are in pink as part of the brand identity.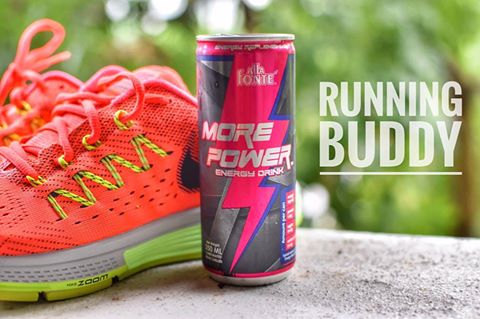 The company showcased two new products – Alla Fonte More Power Energy Drink and Alla Fonte Orange and Lemon Flavoured Drink at the Selangor International Expo 2016. Both products are now available at Circle K convenience stores run by an affiliate of the company as well as in Mydin.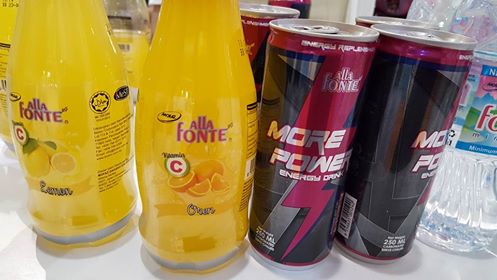 The Alla Fonte Orange and Lemon (370ml) contains vitamin C. The key ingredients are water, sugar, citric acid, sodium chloride, vitamin C, permitting flavouring, food conditioner and preservatives. For each 100ml serving, the vitamin C content is 50.4mg, total sugar is 7.9g and energy is 37kcal.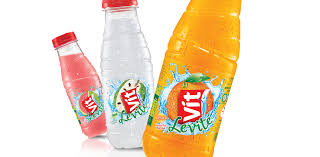 Alla Fonte Orange/Lemon tastes like flavoured water akin to the Danone's Vit Levite light fruit-flavoured water, launched in Indonesia in 2014.
Grow your own oyster mushroom at home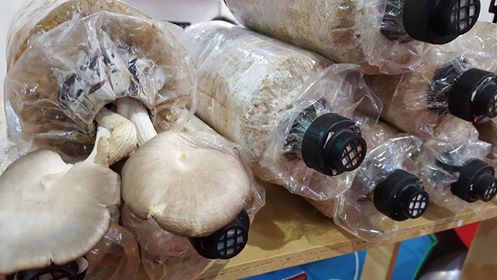 RJB Empire Group Holding Sdn Bhd, a home grown company known for "Pioneering the economy of global Muslim community, exhibited among others oyster mushroom that can be grown at home. Each canister sells for RM 5. This product ties in with the clean-eating diet trend where practitioners consciously choose food that is not or minimally processed. The only way to ensure food is not processed is to grow your own food. Growing your own vegetables at home has the potential to become a trend once the cost of hydroponic technology goes down.
Jamu Kocok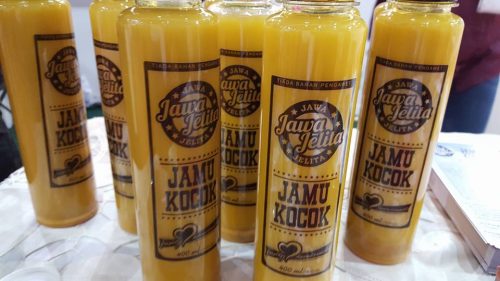 The ready-to-drink (RTD) turmeric-based Jamu Kocok by Jawa Jelita Solutions addresses women's health problems. Jamu or herbal drink is traditionally consumed by Malays to treat various illnesses. In Indonesia, jamu is popularly peddled from door-to-door. Now, jamu is moving with the time. Companies are working to popularise jamu through modern coffee shop and RTDs. Jamu Kocok is seen as following the same path to provide convenience and traditional jamu benefits to modern consumers.
Microcluster water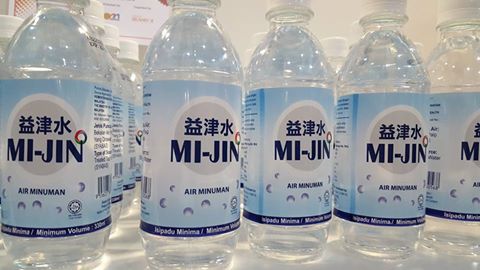 Mi-Jin Water (益津水) micro-clustered water (小分子水) alkaline water that contains fewer molecules. The water allows the body to be hydrated quicker. Mi-Jin Water carries a premium pricing, thanks to the use of advanced water treatment technology. It is manufactured by Universal NutriBeverage Sdn Bhd and distributed by Insi Mika (M) Sdn Bhd.