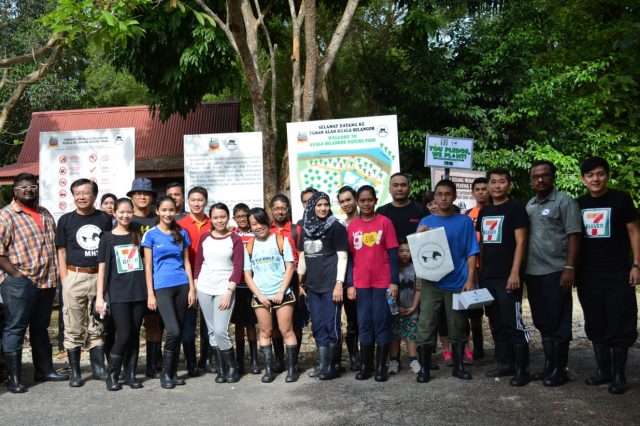 Kuala Selangor, 8 October 2016 – 7-Eleven Malaysia, the country's largest standalone convenience store operator today announced the total number of pledges received from its recent CSR environmental campaign, You Pledge We Plant; Battle Against Climate Change alongside its partner, Malaysian Nature Society during the campaign's fulfillment exercise at Kuala Selangor Nature Park.
This CSR campaign is one of many carried out by 7-Eleven Malaysia under its Community Care program following its 3 guiding lights of responsibility, namely, Society, Workplace and the Environment and is also in tandem with other 7-Eleven's across the world dedicated to its CSR goals of reducing its environmental footprint and educating about climate change in conjunction with 7-11 Day.
The campaign, which ran from 11th July until 12th August 2016 exclusively online focused on educating the public via a series of daily posts on the impact of climate change as well as seeking a pledge from sign-ups to commit to at least one carbon footprint reducing act and for every pledge received, a tree will be planted.
A total of 2070 pledges were received from concerned netizens and among the personal commitment choices were such as conserving water, carpooling, reducing food wastage and the highest choice among all, switching off anything that uses electricity when not in use, which garnered more than 75% among all pledgers.
"Across the country, more and more members of the public are becoming passionate about environmental conservation, are willing to make a difference and we seek to play a role in facilitating that," said Mr. Ronan Lee, 7-Eleven Malaysia's General Manager of Marketing during the tree planting pledge fulfillment event. He added "Every initiative and effort counts as we seek to give ourselves and our future generations a better world to live in and we're delighted with the response received as there are now a further 2070 people who understand better about climate change, are willing to make changes to reduce their personal carbon footprint as well as spread their knowledge further and we applaud each and every one of our pledgers".
The President of the Malaysian Nature Society, Mr. Henry Goh commented, " The insights received from this campaign will come in handy in our research and future conservation outreach programs and we wish to thank 7-Eleven Malaysia for their support in their endeavors with us." He added, "We'll be planting around 200 mangrove saplings here today, with the mangrove ecosystem being the frontline against climate change and the balance 1800 plus saplings will be allocated to other sites nationwide and planted by our field offices." He concluded by saying, "We all have a role to play in protecting Mother Nature and we will continue to play our part in educating the masses on the importance of environmental conservation."
7-Eleven Malaysia is the pioneer and the largest standalone 24-hours convenience store operator in the country with over 2,000 outlets nationwide. For more information, please log on to www.7eleven.com.my or follow 7ElevenMalaysia on Facebook.