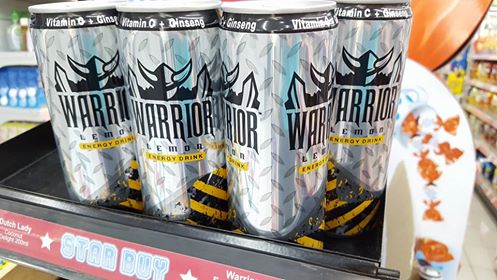 Warrior Energy Drink has made its appearance in Malaysia through 7-Eleven. This energy drink from T.C. Pharmaceutical Industries Co., Ltd. comes in a slim can with a net content of 325ml. It has two flavours strawberry and lemon.
From the maker of RedBull
Warrior is made by the same manufacturer of Red Bull – Thailand's T.C. Pharmaceutical Industries. RedBull has been for a long time the best-selling energy drink in Malaysia and is distributed locally by Allexcel Trading Sdn Bhd.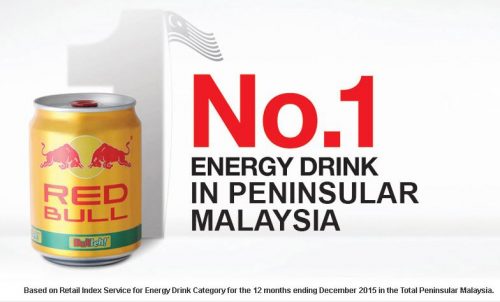 Targeting non-energy drinkers
Not all consumers like the taste of Red Bull. To broaden the consumer base for energy drink, the company has introduced Warrior Energy Drink, a sparkling energy drink enriched with vitamin C and ginseng to provide a lemon/strawberry flavour with a minimal taste of energy drink.
The key ingredients are sucrose, lemon juice (from lemon juice concentrate), taurine, citric acid, permited flavouring, vitamin C, sodium citrate, caffeine, sodium benzoate, inositol, ginseng extract, sucralose, vitamin B3, vitamin B6 and vitamin B12.
Similar strategy adopted in Indonesia
In Indonesia, a similar strategy was adopted by PT Asiasejahtera Perdana Pharmaceutical, the maker of Kratingdaeng or Red Bull with the new carbonated Kratingdaeng Pro launched in mid-2016. This vitamin-enriched drink is positioned for those who are active but also as a lifestyle drink to quench thirst.
Same amount of taurine as Red Bull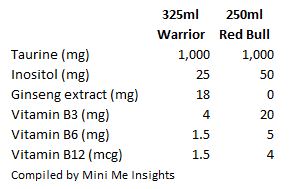 Warrior (325ml) has the same amount of taurine as RedBull (250ml) but the taste is very palatable, similar to an ordinary soft drink. The recommended consumption is 3 cans of Warrior per day.
The price of Warrior at 7-Eleven is RM 2.80, while the RedBull (250ml) is RM 3.90.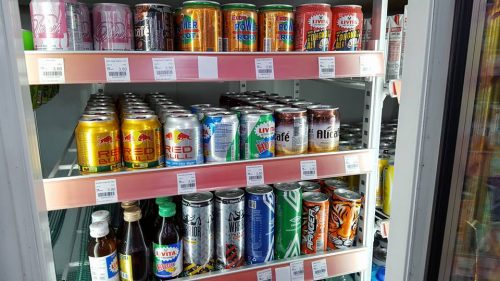 Key takeaways
TC Pharmaceutical Industries using Warrior to reach out to consumers (non-users and young consumers) who want an energy boost but does not like the taste of Red Bull. Warrior is also designed to appear as a lifestyle drink targeting everyday consumption.