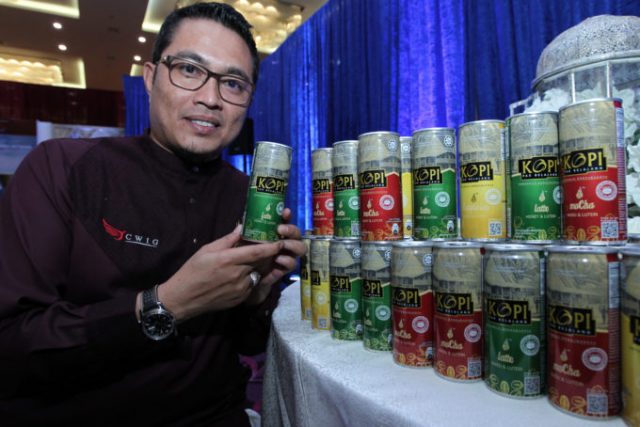 Malaysia's Classic Worldwide International Group (CWIG) has launched the new Kopi Pak Belalang in ready-to-drink (RTD) format in a ceremony on 17 December 2016. The RTD coffee will be sold nationwide on 3 January 2017 and in Indonesia starting March 2017.
It comes in three varieties – mocha, latte and capuccino. Each tin is priced at RM 2.0 to 2.2. The interesting thing about the Pak Belalang RTD coffee is they contain lutein and honey. Lutein is believed to improve the eyesight. The Kopi Pak Belalang Ori and Kopi Pak Belalang White Coffee will be launched in the future.
In Indonesia, the company will introduce tea products Teh Musang Berjanggut and Teh Puspa Wangi besides the new RTD coffee.
The company's 1Thousand Exclusive Partner will be the distributor of the RTD coffee selling through multi-level marketing (MLM). The company, however, does have physical presence in shopping malls through the CWC Republic kiosks. But we will not be seeing Pak Belalang RTD coffee in the modern trade anytime soon.
About Pak Belalang coffee

The Pak Belalang coffee was launched in Malaysia in 2014 and in Indonesia in March 2016. CWIG sells its products using the direct sales model (MLM). Pak Belalang is a good example of functional coffee where coffee is used as a platform to improve health and well being. The key ingredients are arabica coffee, acai berry, honey, luban (frankincense), habbatus sauda and maqui berry.
What Mini Me thinks
RTD coffee works well in the impulse channels such as convenience stores. Using the MLM approach to sell RTD coffee is therefore an interesting concept.