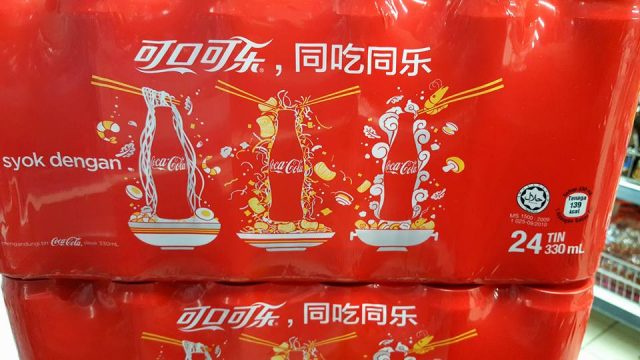 Food pairing
For the Chinese New Year (CNY) in 2017, Coca-Cola Bottlers (Malaysia) Sdn Bhd has released three designs for its flagship Coke. Unlike the auspicious cans in CNY 2015-16, the key theme for CNY 2017 is all about food pairing with the slogan "It is better with" to make your Chinese New Year Meals more special with Coca-Cola.
The message is to encourage consumers to choose Coca-Cola while entertaining or dining with friends and family during the festive season. The ultimate goal is to turn Coca-Cola into the top of the mind for consumers during CNY, a title currently being held by F&N's 100Plus isotonic drink.
Three generations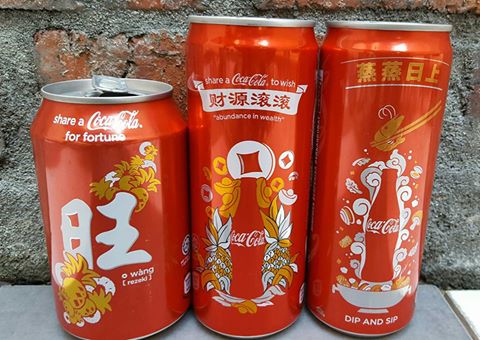 During CNY 2015, Coca-Cola was still in a normal wider can. The theme was "Share a Coca-Cola for Fortune." This has evolved into a slim can for CNY 2016 and the theme was "Share a Coca-Cola to Wish."
Food motifs on the packaging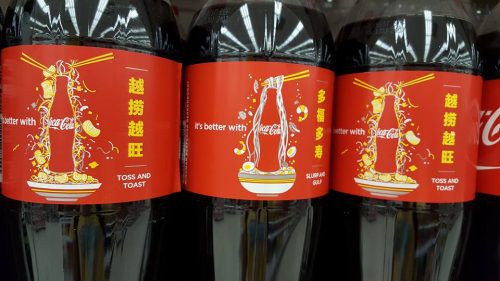 Now there is no longer any strong CNY motifs on the packaging such as gold coin or pineapple as they have been replaced with motifs associated with food. The three bottle designs are Dip and Sip, Toss and Toast and Slurp and Gulp.
Dip and Sip is represented by the auspicious Chinese words 蒸蒸日上 (continue to thrive). The 蒸 (steam) character is linked to the image of a steamboat or hot pot popularly consumed on CNY or social gathering.
Toss and Toast is linked to the words 越捞越旺, a greeting accompanying the prosperity toss when eating Yee Sang, a Malaysian dish comprising strips of raw fish, mixed with shredded vegetables and a variety of sauces and condiments. The words 越捞越旺 mean the "more you toss, the more prosperous you will become".
The Slurp and Gulp packaging design features the auspicious words 多幅多寿 (happiness and longevity). The word 寿 (longevity) is represented by the image of the longevity noodle.
Sprite CNY packaging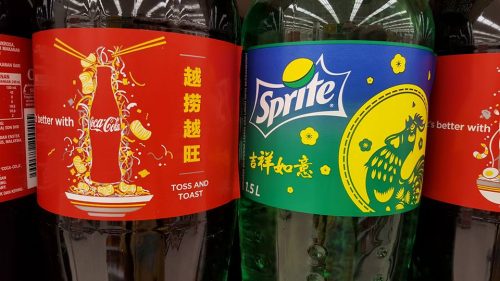 It is the first time in three years Sprite has a Chinese New Year design on the actual pack. The image of the rooster is featured on the 1.5L packaging but not in the can or 500ml PET bottle.
The four-can pick & mix pack has joined the Chinese New Year celebration as well.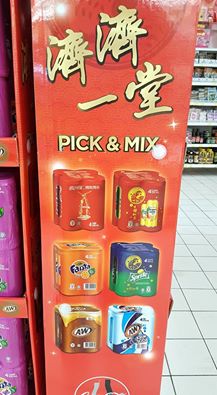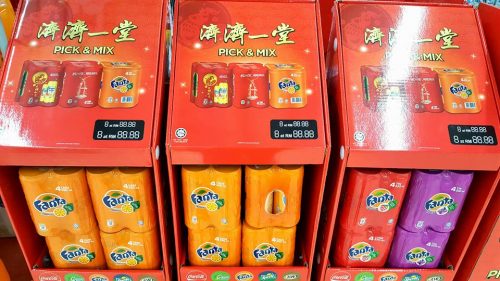 The company has also introduced the 24-can prosperity pack featuring a mix of four products – Coca-Cola, Sprite, Fanta and A&W.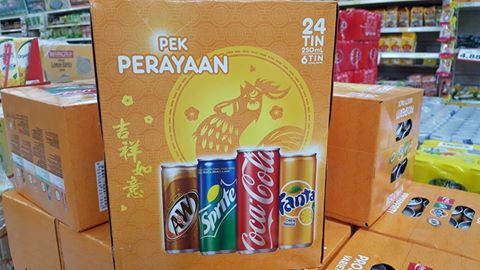 Free travel bags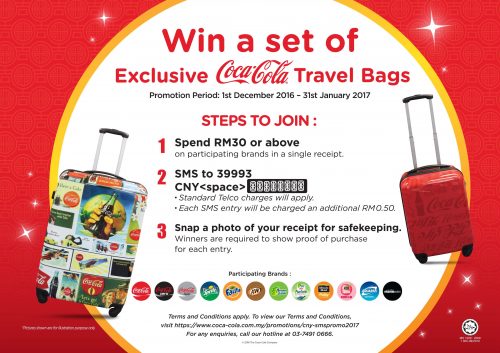 As part of the CNY 2017 promotion, Coca-Cola is giving away exclusive Coca-Cola travel bags. The promotion ends on 31 January 2017.
What Mini Me thinks
Food pairing is a more direct approach of saying think of Coca-Cola when you are dining with your friends and family during CNY. For CNY 2017, Coca-Cola is competing against Pepsi, which has produced a set of eight designs with more vibrant colours. When it comes to the attractiveness of the packaging, Pepsi does have a more eye-catchy design this time around.