Nestle Just Milk, which was wrapped in a new packaging since October 2016, now has a new commercial called Be Moovelous with Nestle Just Milk.
Cows on a mission
The cows are drones on a mission to give Malaysian fans who uploaded photos of Nestle Just Milk on social media a surprise by dropping off a thank you note and Nestle Just Milk straight to their doorstep.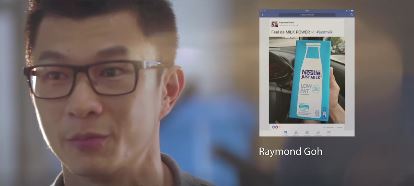 The fans were interviewed on why they like Nestle Just Milk. Apart from taste and price, the key point highlighted in the clip is the fans simply love the Instagram-ready packaging, which is described as colourful and classic.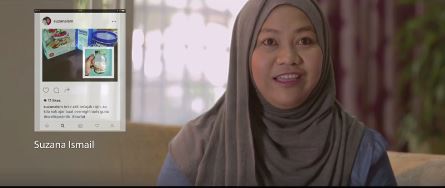 Healthy, active fans

Raymond received the goody pack in the gym (image above)

The fans were carefully selected to ensure they project the brand attributes of healthy and active. These individuals also represent the key consumer groups such as family, middle-age adult and young adult.
Suzana Ismail represents the middle-age adult segment. Her goal is to become healthy and fit as she will be reaching 40 in 2017. Suzana received her package of milk and a thank you note from the drone while jogging in the park. Raymond Goh represents the fitness enthusiast segment. He received his goodies when he was working out in the gym.
Aimi Fahmi epitomes the family segment. The drone gave Aimi and her young family a pleasant surprise they were playing trampoline in an indoor sports centre.




Anis Talib was shown with a group of young friends in a restaurant. She represented the young female segment who cared about calcium, which helps to prevent osteoporosis.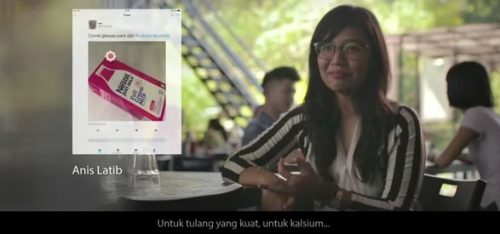 Advertises on Malaysiakini.com
Nestle has picked the country's top news portal Malaysiakini.com as the site to showcase the Be Moovelous with Nestle Just Milk clip. Malaysiakini.com is increasingly popular with FMCG brands as an online platform to launch new campaigns.
What Mini Me Insight thinks

The Be Moovelous with Nestle Just Milk campaign is unique because it employs drones to thank its consumers. The choice of drone shows Nestle is keeping up with the times. The chosen fans are representative of the segments Nestle Just Milk is trying to reach out to including young consumers, fitness enthusiasts, family and middle-aged adults. Most importantly, the campaign shows Nestle Just Milk new packaging resonates with its core audience.