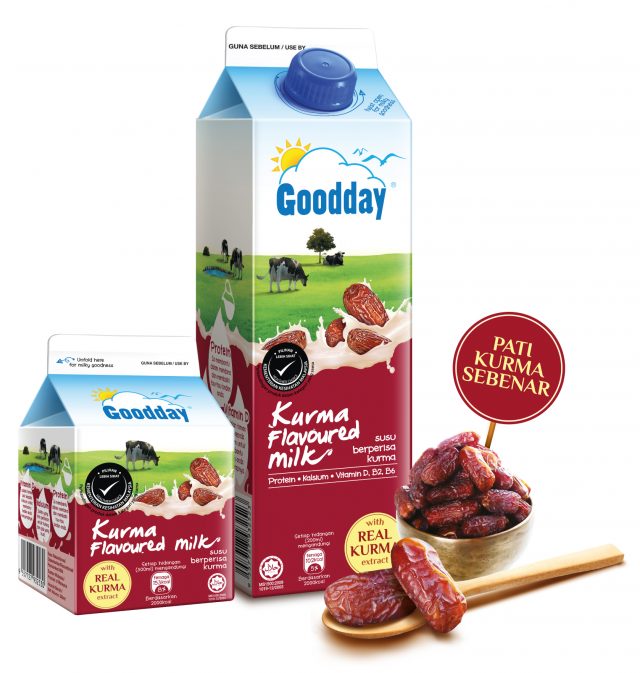 Goodday Milk extends its pasteurised milk range with Goodday Pasteurised Kurma Milk, made with real Kurma extract
KUALA LUMPUR, 5 APRIL 2019 – Goodday Milk, Malaysia's favourite milk brand is making waves once more by introducing Goodday Pasteurised Kurma Milk into its illustrious pasteurised milk range. Made with real kurma extract, this delicious variant is sure to keep consumers coming back for more.
Kurma, considered to be a superfood, has become increasingly popular in Malaysia over the past few years due to it known nutritional benefits. It is also one of the Sunnah foods for Muslims, typically consumed during the month of Ramadhan and a recommended daily snack for the health conscious who need to keep up their energy levels.
Rich in nutrients, fibre and essential minerals such as potassium and magnesium, kurma is also known to have anti-inflammatory properties and acts as an anti-oxidant[1].Daily consumption of kurma can help to promote eye health, muscle development, memory improvement and keep the waistline in check by curbing hunger pangs.
Along with its many health benefits, kurma is also an excellent source of natural sugars like glucose and fructose which enables them to act as energy boosters and restore blood sugar levels, which is especially needed during the fasting month. This comes with the added benefit of ease in digestion which allows for faster assimilation of nutrients.
Packed with the nutritional benefits of real kurma extract, the Goooday Pasteurised Kurma Milk contains similar goodness and nutrients as the other products in Goodday Milk's pasteurised milk range that consumers have come to know and love. Among the nutrients are protein, calcium, vitamin D, B2 and B6, which are crucial for growth and development. Fans will also be pleased to know that with the Goodday Pasteurised Kurma Milk, the calcium content is higher for better bone health, making this delicious milk even more delectable among consumers.
"The introduction of Goodday Pasteurised Kurma milk comes at the back of the success of the Goodday UHT Kurma Milk which was launched mid last year. The positive response from our consumers has inspired us to extend this variant into Goodday Milk's pasteurised milk range, giving us an opportunity to address the demands of different consumers in the market," said Santharuban T. Sundaram, Vice President of Marketing at Etika Sdn Bhd.
"Goodday Milk has been a part of Malaysians' lives for the past 50 years. Therefore, we are absolutely honoured to share the newly launched Goodday Pasteurised Kurma Milk with our fellow Malaysians. The naturally sweet taste of kurma elevates the already-beloved taste profile of Goodday Milk's pasteurised milk, which is sure to excite consumers," he added.
Goodday Pasteurised Kurma Milk is now available at hypermarkets, supermarkets, convenience, and provision shops nationwide in two sizes – 300ml and 1L.
For more information, please visit: https://www.facebook.com/gooddaymilkmalaysia.

---
[1] According to a review conducted by researchers at Qassim University, Saudi Arabia and Suez Canal University, Egypt states that dates are beneficial in treating various conditions due to their anti-inflammatory, anti-oxidant, and anti-tumor properties. For more detail, click here.
About Goodday Milk
Goodday Milk has been a favourite in Malaysia since 1968 and it is the country's No.1 Pasteurized Fresh Milk in the Liquid Milk Segment today. Manufactured by Etika Dairies and distributed locally by Etika Sdn Bhd, Goodday Milk is bursting with freshness and packed with protein, calcium and vitamins to complement a healthy diet and balanced lifestyle. It is currently available in a variety of variants such as Full Cream Milk, Fresh Milk, Low Fat Milk, Chocolate Flavoured Milk and Kurma Milk in pasteurized form as well as Full Cream Milk, Low Fat Milk, Chocolate Flavoured Milk, Strawberry Flavoured Milk, Honey Flavoured Milk, Green Tea Flavoured Milk, Kurma Flavoured Milk and Goodday Charge in UHT form.  
About Etika
One of Malaysia's leading drink distributors, Etika Sdn Bhd is a wholly owned subsidiary of Asahi Group Holdings Ltd., Japan and the official bottler for PepsiCo in Malaysia. Etika Sdn Bhd markets and distributes some of PepsiCo's global brands such as Pepsi, Sting, Evervess, Revive Isotonic, 7UP, Tropicana, Mirinda, Lipton Ice Tea, Mountain Dew, Gatorade and MUG, as well as its own range of products which include Chill, Kickapoo, WONDA Coffee, Goodday Milk, Calpis, Dairy Champ and Bleu.