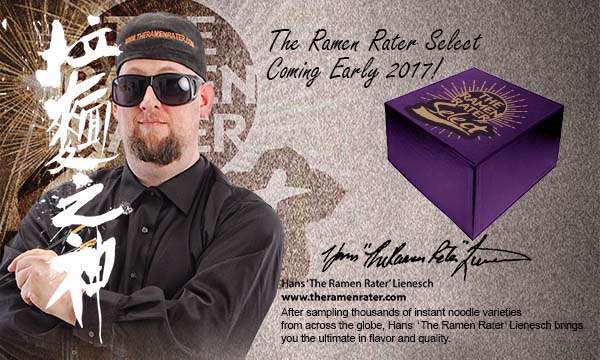 A very Happy New Year to all our readers! Here is a good news to kick off 2017.
Hans Lienesch, founder of the influential site TheRamenRater.com, has informed me that he has created The Ramen Rater Select. The following is how he describes the new product.
The Ramen Rater Select is a line of premium instant noodles – ones that I consider to be the best in the world. The first variety will be available soon, and soon I'll let everyone in on the flavor and where it can be purchased.
As you know, I've reviewed thousands of instant noodles over the years; ones I've liked immensely, ones I haven't. All of the best aspects I've found went into the recipe for these products. This isn't something I've taken lightly; it's really been a process of trial and error. This effort has resulted in a line that is just amazing. 
When available, I'll be having samples sent to other reviewers and posting their reviews here. Ultimately, it's all about you – the hungry guy or gal who wants to taste something authentic, innovative and delicious. I believe I have created this and can't wait to hear what the world thinks!
Finally, I want to mention: THE RAMEN RATER SELECT WILL NOT BE ON ANY OF MY TOP TEN LISTS. It just wouldn't be fair, and a definite conflict of interest. I will continue to review instant noodles as I always have – based solely on my taste buds.
I am eagerly waiting for the launch of The Ramen Rater Select and will keep you all informed.