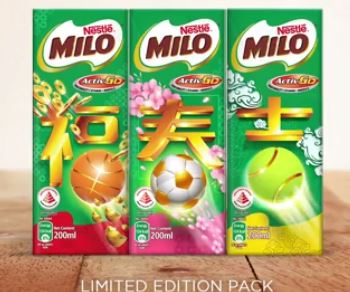 Chinese New Year is celebrated with a bash in Singapore, a country with 5.75 million people, of whom over 70% are of Chinese descent. For some of the categories, substantial sales come from Chinese New Year, which makes the festive season an important sales period in their marketing calendar.
Here are some examples of how brands celebrate Chinese New Year in the island nation.
Milo
This year, Nestle's Milo is celebrating Chinese New Year with a limited-edition Milo in 200ml packs featuring auspicious Chinese characters – 福 (prosperity), 春 (spring) and 吉 (luck). The design incorporates a sports element featuring basketball, football and tennis ball to strengthen the bond between Milo and sporting activities.
Super Coffee – Double happiness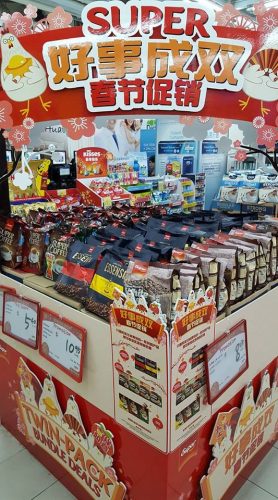 Super Coffee promotion is called 好事成双 (good things come in pairs).
OldTown Coffee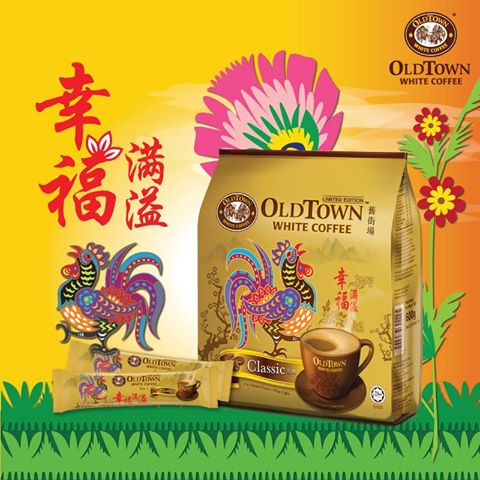 OldTown is celebrating the year of the rooster with a special limited-edition gold packaging featuring three designs. The auspicious word is 幸福满满 (full of happiness).
Carlsberg – Opportunities abound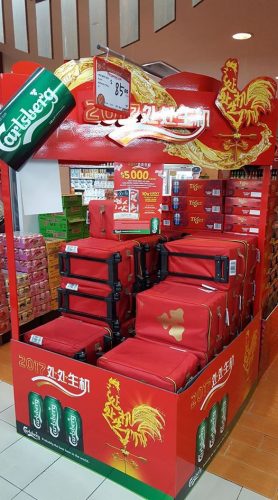 The auspicious tagline for Carlsberg for this year is 处处生机 (opportunities abound).
Guinness – Filled with fortune and flavour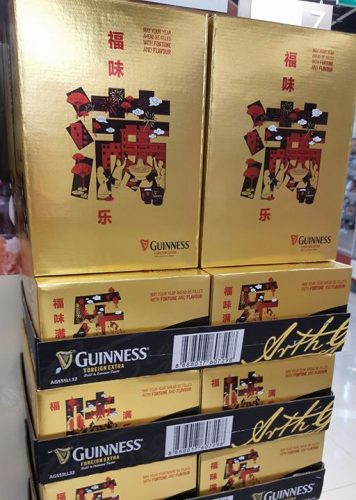 Guinness comes in a gold box featuring the word 福味满乐 or "May Your Year Ahead be Filled with Fortunate and Flavour".
Tiger – Make reunion counts

Heineken's Tiger Beer key theme for Chinese New Year 2017 is "Make Reunions Count." Venus Teoh, Head of Marketing, Asia Pacific Breweries (Singapore) said "Tiger Beer is committed to helping Singaporeans rediscover the meaning of home. Just as we've set out to reignite passion for the love of our street food, this festive season, we want to make reunions count by reminding everyone that there is really no place quite like home, and empower them to make this reunion a meaningful one."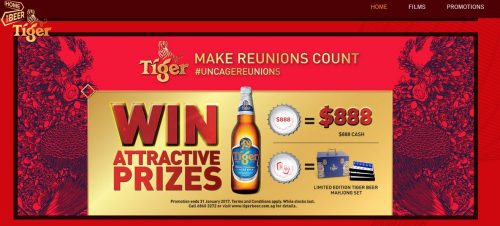 3,500 limited-edition Tiger Beer mahjong sets were given away to lucky customers as well as SGD 888 cash prizes. To know if they have won the prizes, all consumers need to do is to check under the cap.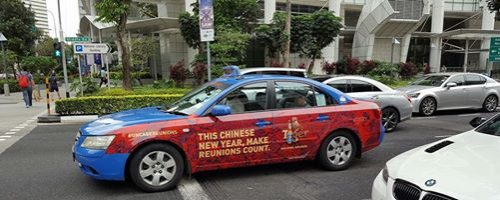 Mobile advertisement for Tiger Beer on the streets in Singapore. Image above was captured by the author
The brewer also introduced the "Tiger Beer – Home" campaign featuring three Singaporeans who took the courage to pursue their dreams. Singaporeans are encouraged to bring a loved one home and make their reunions count.
F&N – Golden rooster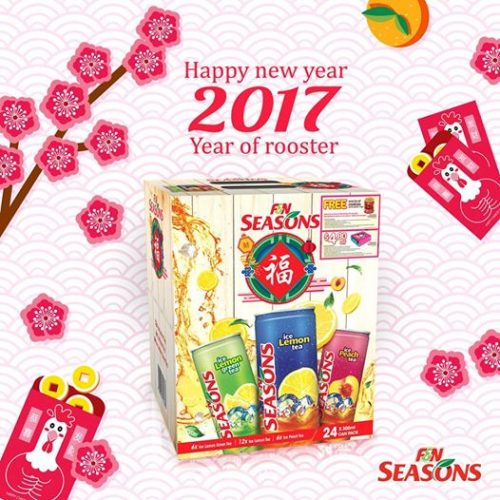 F&N is celebrating the year of the golden rooster with attractive festive packaging designs for its multi-can pack. The auspicious greeting for the F&N flavoured carbonated soft drinks is 金鸡报喜 or "Golden Rooster Proclaims Happiness".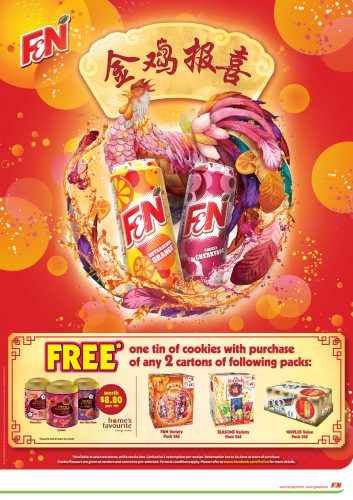 The 100Plus isotonic drink, meanwhile, comes with two limited-edition designs featuring the words 喜 (happiness) and 福 (blessing).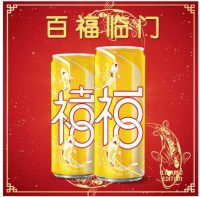 Grand Ferrero Rocher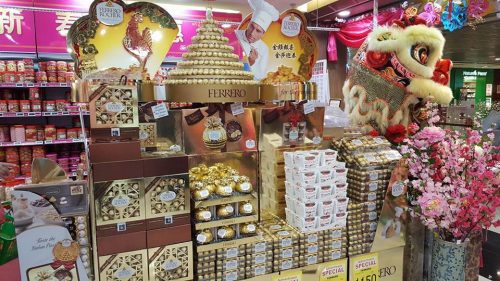 Ferrero Rocher is popular for gifting during Chinese New Year because its gold wrapper symbolises wealth. This year, the company has made available Grand Ferrero Rocher featuring a delicious chocolate shell with 2 Ferrero Rocher inside.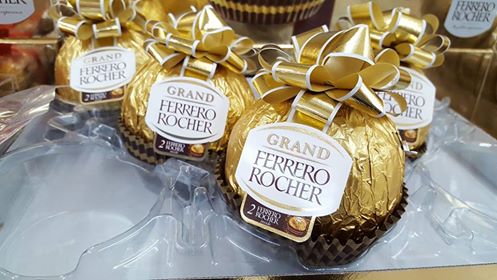 Cadbury – Glow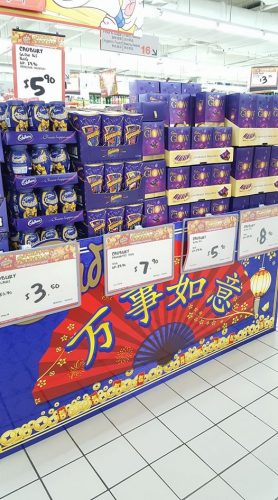 Mondelez is bringing back the Cadbury Glow limited edition premium chocolate, which is a luxurious pralines, for Chinese New Year. Other products for the festive season include Cadbury Favorites, Cadbury Milk Tray, Cadbury Dairy Milk and Cadbury Choclairs. These are all meant for sharing with friends and family.
Merci – Rooster key ring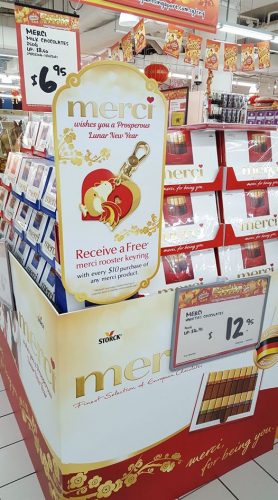 Merci, the chocolate brand of August Storck KG, is giving away Merci rooster key ring with every SGD 10 purchase of any Merci products.
Brand's – Nourish the ties that matter

Brand's has always been part of Chinese New Year gifting. This year, it offers 4x of Essence of Chicken 12s x 68ml featuring auspicious messages 好事连连 (Good things happening repeatedly).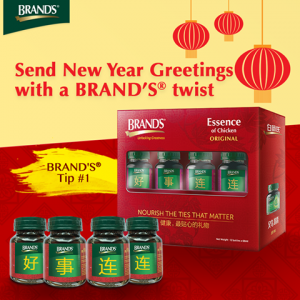 Ribena – Usher in spring by giving away purple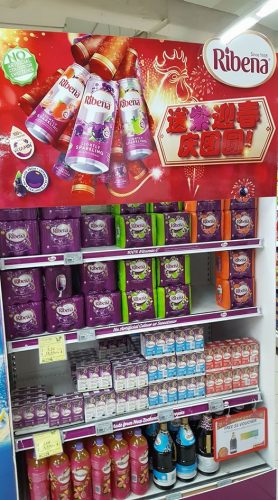 Lucozade Ribena Suntory is back once more focusing on Ribena Sparkling as the flagship product to celebrate Chinese New Year with a sparkle. The brand gave away a free can of New Moon Pacific Clams 425g (worth $9.90) with every purchase any 4 x 6s Ribena Sparkling Packs on 7-8 January 2017.
Ribena's auspicious message is 送紫迎春庆团圆, which literally means "Usher in spring by giving away purple (Ribena).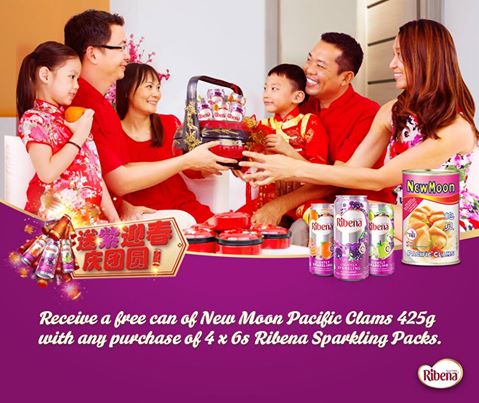 Coca-Cola – Food pairing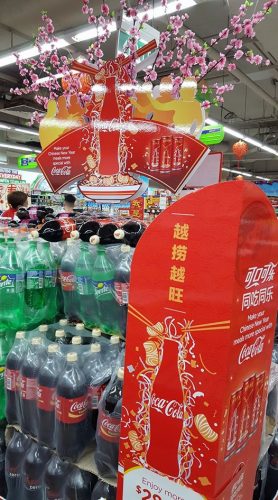 In Malaysia and Singapore, Coca-Cola's key theme for the 2017 Chinese New Year is 可口可乐同吃同乐, which literally means "Fun with food." The bottle comes with three food-theme designs.
Knorr – WMF scissors for redemption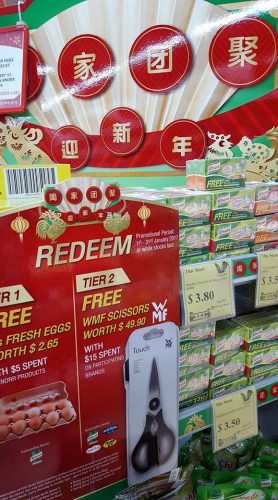 Unilever is having is having a redemption program for its seasoning brand Knorr as well as other participating brands like Planta, Lady's Choice and Best Foods. The idea is to use Unilever's food products to create the special Chinese New Year dish.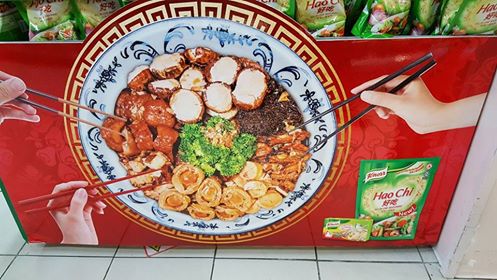 Maggi – Free prosperity cookware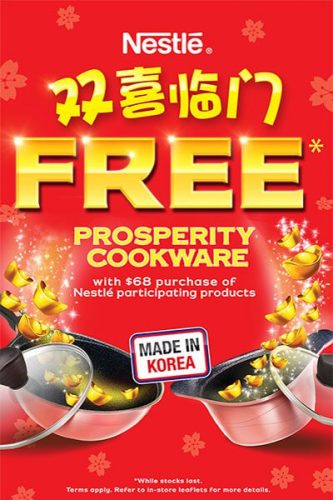 Nestle's Maggi is giving away a free Korean properity cookware with every SGD 68 purchase of Nestle participating products.
Swanson – Making reunion dinner tastier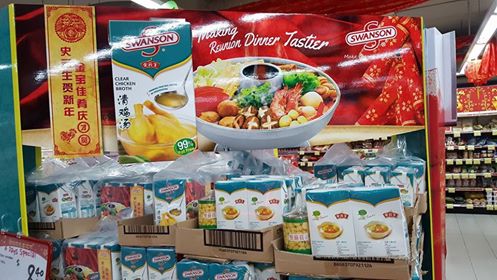 Campbell's Soup Singapore's Swanson aims to make reunion dinner tastier by adding the chicken broth in the reunion dinner hot pot.
What Mini Me thinks
The creative playing of words to create an auspicious and unique greeting for the brand is important in every Chinese New Year marketing campaign. Packaging and reward are also important to attract consumers at point of sale.