Malaysians will be welcomed with 10,000 free scoops on the 2nd of September, 2019
Kuala Lumpur, 29 August 2019 – Get mooo-ving and have your spoons ready as KL is about to be hit with delicious, mouth-watering chunks and swirls! World-famous Ice Cream company, Ben & Jerry's, is officially opening its first-ever Scoop Shop in Malaysia at Sunway Pyramid (Central Avenue). In conjunction with the official opening, the premium ice cream brand will be greeting Malaysians with 10,000 free scoops on the 2nd of September, 2019, Monday from 12:00pm – 8:00pm.
The Scoop Shop is ready to serve an exciting menu of sixteen (16) ice cream flavours, including the brand's global best-sellers – Cherry Garcia, Chocolate Fudge Brownie, Chunky Monkey, New York Super Fudge Chunk, Triple Caramel Chunk and Tonight Dough, alongside new shakes, sundaes, ice cream cakes and a wide range of merchandise.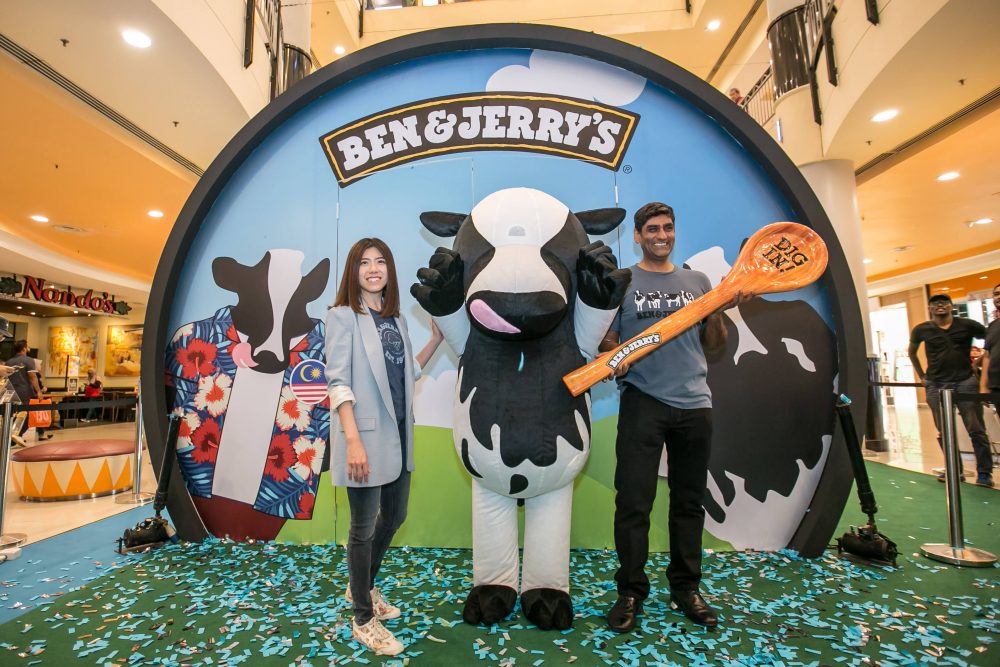 "We are learning that our customers are becoming more conscious of the products and ingredients they consume, and the values brands have. We at Unilever are proud to introduce Ben & Jerry's to the market and its strong values along with it. We look forward to educating our local consumers on the brand's history and our unique social mission which aims to create a positive difference in the world. We know that now more than ever, Malaysians are ready to spread peace, love and ice cream together with Ben & Jerry's," Shiv Sahgal, Food and Refreshments, Marketing Director of Unilever Malaysia said.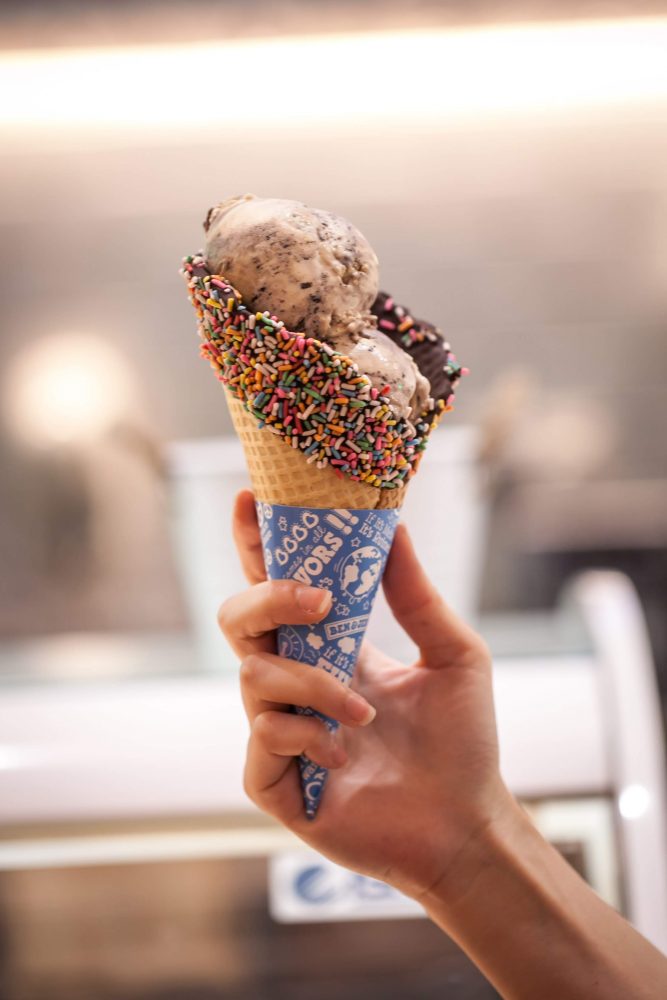 In wanting to make 'the best possible ice cream in the nicest possible way', Ben & Jerry's believes that apart from making delicious ice cream, the brand has a powerful and positive advantage in evoking social and environmental change. From Fairtrade farmers being paid fair prices to providing people in need of a second chance with job opportunities, Ben & Jerry's sources ingredients from producers and suppliers who share similar values. Aligned with this approach, Ben & Jerry's in Malaysia have partnered with eat X dignity – a homegrown initiative that provides underprivileged students with entrepreneurial opportunities in the Food & Beverage industry – to create baked goods that will be made readily available at the Ben & Jerry's Scoop Shop in Kuala Lumpur. In addition, the Scoop Shop in Malaysia will embark on reducing single-use plastic in-store, offering biodegradable paper straws and wooden spoons to customers.
The Ben & Jerry's Scoop Shop in Sunway Pyramid will open doors from the 30th of August onwards with a grand opening on Monday, 2nd of September, where the brand's ice cream gurus will be serving Malaysians free scoops from 12:00pm – 8:00pm. Ben & Jerry's best-sellers are also made available in pints and mini-pints at major supermarkets such as AEON, Jaya Grocer's and Sam's Groceria.
For more information on Ben & Jerry's, check out the brand's:
Facebook page at https://www.facebook.com/benandjerrymalaysia
Instagram page at https://www.instagram.com/benandjerrysmy/
Website page at https://www.benjerry.com.my/
About Ben & Jerry's
As an aspiring social justice company, Ben & Jerry's believes in a greater calling than simply making a profit for selling its goods. The company produces a wide variety of super-premium ice cream, yogurt and sorbet using high-quality ingredients. Ben & Jerry's incorporates its vision of Linked Prosperity into its business practices in a number of ways including a focus on values-led sourcing.
In 2015 the company completed its transition to using entirely non-GMO (genetically modified organisms) ingredients by source as well as to fully source Fairtrade-certified ingredients wherever possible, which benefits farmers in developing countries. Ben and Jerry's products are distributed in 35 countries in supermarkets, grocery stores, convenience stores, franchise Ben & Jerry's Scoop Shops, restaurants and other venues. Ben & Jerry's, a Vermont corporation and wholly-owned subsidiary of Unilever, operates its business on a three-part Mission Statement emphasizing product quality, economic reward and a commitment to the community. Ben & Jerry's became a certified B Corp (Benefit Corporation) in 2012.
About Dignity for Children Foundation
Dignity for Children Foundation aims to empower underprivileged urban poor children to break the cycle of poverty through quality education, positively transforming their lives and the lives of the community around them. Dignity achieves this by establishing high quality learning centres; implementing specialised learning environments to develop children academically and socially thus empowering them to become productive members of society.
Started more than 20 years ago in Sentul, Kuala Lumpur with only 20 students Dignity is now a learning centre with more than 1,000 poor and vulnerable children ranging from 2-17 years old. It provides quality education and care in a secure environment for pre-school to Form 5. Many of the children had gone through the school and passed with IGCSE 'O' level qualifications. Without Dignity's education provisions these underprivileged children would not be attending school and will be open to and engaged with undesirable activities on the streets.