The weather is getting hotter in Malaysia. The extreme hot weather is a good excuse for many to indulge in cold treat like ice cream.
Malaysians are spoiled for choices when it comes to ice cream. We have access to a wide selection of premium ice cream including imported brands like Haagen Dazs (Nestle), Magnum (Unilever), Kapiti and Tip Top from New Zealand, Bulla from Australia, Ben and Jerry's from the USA and Yukimi Daifuku from Japan as well as a new local Japanese owned Malaysian made "iNatural".
Most ice cream comes from Thailand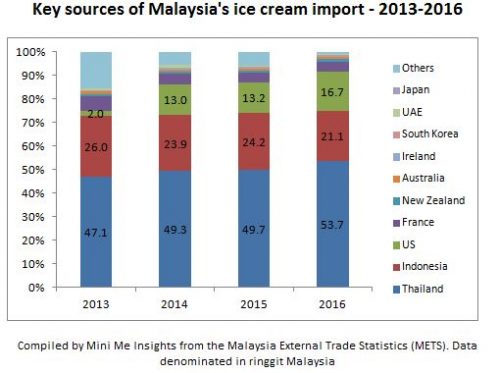 The key sources of premium ice cream are Thailand, Indonesia, the US, France, New Zealand, Australia, South Korea, Japan and other European countries. Häagen-Dazs is manufactured in France, Magnum is made in Indonesia and London Diary is produced in the UAE.
The total value of imported ice cream in 2016 stood at RM 181.6 million, down 9% year-on-year.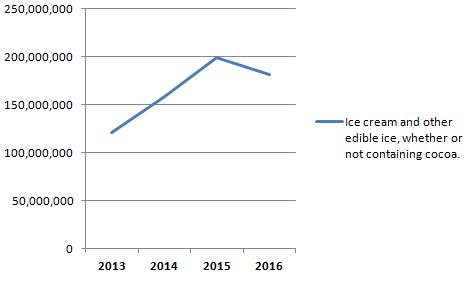 Data above was complied by Mini Me Insights from the Malaysia External Trade Statistics (METS)
Each imported premium ice cream brand has their own taste and ardent followers. Häagen-Dazs needs no further explanation as it has set its name as a premium ice cream. Basically, they all have something in common and that is most are milky, chocolatey, very sweet and not healthy (read indulgent treat).
Here is a summary of their retail prices at Cold Storage.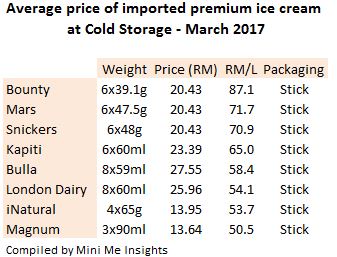 iNatural embraces natural ingredients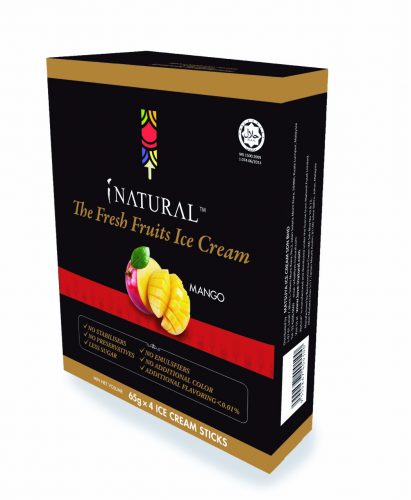 Compared with most premium imported ice cream, the new iNatural, launched in late 2016, adopts a different approach. The taste is based on fresh fruit and coconut milk and it tries to make itself as natural as possible to target the healthy market. iNatural targets consumers who want to avoid high calories, chocolate and the thick milky taste. The ice cream suits consumers who like to  buy fresh juices and smoothies as iNatural is made from real fresh fruit and not from puree.
One thing iNatural can explore in the future with its ice cream are individually wrapped cubes featuring the right size for self indulgence.
Other recent launches – Magnum Red Velvet

Wall's has introduced the limited edition Magnum Red Velvet. The ice cream is inspired by the popular Red Velvet cake. It combines cocoa ice cream and cream cheese sauce with Belgian white chocolate. Here are the ingredients of the new Magnum Red Velvet.
Magnum Red Velvet 80ml
White chocolate, sugar, milk solids (skimmed milk powder, whey protein concentrate), coconut oil, glucose syrup, cream cheese powder, contains permitted colouring, stabilisers (INS 410, INS 407, INS 412), emulsifier (INS 471 – plant origin) and flavouring substances of plant and synthetic origin, cocoa powder and citric acid.
Häagen-Dazs White & Almond

The Häagen-Dazs Raise the Bar ice cream range has been added with the new White & Almond. The stick bar is made in France and does not come with artificial colourings and additives.

Häagen-Dazs White & Almond
Vanilla Ice Cream (Fresh Cream (39%), Condensed Skimmed Milk, Sugar, Egg Yolk, Dried Glucose Syrup, Natural Vanilla Flavouring, Salt) Belgian White Chocolate (Cocoa Butter, Sugar, Whole Milk Powder, Skimmed Milk Powder, Butter Oil, Coconut Oil, Emulsifier: Soy Lecithin) Caramel Almonds (Roasted Almonds, Sugar, Coconut Oil, Glucose Syrup, Caramelised Sugar Syrup).