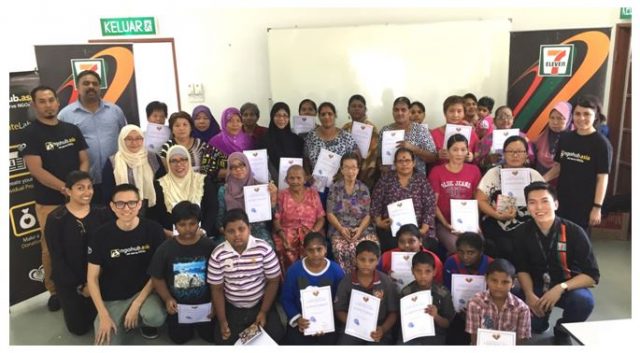 30 March 2017
SELAYANG – In collaboration with NGO Hub Asia and the Association of Social Services and Community Development of Gombak Selangor (PSPK), 7-Eleven Malaysia recently conducted its latest CSR initiative by organizing a cupcake certification course for single mothers and children at PSPK Women Development Centre.
The Association of Social Services and Community Development of Gombak Selangor (PSPK) was formed in 2006 by Rev. Henry Sandanam. Situated in Selayang Baru, Batu Caves, the non-profit organization is dedicated in empowering single mothers and youths from the underprivileged community. They offer help to these individuals in gradually regaining confidence and attain a renewed sense of purpose to extend their support within the community.
"We believe that in order for individuals to be self-sustaining, they have to take the initial step towards change," said Rev. Henry. "The acquisition of different skill-sets through our training program provides an opportunity for these individuals to generate income on their own and lead a self-sustained life."
"In return, they only have to contribute back to the community and help restore the lives of others. For the community, by the community," he added.
More than 40 participants were present during the cupcake certification course. To facilitate the program, 7-Eleven Malaysia and NGO Hub Asia volunteers assisted with the preparation of frostings and fondant to be used for decorating. Specialized baking instructors were invited to conduct the certification session by teaching cake piping techniques to the participants and they eagerly embellished their cupcakes with elaborate and creative designs.
By the end of the session, assortments of cupcakes were boxed and ready to be brought home. In acknowledgement of the community's participation and achievement, 7-Eleven Malaysia awarded each individual with a certificate and a small reward; followed by a hearty lunch consisting of freshly packed food from 7-Eleven Malaysia's range of Fresh to Go products.
7-Eleven Malaysia General Manager of Marketing, Mr. Ronan Lee commented, "In support of women, we at 7-Eleven Malaysia are devoted to empower them through any means possible and help them gain the recognition they deserve to uphold in society and demolish stereotypical beliefs. It is truly a pleasure to be able to fulfil our part to make a difference for the community. Knowing that we can inspire change within these individuals to take charge in the betterment of their lives motivates us to extend our help further to those who need us, as it is our aspiration to continue to be Always There For You.
For more information, please log on to www.7eleven.com.my or follow 7ElevenMalaysia on Facebook, Instagram and Twitter.
About 7-Eleven Malaysia
7-Eleven Malaysia Holdings Berhad through its subsidiary 7-Eleven Malaysia Sdn. Bhd. is the owner and operator of 7-Eleven stores in Malaysia. Incorporated on 4 June 1984, 7-Eleven Malaysia has made its mark in the retailing scene and have been a prominent icon for over 32 years. 7-Eleven Malaysia is the pioneer and largest 24-hours standalone convenience store operator in Malaysia with over 2,100 outlets nationwide and serves more than 900,000 customers daily. 7-Eleven stores can be found across bustling commercial districts to serene suburban residential compounds throughout Malaysia, from petrol stations and LRT stations to shopping malls and medical institutions. 7-Eleven is Always There For You.