One thing that most Malaysians cannot live without is Milo, a humble chocolate drink, which was first developed by Thomas Mayne in Sydney, Australia in 1934. According to Nestle Malaysia Managing Director Alois Hofbauer in 2016, the company sells over 7 million cups of Milo per day in Malaysia. This makes Malaysia the country with the world's highest per capita consumption of Milo.
To give the reader a sense of perspective, the per capita consumption of tonic drink (including Milo) in Malaysia reaches 200 cups compared to just 25 cups in Thailand, said Chaiyong Sakulborrirug, business director for dairy and adult nutrition at Nestle (Thai). Milo is number two in the tonic drink market in Thailand.
Recent Milo innovations in Malaysia


In 2016, Nestle reduced the sugar content in Milo by 20%. The convenient stick pack was added to the Milo Kosong range, which contains less sugar. The company also introduced the Milo frozen confection in 2016.

The world's first Milo in convenient PET bottle was launched in 2015. The Milo Nutri G is crafted with a wholesome selection of 4 whole grains: oats, brown rice, wheat and barley for consumers on-the-go.

Milo Cube is a hit in Malaysia & Singapore

The interest about Milo Cube started to emerge in Malaysia and Singapore in late 2016. Similar to Malaysians, Singaporeans also love their Milo. Milo Cube is to be eaten like a candy with rich chocolates filling that melts into your mouth.
Milo Cube is not only popular with children but also with adults who need something quick to eat while on-the-go.
Online is key sales channel
The online interest for Milo Cube (officially known as Nestle Choco Milo) is significantly higher than Milo Nutri G RTD drink. The key reason for the surge in the search activity for Milo Cube online is that the product is not officially available in both countries. Milo Cube is mainly sold on the Internet and this means consumers have to make the purchase online.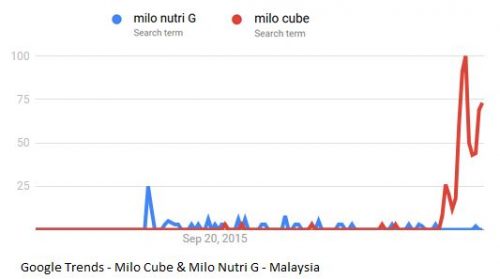 Nestle Singapore did not rule out the possibility of introducing Milo Cube in the country sometime in 2017. The company hinted this when it was contacted by the online news portal AsiaOne in January 2017 to comment on Milo Cube's popularity in the island nation.
According to a local Malaysian company Nuriesa Global Enterprise, it sources all the Milo Cubes from Nigeria. The company said it even sells to Sabah, Sarawak and Singapore. It claims to be able to sell 100 to 200 cartons on average [per month?]. Each packet with 100 cubes is sold at a price of RM 45.
Image below was taken from 11street.my on 5 April 2017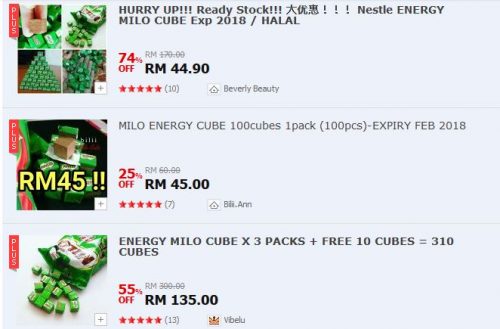 What Mini Me thinks
We could possibly see Milo Cube becoming another example of KitKat Green Tea where the popular made-in-Japan wafer is embraced by Malaysians prompting Nestle to localise production in Malaysia and turn the country into the export hub for Nestle KitKat Green Tea. The made-in-Malaysia KitKat Green Tea comes with the Jakim's halal logo.
P/S: Milo Energy Cube is also very popular in Thailand