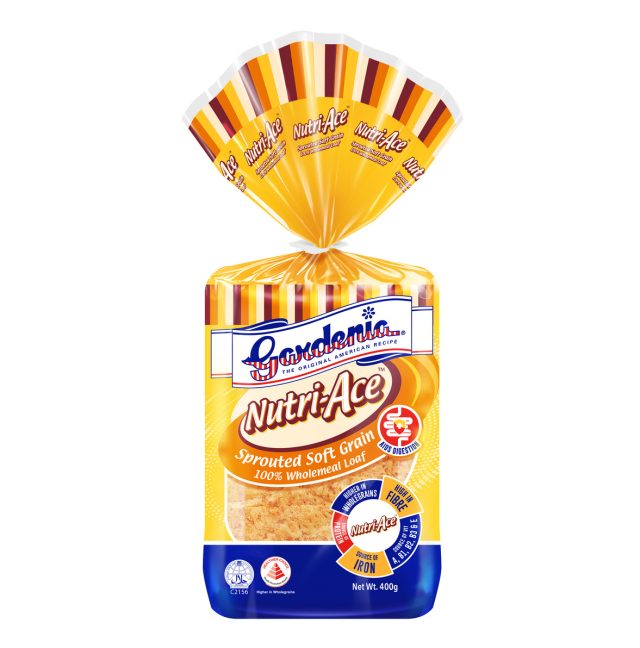 by the leader of the Wholemeal & Functional bread category
Singapore, 16 October 2023 – Gardenia, Singapore's bread market leader with more than 50 delicious varieties of bread, presents its latest offering – the tasty Gardenia Sprouted Soft Grain 100% Wholemeal Loaf as part of its new Nutri-Ace range, perfect for all to enjoy every day, any time of the day.
As Singapore's number one best-selling wholemeal bread brand, Gardenia is at the forefront of product innovation to serve the needs of Singaporeans, and has consistently delivered quality and delicious bread to households nationwide, baking more than 200,000 freshly baked loaves daily. Gardenia's commitment to crafting the finest selection of breads will now include the newly launched Gardenia Nutri-Ace Sprouted Soft Grain 100% Wholemeal Loaf. Made with naturally sprouted Canadian grains and 100% wholemeal flour, this specially baked loaf meets the aspirations of those seeking a healthy and delicious bread option.
The launch of Gardenia Nutri-Ace Sprouted Soft Grain 100% Wholemeal Loaf is especially important and timely as consumers embrace Healthier SG, a major transformation of Singapore's healthcare system. The focus of this national initiative will shift the emphasis from reactively caring for those who are sick, to proactively preventing individuals from falling ill. The key is for the population to reshape its health-seeking behaviours and lifestyles.
As World Bread Day on 16 October acknowledges bread as one of the world's oldest foods, consumers are reminded of the importance of this staple food in their daily lives. Health-conscious individuals are also increasingly choosing wholemeal loaves to boost their daily dietary fibre intake which contributes towards healthier eating habits and better nourishment.
It is widely acknowledged that a balanced and nutritious diet is important for overall health and well-being, especially for the elderly. As digestion slows down with age, food moves slowly through the gastrointestinal tract, which may impact their well-being. Chewing and swallowing may also become difficult for the elderly as saliva production falls or if they are experiencing dental problems.1
High in dietary fibre for gut health and to aid digestion especially for the elderly, Gardenia Nutri-Ace Sprouted Soft Grain 100% Wholemeal Loaf steps up to the plate with sprouted grains being one of the key ingredients as health-conscious consumers are increasingly focused on the importance of digestive health, especially among the elderly in terms of chewing and digestion. According to scientific research, dietary fibres benefit a healthy gut microbiome, overall metabolic health, and improved colonic health.2
According to research, adequate protein consumption is critical for maintaining optimal health during normal growth and ageing, and to prevent lean body mass loss.3 Gardenia Nutri-Ace Sprouted Soft Grain 100% Wholemeal Loaf contains the essential protein nutrient and also iron, another vital nutrient which prevents iron deficiency-related diseases such as anaemia.  Iron is an essential element for humans as it is responsible for various metabolic processes of the body.4
Gardenia Nutri-Ace Sprouted Soft Grain 100% Wholemeal Loaf has a host of significant vitamins A, B1, B2, B3, and E – for immunity, proper nervous system functioning, growth of cells, digestive health, and vision health; respectively. The loaf also carries the Healthier Choice Symbol accorded by the Health Promotion Board (HPB) and is halal-certified.
Gardenia Nutri-Ace Sprouted Soft Grain 100% Wholemeal Loaf is available at all leading supermarkets, hypermarkets, and convenience stores at the retail price of SGD$3.40.
For more information on Gardenia and its current promotions, please visit the following official webpage of social media accounts:
●       Official website: https://gardenia.com.sg
●       Instagram: https://www.instagram.com/friendsofgardenia
●       Facebook: https://www.facebook.com/FriendsofGardenia