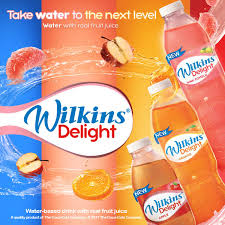 Coca-Cola FEMSA Philippines has launched Wilkins Delight,  the first water – flavored with real fruit juice, in the Philippines on 5 April 2017. Wilkins is a distilled drinking water known as the standard of purity and safety in bottled water among consumers in the Philippines.
Targeting young adults
Now, Coca-Cola has extended the brand into flavoured water for young adults (the millennials) and anyone who want more than just water.
#AddColourToLife
"Young adults hate boredom. They want their lives to be interesting and colorful," said Stephan Czypionka, Coca-Cola Philippines Vice President for Marketing. "They want to see new places, meet new people, and taste new colorful products that are not only healthy but also hydrating and entertaining to their taste buds."
Key USP
The key USP of Wilkins Delight is it is made from Wilkins pure drinking water (safety) and infused flavor from real fruits (good for you).
Available in three flavours and 2 sizes
Wilkins Delight comes in three flavors: Apple, Pomelo, and Orange—comes in a 250- and 425-ml bottles with SRPs of P10 and P15, respectively. The product is available in leading supermarkets, groceries, convenience stores, and other retail outlets nationwide.
Competitive landscape
With carbonated soft drinks struggling to keep up with consumer shifting taste for delightful yet healthier option, brands are turning to flavoured water or vitamin water to fill the gap. We have URC's B'lue, which is described as a "surprising drink plus water," and Nature's Spring flavoured water, which is a water-based drink with fruity twist flavors.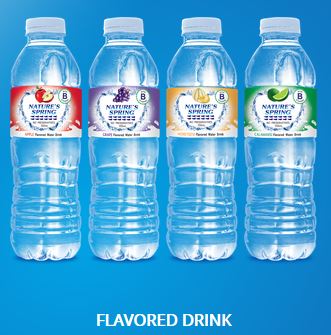 The Nature's Spring flavoured water is made by the bottled water company Philippine Spring Water Resources Inc. It contains Vitamin B1, B3, B6, and B12 and is touted as a "healthier alternative than soft drinks" by the brand owner.
What Mini Me thinks
We are seeing a shift in product innovation towards products that are seen as having the fun yet healthier proposition. Flavoured water category has room to grow as it is new and ties in well with Filipinos who generally have a sweet tooth.
It also adds an extra revenue stream for sweetened beverage brand owners in view of the expected implementation of the proposed soda tax on soft drinks, fruit drinks, sports drinks, sweetened tea and coffee drinks, energy drinks and all other non-alcoholic beverages that are ready-to-drink and in powder form.
Flavoured water is expected to be excluded as the proposed soda tax excludes natural fruit juices, natural vegetable juices, yogurt, milk products, meal replacement beverages or medical food as well as weight loss products.