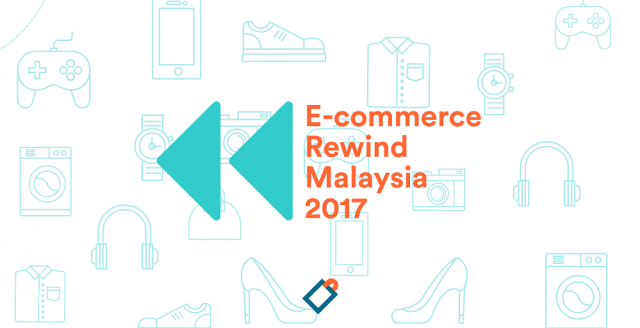 Analysing Malaysia's Top E-Commerce on Google Trends, App Stores and Facebook
Lazada most searched e-commerce in Malaysia followed by Shopee which rapidly rose from 5th to 2nd by end 2017
Online sale periods which garnered the highest interest were the 12.12 sale, Single's Day and Black Friday
Shopee and Lazada were the highest ranked mobile shopping apps of 2017
E-commerce with the most Facebook fans in Malaysia were Lazada, 11street followed by Zalora
2017 has been a vital year for e-commerce in Southeast Asia as we saw Google & Temasek recently adjusted their 2016 predictions upwards, stating that the digital economy will be worth US$50 billion by end 2017. Though Google & Temasek did not release any country-specific figures this time, the Malaysian government has publicly noted the huge potential of e-commerce to the development of the nation. This was evident with the recent establishment of the Digital Free Trade Zone (DFTZ) in cooperation with Jack Ma and Alibaba as well as the allocation of significant government resources and the inclusion of e-commerce as among its eight key thrusts of Malaysia's 2025 development plan.
From the e-commerce players' perspective, the digital space is as fertile as ever with more than 22 million active internet users and another five million to come in 2018. To dig deeper and assess the key winners in Malaysia, we conducted this study to ascertain the country's most searched e-commerce, highest ranking mobile shopping applications and its popularity on Facebook in 2017.
Most Searched E-Commerce in Malaysia 2017
Lazada further increased their market lead and garnered a 62.9% increase in search interest for its brand this year when compared with 2016. Apart from the fact that Alibaba holds the majority stake in Lazada, the e-commerce marketplace was the key winner in all vital e-commerce sale events especially the ones initiated by the Chinese giant such as the 12.12 sale and 11.11 sale (Single's Day). In its latest announcement, Lazada wrapped up its month-long sale campaign with US$250 million (RM1 billion) in gross merchandise value (GMV), shattering its previous record of US$123 million (RM500 million) in GMV garnered during Single's Day (11.11 Sale).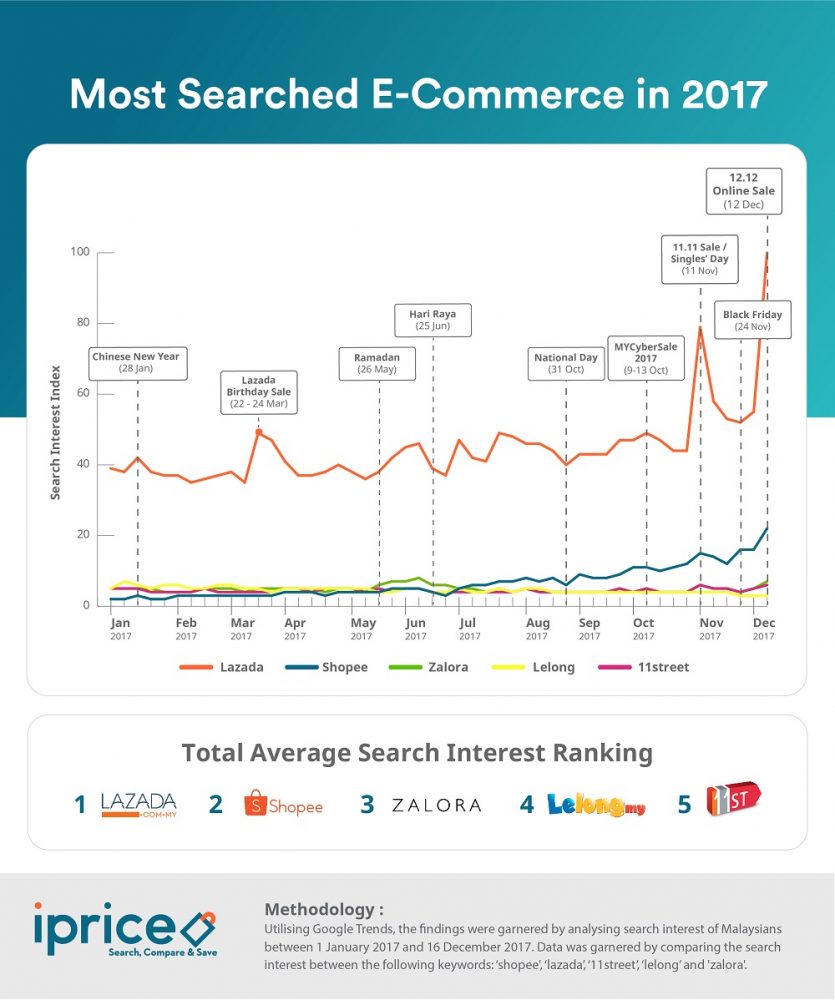 But closing in to Lazada is Shopee who is the fastest growing and youngest e-commerce player in the market. The C2C platform began the year in 5th place and is now the closest competitor to Lazada, ahead of more experienced e-commerce such as Zalora, Lelong and 11street. According to Google Trends, Shopee first took 2nd place on July 2017 and they further cemented its 1st runner up position when parent company SEA (formally known as Garena) filed for US$1 billion IPO in the United States on September 2017. In addition to this, Shopee gained five times more search interest in 2017 when compared to 2016, winning the hearts of Malaysian consumers and becoming a serious competitor to Lazada market-leading position.
Missing from this year's top five e-commerce is GemFive who closed its website and mobile apps in September 2017. There was no official announcement from GemFive on their closing but the e-commerce went through significant downsizing early 2017 and probably lost the backing of its operator, Guoline eMarketing.
Most Vital Online Sale Periods
A flashback to 2015, most consumers would have little or probably no idea what Singles's Day or what 12.12 sale is about. But in 2017 and beyond, these two sale periods are now the most vital events in Malaysia's digital space.
Our study saw that the 12.12 sale (12 December) was the most popular online sale period, ahead of 11.11 Sale (Single's Day – 11 November) and Black Friday (24 November). A notable trend was the three most popular sale periods all took place towards the end of the year and were more popular when compared to local events such as the Chinese New Year, Ramadan and National Day sales periods.
Nonetheless, local festivals and holidays such as the Ramadan and pre-Chinese New Year periods remained important to e-commerce. One such example can be seen at Zalora, where they experienced a surge of interest during Ramadan when most Malaysians are searching for fashion products (Baju Raya) in preparation for Hari Raya.
Top Mobile Shopping Apps in Malaysia 2017
Google & Temasek's study also shed light that Southeast Asians spent more time utilising mobile internet than anyone else on the planet with an average of 3.6 hours per-day. Realising this fact, key e-commerce players in Malaysia have spent significant resources to develop mobile applications to meet the increasing m-commerce demand.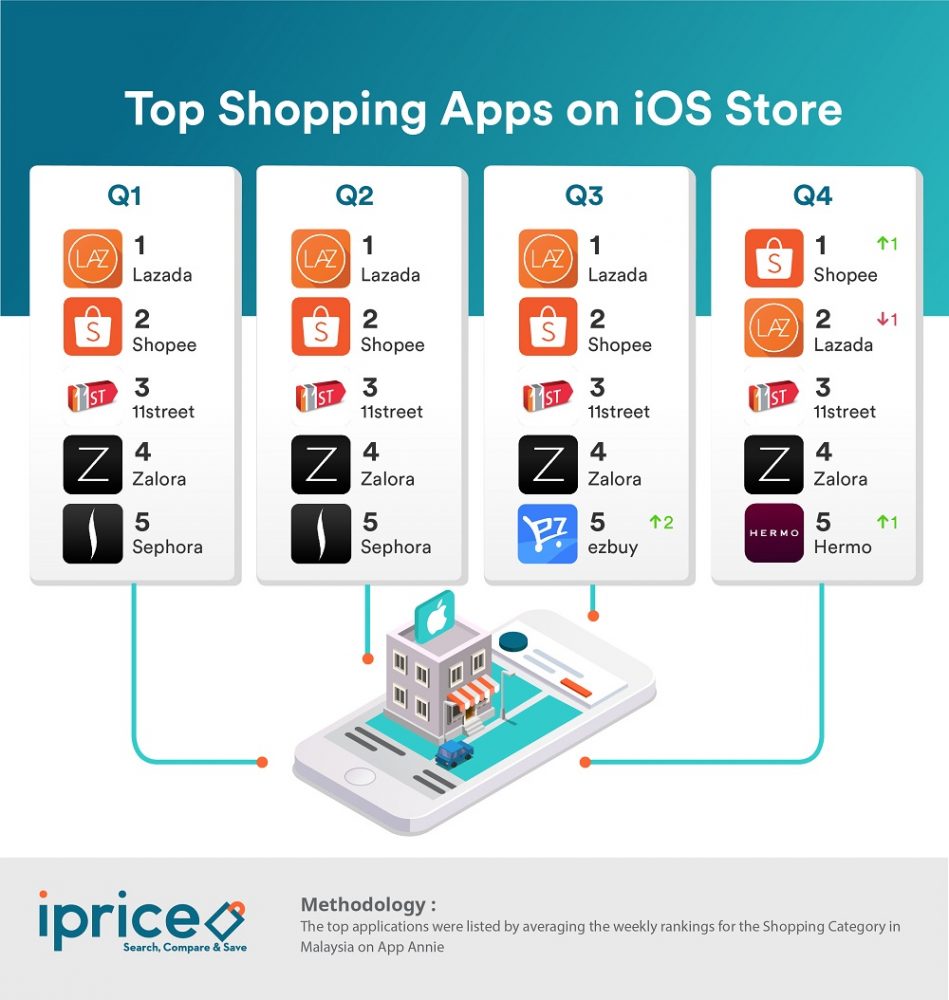 Through our analysis, Lazada is the overall highest ranked mobile shopping application of 2017. Topping the charts for most days in the year, the marketplace platform has claimed dominance in the m-commerce space except Q4 in 2017. In the final quarter and probably the most important online sale period, Shopee topped the charts in both Google Play and iOS App Store.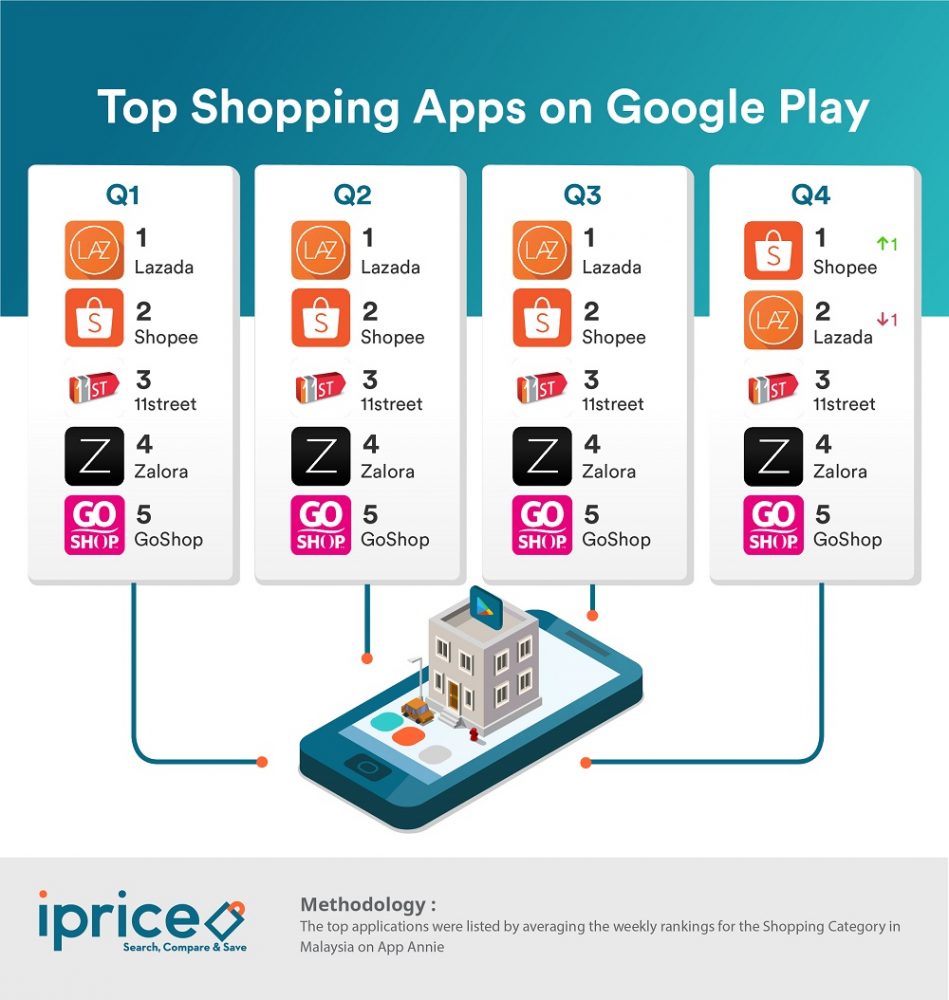 This is the first time Lazada has been displaced by Shopee and while the Alibaba backed e-commerce website has a comfortable lead, its m-commerce leading position is under serious competition. We also discovered that Lazada updated their apps almost two times more frequent than Shopee (as seen between 1 January and 19 December 2017).
Total mobile app updates:
Lazada : 55 updates on Google Play & 29 updates on Apple (Total: 84 app updates)
Shopee : 27 updates on Google Play & 21 updates on Apple (Total: 48 app updates)
Following the top two m-commerce were 11street and Zalora, which remained consistent in 3rd and 4th places throughout the year. Other notable trend in Malaysia's m-commerce was that cosmetic centric apps were more prominent in iOS App Store than in Google Play. Among them was the newly launched Sephora app in 2017, that held 5th place in Q1 and Q2 and Hermo, a locally based e-commerce ranking 5th place in Q4 2017.
Most Popular E-Commerce on Social Media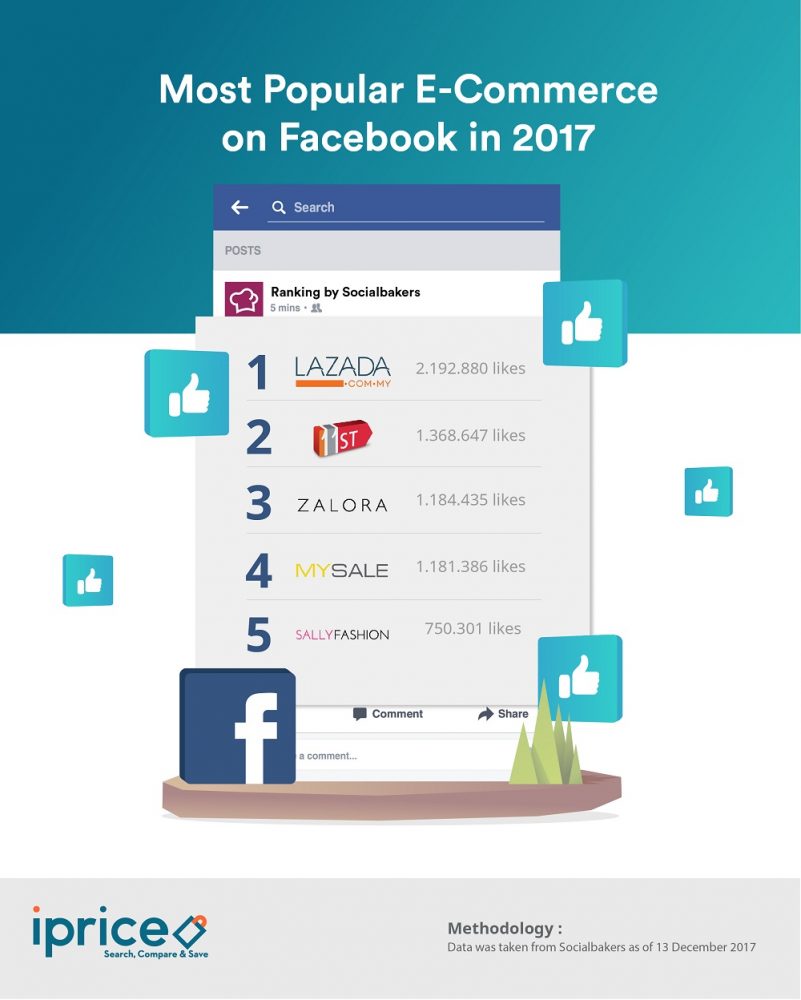 There are more than 22 million social media users in Malaysia as of early 2017 and our previous study on e-commerce showed that most Malaysians prefer to follow their favourite e-commerce on Facebook when compared to other social media networks such as YouTube, Instagram or Twitter. Currently Lazada owns the most Facebook fans in Malaysia with more than 2.1 million likes, followed by 11street with 1.3 million likes and Zalora with more than 1.1 million likes.
iPrice Industry Insights
On a regular basis, iPrice Group releases studies pertaining the Southeast Asian e-commerce and startup ecosystem. For more insights, visit iPrice Group's insights page: https://iprice.my/trends/insights/
Methodology
The following industries were not included in this analysis: e-ticketing, financial services, rental services, insurance, delivery service, food & beverage, meta-search, couponing, cashback websites and e-commerce who solely provides classified ads/P2P services.
Most Searched E-Commerce in Malaysia 2017
Utilising Google Trends, the findings were garnered by analysing search interest of Malaysians between 1 January 2017 and 16 December 2017. Data was garnered by comparing the search interest between the following keywords: 'shopee', 'lazada', '11street', 'lelong' and 'zalora'.
Most Popular Mobile Shopping App
The top applications were listed by averaging the weekly rankings for the Shopping Category in Malaysia on App Annie
Most Popular E-Commerce on Facebook
Data was taken from Socialbakers as of 13 December 2017
About iPrice Group
iPrice Group is a meta-search website where Malaysian consumers can easily compare prices, specs and discover products with hundreds of local and regional merchants. iPrice's meta-search platform is also available in six other countries across Southeast Asia namely in; Singapore, Indonesia, Thailand, The Philippines, Vietnam and Hong Kong. Currently, iPrice compares and catalogues more than 100 million products and receives more than five million monthly visits across the region.
iPrice currently operates three business lines: price comparison for electronics and health & beauty; product discovery for fashion and home & living; and coupons across all verticals.