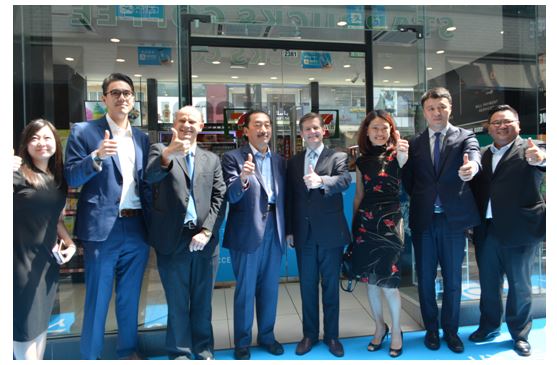 Kuala Lumpur, 22nd May 2017 – 7-Eleven Malaysia Sdn. Bhd., a wholly owned subsidiary of 7-Eleven Malaysia Holdings Berhad and the No.1 standalone convenience store chain in the country with over 2100 stores, is proud to announce its latest in-store service offerings. As of the 12th of May 2017, 7-Eleven Malaysia Sdn Bhd started accepting Alipay app as a means of cashless payment from Mainland Chinese tourists, as witnessed in an official launch ceremony today.
This service is being rolled out in partnership with MOL Accessportal Sdn Bhd (MOL), a subsidiary of MOL Global, Inc., 7-Eleven's strategic partner and technology provider for in-store payment services. MOL acts as a third party merchant acquirer (TPA) to facilitate Alipay payments in Malaysia, by signing up merchants such as 7-Eleven.
Mainland Chinese tourists can now use their Alipay app to make payments in Renminbi while touring Malaysia. Alipay payments are easy and simple to use – merchants only need to scan a barcode generated by the Alipay app in a customer's mobile phone.
Preecha Praipattarakul, Global CEO of MOL Global, Inc., said, "We are excited to work with Alipay to provide Chinese tourists with a convenient and secure payment experience while in Malaysia. We look forward to developing our relationship with Alipay by acquiring more merchants and enabling them to acceptance Alipay".
Hishammudin Hasan, Deputy CEO of 7-Eleven Malaysia said, "As a convenience store operator, we are thrilled to be able to accept payments via Alipay, adding to the convenience aspect for Chinese tourists shopping in our stores. While we are currently enabling this service in over 2,000 stores covering all of Peninsular Malaysia, and by the day after tomorrow, we plan to roll out this service to our entire network of over 2,100 stores".
Tan Sri Vincent Tan, majority shareholder of MOL Global, Inc. and 7-Eleven Malaysia and Founder of the Berjaya Corporation said, "I greatly believe in the value of Alipay's partnership, which will bring a trusted and convenient means of payment to the many Chinese tourists who visit Malaysia every year, while providing local merchants with the opportunity to tap into this growing customer segment market. The Berjaya Group of companies has over 5,000 outlets nationwide. We will go live with Berjaya Group merchants such as Starbucks, Kenny Rogers, Cosway and many more others, as well as our existing partner merchants, in the coming months."
Today a launch ceremony was held between MOL, Alipay and 7-Eleven to mark the launch of the partnership. Tan Sri Vincent Tan, majority shareholder of MOL Global, Inc. and 7-Eleven Malaysia and Founder of the Berjaya Corporation, Gary Brown, CEO of 7-Eleven Malaysia, Preecha Praipatarrakul, Global CEO of MOL Global, Greta Gunawan, Country Head of Alipay Malaysia, Dayong Zhang, General Manager of Alipay Southeast Asia, and Douglas Feagin, SVP of Ant Financial, parent company of Alipay all attended the launch ceremony.
7-Eleven Malaysia is the largest stand-alone convenience store-chain nationwide, with over 2,100 outlets across the country and continuously aspires to elevate customers' shopping experiences and to scale greater heights as the largest stand-alone convenience store operator in Malaysia. To meet today's expectations in providing convenience to customers; 7-Eleven Malaysia opts to stay close to its customer's heart by staying true to its motto, Always There for You.
About 7-Eleven Malaysia
7-Eleven Malaysia Sdn. Bhd. is the owner and operator of 7-Eleven stores in Malaysia. Incorporated on 4 June 1984, 7-Eleven Malaysia has made its mark in the retailing scene and have been a prominent icon for over 28 years. We are the pioneer and the largest 24 hours convenience store operator in Malaysia.
Upon achieving its 1,000 mark in stores network, 7- Eleven Malaysia opened its door to local entrepreneurs through its unique franchising program in 2009. We are the first franchisor in the local market to offer existing profit-making stores to franchisees.
The largest convenience store in Malaysia with over 2,100 outlets nationwide, 7-Eleven Malaysia serves more than 900,000 customers daily. 7-Eleven stores can be found across bustling commercial districts to serene suburban residential compounds throughout Malaysia, from petrol stations and LRT stations to shopping malls and medical institutions. 7-Eleven is Always There For You.
About MOL Global, Inc.
MOL Global, Inc. ("MOL") is a leading e-payment enabler for online goods and services in emerging and developed markets. MOL operates a payments platform that connects consumers with digital content providers, telecommunications service providers and online merchants by providing a vast network of distribution channels that accepts cash and online payment methods. Its physical distribution network comprises more than 970,000 locations in 11 countries across four continents. The Company also has mobile payment channels, electronic distribution channels that accepts major credit cards and online banking from more than 100 banks.
MOL's diverse products and services include the MOLPoints, an online micropayment system which sells payment credits that can be used to purchase online game credits and digital content; MOLReloads, a distribution network that distributes prepaid mobile airtime and digital content; MOLPay, a payments solution for online merchants; and MMOG.asia, an online games portal; Gift Cards, a perfect gift for any occasion and MOLWallet, an online mobile payment processing and money transfer application. For more information, please visit http://molglobal.mol.com/
About Alipay
Launched in 2004, Alipay currently has over 450 million active users, mostly in China. Alipay has evolved from a digital wallet to a lifestyle enabler. Users can hail a taxi, book a hotel, make appointments with doctors, buy movie tickets, pay utility bills or purchase wealth management products directly from within the app. In addition to online payments, Alipay is expanding to in-store offline payments both inside and outside of China. Alipay is supported in 70 overseas markets, with in-store payments covering more than 110,000 retail stores, and tax reimbursement via Alipay is supported in 24 countries and regions. Alipay supports the settlement of 18 currencies.