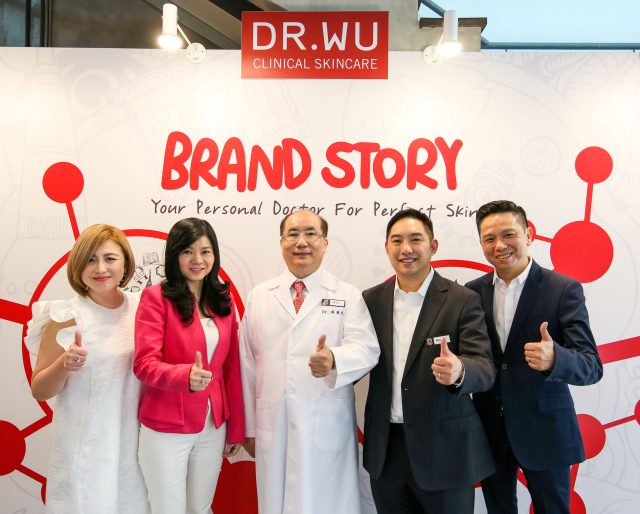 Rejuvenate and Renew To Reveal Clear, Soft, Smooth Skin
DR.WU introduces NEW Daily Renewal Serum with Mandelic Acid
Radiant clear skin that is smooth and soft to the touch is now attainable with the evolution of DR.WU's award winning serum with Mandelic Acid for skin rejuvenation.
The new Daily Renewal Serum with Mandelic Acid together with DR.WU's top selling Intensive Renewal Serum with Mandelic Acid 18% is designed to gently renew skin on a daily basis to combat dullness, uneven skin tones and accumulation of dead skin cells which results in thickened skin that makes it unable to absorb skincare nutrients among other problems.
A key ingredient to DR.WU's skin renewal serums, Mandelic Acid – extracted from bitter almonds – is a mild and multi-functional alpha-hydroxy acid (AHA) with high molecular weight. It can brighten skin tones, improve fine lines and wrinkles, decongest pores, gently boost skin metabolic cycles, and eliminate dead skin cells to achieve skin renewal effects, while gently exfoliating the surface deposits of old and dead skin cells to enhance the rapid renewal of epidermis.
Despite the influx of acid-based skincare products saturating the market, continual research proves that mild Mandelic Acid, with its high lipophilic properties and low potential for irritation, remains the best choice for skin renewal treatments at home.
Designed for dry, sensitive skin the new Daily Renewal Serum with Mandelic Acid 15ml (RM109) features the breakthrough "Three Acids in Golden Ratio" – a gentle formula combining Three Acids in the perfect 5:2:1 Golden Ratio of Mandelic Acid, Salicylic Acid and Pyruvic Acid to penetrate deeper and faster for immediate skin regeneration.
This breakthrough mild formula targets all epidermal layers with precision to eliminate skin troubles in one simple step, effectively eliminating acne, blackheads, enlarged pores and rough dullness to restore flawless and smooth skin!
The new serum joins the brand's top-seller, the highly concentrated Intensive Renewal Serum with Mandelic Acid 18% 15ml (RM149) which is suitable for normal, combination or oily skin, to cleanse and purify pores and thoroughly eliminate blackheads.
This intensive renewal serum contains 18% Mandelic Acid to penetrate the deepest layers of skin, to effectively activate five major skin renewal affects – cell metabolism, pore cleansing, blackhead removal, whitening & brightening, anti-wrinkle lifting & tightening.
The skin renewal serums complement the DR.WU range of skincare products. The comprehensive offering by Taiwan's NO.1 clinical skincare brand includes Hyalucomplex Hydrating System for dehydrated and sensitive skin; Mandelik Renewal System for rough and sensitive skin; Vitamin C+ Whitening System for dull and sensitive skin; Ageversal Repairing System for damaged and aged skin; and Acnecure Anti-Acne System for oily and acne prone skin. Completing the DR.WU skincare systems are the Mineral Make- up and capsule mask series.
Founded by the renowned dermatologist Dr. Ying-Chin Wu and his son Eric Wu, the strength of the DR.WU brand lies in the founder's 40 years of clinical experience and extensive research on the Asian skin structure. The result – a technologically-advanced skincare line of high potency products based on doctor's prescription that one can conveniently apply in the comfort of home.
The brand founder who is also known as "The Father of Cosmetic Medicine" shared a few valuable tips during his recent visit to Kuala Lumpur in conjunction with the introduction of the innovative serum.
"To attain a clear and flawless complexion, basic cleansing is necessary followed by a gentle renewal skincare that can remove dead and old cells while improving cell metabolism. Otherwise the accumulation of old and dead skin cells will make skin look dull, while causing acne and blackheads form. Also the thickened layer of old and dead skin cells will not allow skin to effectively absorb any skincare products you apply, no matter how much you apply or how good they are," said Dr. Ying-Chin Wu.
Debunking the common misconception that only dry skin requires hydration and not oily skin, Dr. Wu clarified, "With much of the human body made up of water, dehydration of the skin or body will cause problems. Therefore hydration is the fundamental of healthy skin and is a very important concept regardless of skin type. In the case where oily skin is caused by the imbalance of oil and moisture – where externally skin is oily but dry inside – hydration through the use of moisturiser is still needed."
Speaking at the launch event, Sam Wong the General Manager of Vast Diversified Sdn Bhd, the exclusive distributor of DR.WU in Malaysia, said, "Created for Asian skin needs by one of Asia's leading dermatologists, it is without doubt that DR.WU products are of uncompromising quality and suitable for even the most sensitive skin.
The product lines contain no alcohol, fragrance and paraben. Further enhanced with advanced technology, using DR.WU products is highly effective with results similar to having your very own doctor treating your skin at home and we look forward to bringing DR.WU to more Malaysians."
The launch also marked the DR.WU partnership with Watsons Malaysia where the range of products are sold at selected stores and Watsons online. Present at the event was Watsons Malaysia's General Manager and Country Head, Caryn Loh, who shared insights on the evolving skincare trends in Malaysia. For more product information, visit DR.WU Malaysia on Facebook.
DR.WU: Taiwan's NO.1 Clinical Skincare
DR.WU, the leading medical skincare brand in Taiwan was founded in 2003 by the renowned dermatologist Dr. Ying-Chin Wu, along with his eldest son Eric Wu. With 40 years of vast clinical experiences and extensive research on skin structure, and a formula based on doctor's prescription, DR.WU has created a technologically-advanced skincare line of high potency products for sensitive skin. With these products, customers are able to enjoy skincare just like having a doctor perform medical treatments at home, maintaining a perfect complexion through the most simple yet effect ways. Our philosophy behind our work is to bring about non-surgical solutions in enhancing one's beauty and wellness.