The official launch of T247, a new energy drink from Ichitan Group PLC in May 2017, marked the entry of the Thai RTD tea giant into the energy drink space in Thailand.
Struggling with RTD tea sales

It is obvious from the 2016 annual report of Ichitan that the company is struggling to revive consumer interest in RTD tea after years of intense marketing. There is no exact breakdown of the segment but Ichitan's revenue mainly came from RTD tea, according to the annual report.
Turns to energy drink
The energy drink market stood at THB 35 billion in 2016, a contraction of 2.6% year-on-year, according to the article in the Bangkok Post on 24 May 2017. The top three players M-150, Carabao Dang and Krating Dang had a combined 94.4% share of the market, in which M-150 from Osotspa dominated with a 57% share.
The reason Ichitan turns to energy drink is because the market is huge and there is only a handful of players. This is a classic example of David taking on Goliath. Ichitan founder Tan Passakornnatee is well known for his ability to use crude but effective marketing (ie cash rewards and lucky draws) to grow the company's share in the RTD tea market, wrestling market share away from Oishi. It is wait to be seen if he is able to repeat the same success with RTD tea in energy drink.
Focusing on both white and blue collars
T247 is aimed at both white and blue collar workers (20-30 years old), particularly new workers, who need the energy to stay ahead. The choice of the brand ambassadors reflect the brand positioning – actor Son-Yuke Songpaisan (well groomed) endorsing T247 with Collagen + Zinc and pop musician Jetrin Wattanasin (macho) promoting T247 with Ginseng.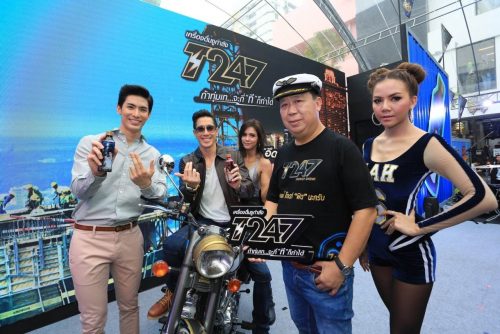 PET bottle as differentiation
The energy drinks of the top three players are in either can or in glass bottle. Ichitan differentiates from the key competitors by coming up with an energy drink in a 280ml PET bottle packaging, similar to AJE's Volt (300ml).
At 7-Eleven, the T247 energy drink is priced at THB 15, which is more expensive than Volt THB 10, Carabao THB 10, White Shark THB 10 and Red Bull Theoplex-L THB 10 but the higher price is made up for the higher volume. The price of T247 is comparable with Red Bull G2 and G3 THB 15 and M-150 Storm THB 15.
The image below was photographed by the author at 7-Eleven in May 2017.
The downsize to using PET is that Ichitan T247 is not placed on the same rack as the other energy drinks in glass or can.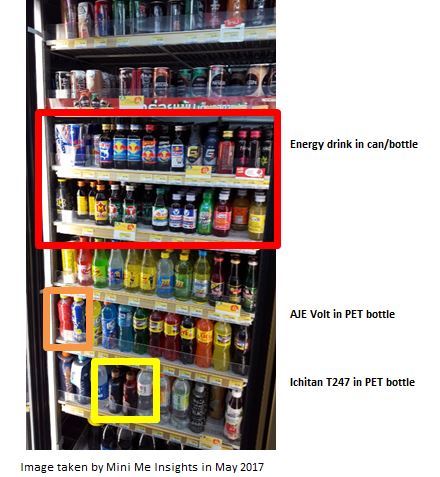 What Mini Me thinks
Ichitan's entry into the crowded and competitive energy drink market will be a test of the marketing powress of the company. Ultimately the success or failure of T247 hinges on marketing.