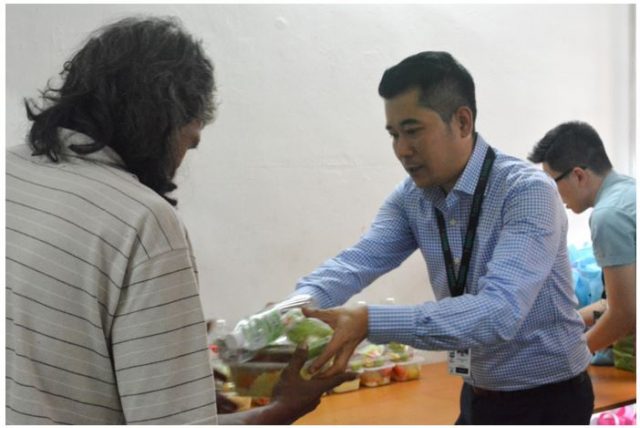 Kuala Lumpur – In conjunction with the Hari Raya celebration, 7-Eleven Malaysia visited Persatuan Kebajikan Ikhlas Komuniti Malaysia (PPKIM) in Lorong Haji Taib 4, Chow Kit to spread festive cheer to the community there.
PPKIM, also known as Ikhlas, is an organization dedicated to support and counsel homeless drug addicts, sex workers, and the transgender community. Serving as a shelter for them, this newly established walk-in centre began operating in June this year. The centre provides access to basic amenities such as water and food for its visitors. They also run a Needle and Syringe Exchange programme that is funded by the Ministry of Health and the Malaysian AIDS Foundation to reduce the rate of contracting HIV via sharing of needles among drug users.
Nor Akmar, one of the outreach workers of the organization said, "We do not discourage these individuals to continue with their daily activities. Instead, we help them by practicing safe habits that would lower their risk of contracting diseases. We will only guide them to the next step when they decide to stop."
Kamal, Secretary of PPKIM and an ex-drug user himself said, "The society tends to perceive that they would behave inappropriately towards others due to their association with drugs or sex. However, our visitors have never displayed such behaviour towards anyone who have visited our centre."
He also added, "Even though there are some who are still actively involved with their activities, it is difficult for them to stop immediately. Ikhlas aspires to provide the support and encouragement they need to undergo the rehabilitation process."
Due to the growing number of visitors, the centre seeks funds to cover their operational expenses and upkeep. They mainly require basic necessities such as food, toiletries, and kitchen supplies. 7-Eleven Malaysia, along with NGO Hub Asia, distributed packed meals and goodie bags containing provisions like a travel toothbrush kit, an Aktif water bottle and other 7-Eleven house brand products.
Mr. Ronan Lee, 7-Eleven Malaysia General Manager of Marketing said, "Hari Raya is a celebration for everyone to partake, including the pockets of community that tends to be forgotten. We are delighted to have been able to celebrate this festivity with this particular community, and we hope that our efforts today will enable Ikhlas to expand its outreach on garnering more awareness and diminish society's stereotypical beliefs regarding these individuals."
He further commented, "This community needs us more than ever. By offering them our support, we are giving them a chance to change their future and lead better lives. We at 7-Eleven Malaysia strongly believe in uplifting the lives of those who need us, and knowing the positive impact we make encourages us to continue our endeavours of being Always There For You."
About 7-Eleven Malaysia
7-Eleven Malaysia Holdings Berhad through its subsidiary 7-Eleven Malaysia Sdn. Bhd. is the owner and operator of 7-Eleven stores in Malaysia. Incorporated on 4 June 1984, 7-Eleven Malaysia has made its mark in the retailing scene and have been a prominent icon for over 32 years. 7-Eleven Malaysia is the pioneer and largest 24-hours standalone convenience store operator in Malaysia with over 2,100 outlets nationwide and serves more than 900,000 customers daily. 7-Eleven stores can be found across bustling commercial districts to serene suburban residential compounds throughout Malaysia, from petrol stations and LRT stations to shopping malls and medical institutions. 7-Eleven is Always There For You.