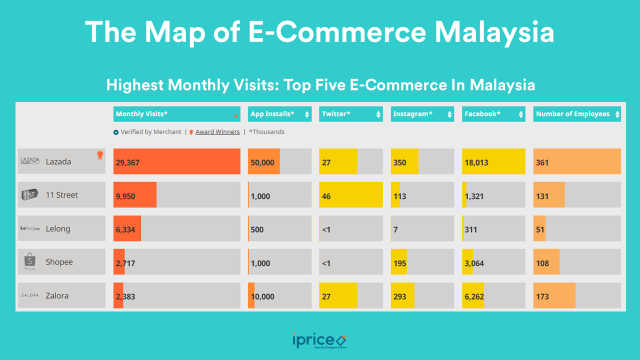 Ranking the Top 50 E-Commerce Platforms in Malaysia
Since the boom of e-commerce in Malaysia during the mid-2000s, the e-commerce industry has consistently steadily grown and is today a RM24.6 billion industry. Over the years, we have seen the rise of both international and local players entering e-commerce space to realise its full potential. While we await to see a fully developed e-commerce in the near future as seen in China or the US, let's assess the progress of e-commerce and see who are the 'kings' of e-commerce in Malaysia today.
To find out who holds the 'throne' in Malaysia's e-commerce landscape, we utilised publicly data provided by SimilarWeb, LinkedIn and Social Media pages such as Facebook, Instagram and Twitter to find their online traffic, number of staff and followers on social media. Based on this, we created an interactive infographic to rank and easily view who is most popular amongst Malaysians.
So, who are the winners in Malaysia's e-commerce landscape?
The Three Kings of Malaysia's E-Commerce: Lazada, Zalora & 11 Street
We ranked and averaged each e-commerce's rankings and found that Lazada remains the clear winner, followed by Zalora and 11 Street. This is reflective of Lazada's announcement earlier this year, as they said Lazada in Malaysia is growing more rapidly as compared to other countries where they operate. Their market leading status can be easily seen through their traffic as they received an average 29 million visitors on a monthly basis while 11 Street, ranking 2nd place in overall average traffic only received 9 million visitors, almost 3 times smaller.
Not to mention with Amazon entering into Southeast Asia through Singapore, the Alibaba-backed e-commerce has publicly expressed confidence when facing competitors as they have obtained valuable on-the-ground knowledge of the six markets where they operate and plans to further bolster their services to stay on top of their game.
We also saw that the top three e-commerce were all founded in the Southeast Asia region. While e-commerce originating outside the Southeast Asian region such as eBay and Sephora is available to Malaysians as well, regional or local based e-commerce seemed to be more successful probably due to their on-the-ground knowledge which gave them a higher advantage. Nevertheless, Malaysia remains an attractive location for international players as well as Malaysia's Prime Minister Datuk Seri Najib Tun Razak announced its partnership with Jack Ma to establish an electronic trade forum to fast-track the growth of e-commerce for both local and foreign players.
Local Kings of Malaysia's E-Commerce Landscape
A household name to many, Lelong is the undisputed local 'king' of e-commerce with online traffic almost five times more than Hermo in 2nd place.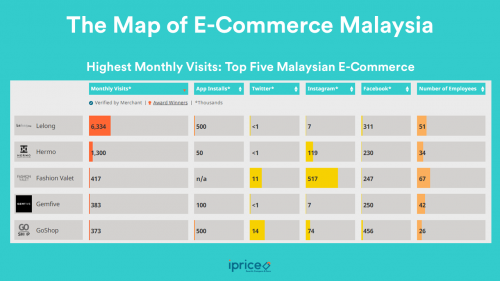 Probably the oldest Malaysian based e-commerce (est. since 1998), Lelong remains the most popular C2C platform to Malaysians as they were among the first to spot the e-commerce potential.
Another apparent trend in the top 10 list was that cosmetics and fashion websites such as Hermo and Fashion Valet are hugely popular as well. These local brands thrive mainly through social media pages such as Instagram where they can easily feature products via images and partnerships with popular local celebrities and brands.
While e-commerce specialising in tech & gadget products are popular in countries such as Thailand and Indonesia, i-Pmart was the only similar merchant featured our top 50 list. Reason for this was because many tech & gadget merchants initiated their business through physical shops and provided tech services. Unfortunately, our list only included businesses who initiated their business on the online space to so we can provide an accurate apples to apples comparison.
Malaysian Fashion Brands Dominates the Instagram Arena
If you're an active Instagrammer, you're most probably following one the following brands as well. Currently Bella Ammara ranks number one, followed by Naelofar Hijab, and Fashion Valet. Meanwhile, non-local fashion-centric brand Lazada, is only in sixth place with followers more than two times smaller than Bella Ammara. Interestingly, we could see that Bella Ammara was able to amass a larger fan base though they had 10 times lesser Instagram posts as compared to Fashion Valet.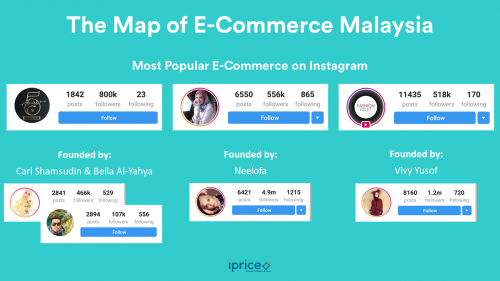 Fashion brands in Malaysia has seen much benefit running their operations through an e-commerce model as it enables them to scale their business according to consumers' needs in the most efficient manner possible.
One such example can be seen through Shopee. Initiated by Garena mid-2015, the e-commerce is the youngest e-commerce in the list but swiftly rose in popularity and is now ranked 4th place in the overall highest average traffic for Q2 in 2017.
From a local perspective, we can see Lelong ranking 3rd highest in traffic but only has 51 staff (according to LinkedIn) indicating a highly efficient C2C e-commerce model which enables them to maintain the platform with low number of staff while maintaining more than 6 million monthly visitors.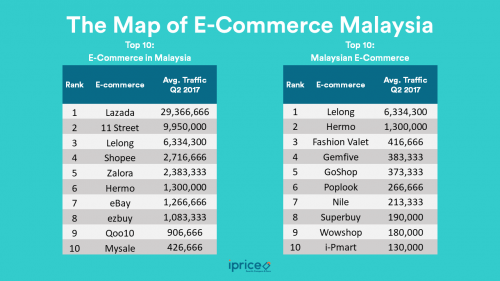 About iPrice Group
iPrice Group is a meta-search website where Malaysian consumers can easily compare prices, specs and discover products with hundreds of local and regional merchants. iPrice's meta-search platform is also available in six other countries across Southeast Asia namely in; Singapore, Indonesia, Thailand, The Philippines, Vietnam and Hong Kong. Currently, iPrice compares and catalogues more than 100 million products and receives more than five million monthly visits across the region.
iPrice currently operates three business lines: price comparison for electronics and health & beauty; product discovery for fashion and home & living; and coupons across all verticals.
Media Contacts
Jeremy Chew
PR & Content Marketer
+6010-226 5271