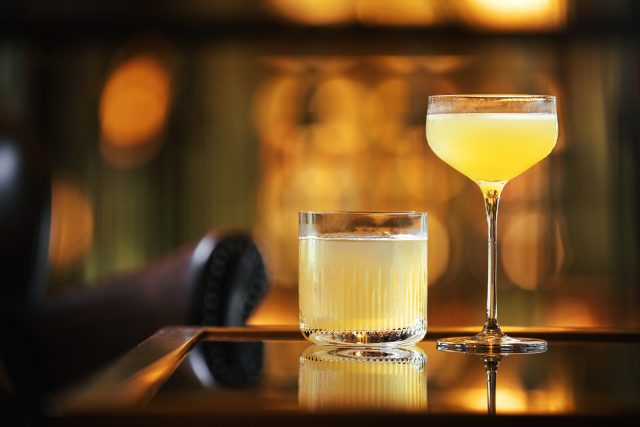 Singapore, 30 July 2020 – With many of us dreaming of leisurely days of unfettered travel, ATLAS invites guests to escape and explore some of the world's best bars with worldATLAS. A liquid journey across the planet, worldATLAS ventures the globe to partner with bars to create a cocktail flight consisting of two signature cocktails from each destination bar for guests to explore.
Each flight is introduced by ATLAS's Head Bartender Jesse Vida, who will be joined by a bartender from the destination bar via an Instagram Live. Running for a total of four weeks at ATLAS, all flights are complemented with a bite from the kitchen of the "visiting" bar and are also available as a shared option, with two half serves of each cocktail and a bite each. Postcards from each edition are presented with the flight, inviting guests to post messages to loved ones anywhere in the world which will then be sent by the ATLAS team. Flights are priced at S$48 for a flight for one, and a flight to share is priced at S$56.
ATLAS has journeyed to Hope & Sesame (Guangzhou, China), Crown Shy, (New York City, USA), The Bamboo Bar (Bangkok, Thailand) to Lulu White (Paris, France) and has now embarked flight 005.
From now until Saturday, 8 August, guests can travel to Melbourne, Australia to enjoy Above Board, featuring two cocktails by veteran bartender, Hayden Lambert. The Corrective Cup, with tequila, chestnut, bittersweet Italian liquor, lemon juice and aromatic bitters, and, Erin's Delight, with London Dry Gin, Italian bitter, orange, lime juice and orange bitters. Above Board is an intimate cocktail bar that approaches their cocktail programme much the same as their minimal interior, serving up carefully considered classics, and riffs on old favourites.
During these challenging times for the industry, the bar community has come together to support one another, and as such, ATLAS is donating 20 per cent of the proceeds from each flight to the guest bar.
The next flight in the series will take a trip to Stockholm, Sweden with Lucy's Flower Shop. Available from Monday, 10 August until Saturday, 5 September, the flight will reflect head bartender, Hampus Thunholm's flair and passion. Having only opened its doors in November 2019, the award-winning bar is the concept of two of Sweden's most regarded bartenders, Ola Carlson and Alex Skärlén.