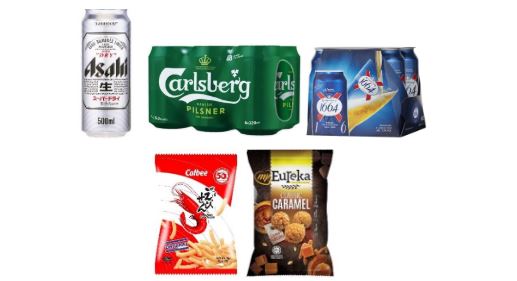 This International Beer Day (Aug 7), foodpanda is raising the bar on the best deals for that bubbly goodness, perfect for the long weekends ahead. pandamart is now offering up to 15% off selected beer brands and 10% off popcorn from Eureka, there is no reason not to celebrate Beer Day! Time is ticking. This promotion ends on 2 August 2020.
The Trustworthy Cans
Sometimes all it takes is the old-fashioned beer brands to do the trick. With a wide variety of brands available on pandamart, choose from Asahi, Carlsberg, Kronenbourg and more! You can't go wrong with these familiar beer tastes. And what is better than to enjoy a beer with your favourite snacks. From Calbee prawn crackers, to myEureka popcorn, you name it and we have it. Me-time or party-time, these crunchy snacks will always be a great time.
Get Crafty
Brooklyn Lager Craft Beer 6s x 355ml ($26.91)
Looking to try something new? Introducing Brooklyn Lager Craft Beer, a dry-hopped amber lager straight from Brooklyn Brewery. With tasting notes of fresh Grapefruit and toasty caramel, coupled with aromatic hints of flowers and pine, this bottle of lager is definitely a game-changer. You might never want to go back to regular after tasting this robust lager.
Cheers to Liverpool
Carlsberg Limited Edition Liverpool FC "Champions Can" ($2.95)*
*No discounts available for this product
Here's a bonus for the English Premier League fans. Still can't get enough of Liverpool's win? Catch the highlights of your favourite team with Carlsberg! Now on pandamart, get your hands on the Carlsberg Limited Edition Liverpool FC "Champions Can". More than a beer can, savour the taste of victory and bask in the glory of being a Liverpool fan. This is sure to be a collector's item.