FamilyMart Signature by Teresita's of San Fernando is now available at the convenience store chain featuring Beef Kare Kare, Beef Caldereta, Pork Dinuguan and Pork Adobo.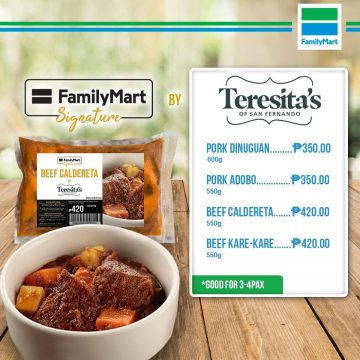 In addition to the new meal, Coffee Creations' Coffee Jelly is FamilyMart's signature Iced Coffee with a bottom layer of soft coffee jelly that will make your every sip a thrilling experience. The price is PHP 95 per cup.
FamilyMart has also collaborated with Restock, a haven for Metro Manila's art and coffee enthusiasts, to bring Restock cookies to FamilyMart.
Finally, FamilyMart has a new Umami Spicy Pork Onigiri for PHP 55.